Today I have another two outfits for you with a dark post-apocalyptic vibe that I totally wear to work. I rarely wear jeans and basic T-shirts these days; these outfits are much more comfortable and cool. This time, I'm featuring three independent designers - Schnittmuskel, Ynhoia and Dorawyn. I paid for everything myself and just tell you because I love them.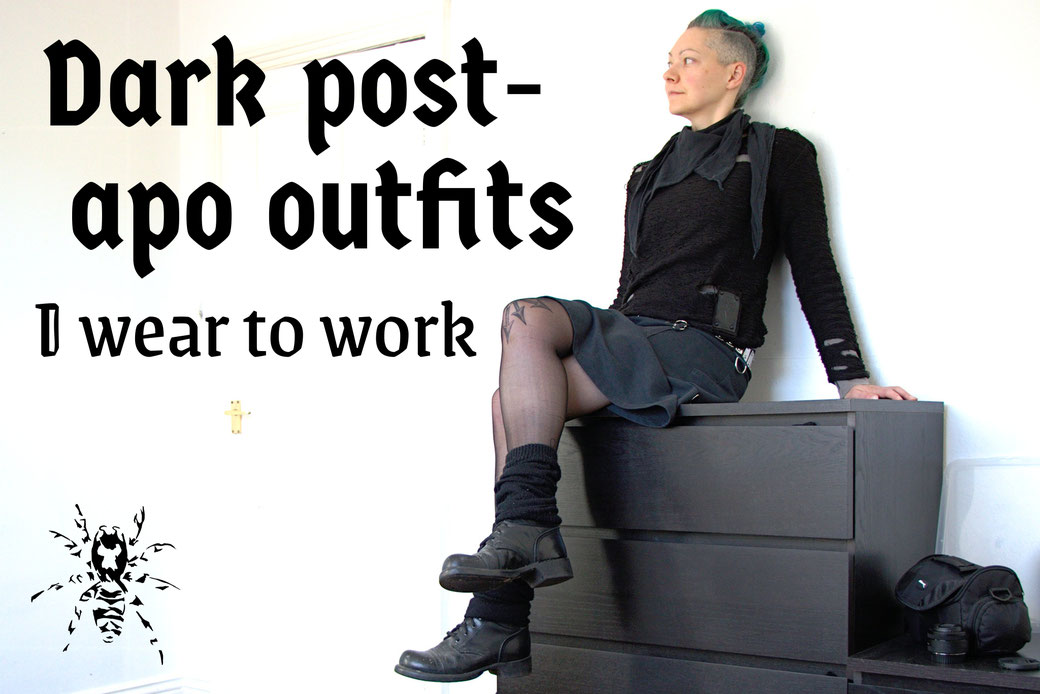 For the first outfit, I'm wearing a skirt that I made in 2015. The pockets and knee-length are super practical for work, but I wear it plain without all the straps that could get caught somewhere in everyday life. I usually prefer more opaque tights, but it was very warm for a September day. So the leg warmers are more decorative than for warmth.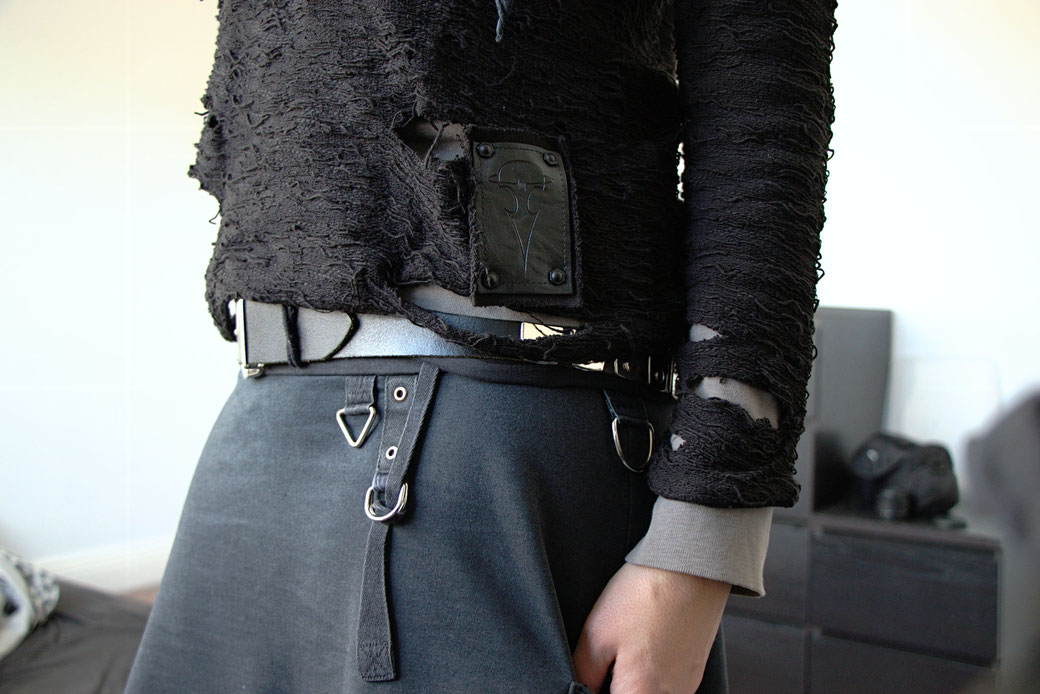 The jumper is from Schnittmuskel - a dark avant-garde fashion designer from Germany - with their distinctive destroyed look and a bird skull logo patch. It's actually a men's sweatshirt, but I knew size small would fit me. They do have female/male sections, but a lot of pieces are indeed unisex. I love this structured material and torn look.
I'm wearing a grey long-sleeved shirt underneath so you can see the holes better. You might know I love layering for the look and warmth. The boots are said to have seen punk gigs in New York a long time ago - not on my feet though, they were a gift. I tried another skirt for this "post-apocalyptic office" look, but the silhouette wasn't flattering.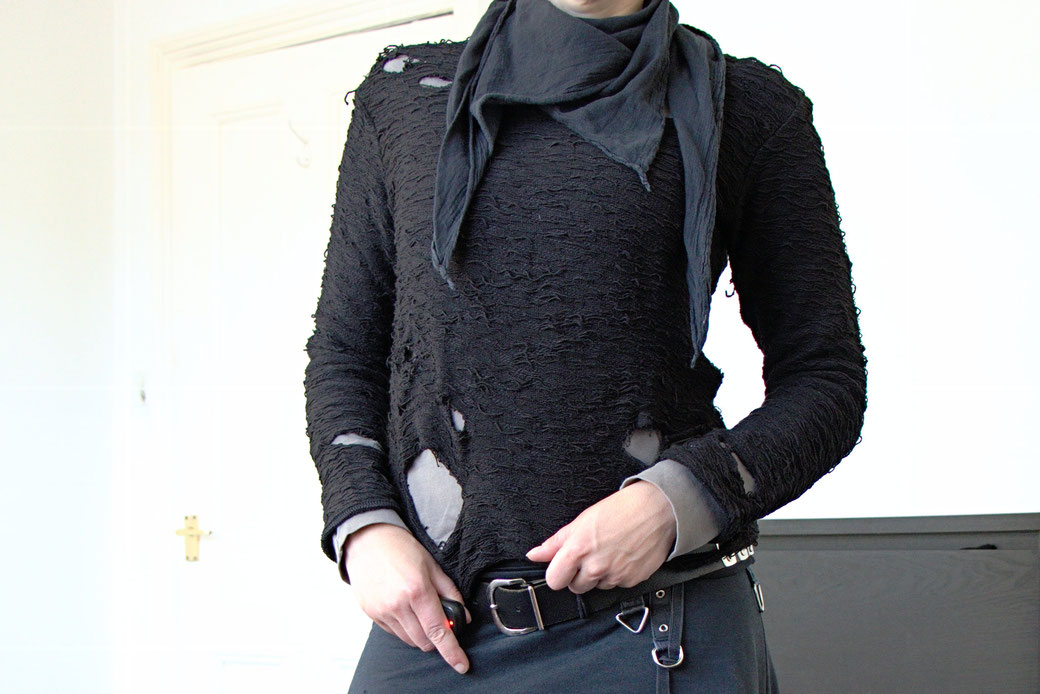 I recently got three new slow fashion pieces, but I'm focusing on only two today with the second outfit. The biker leggings are "Scout B" from Dorawyn. Black leggings are a wardrobe staple, even better when they come with pockets, lots of details and organic cotton. I do have a few other slow fashion leggings but don't fit into them currently.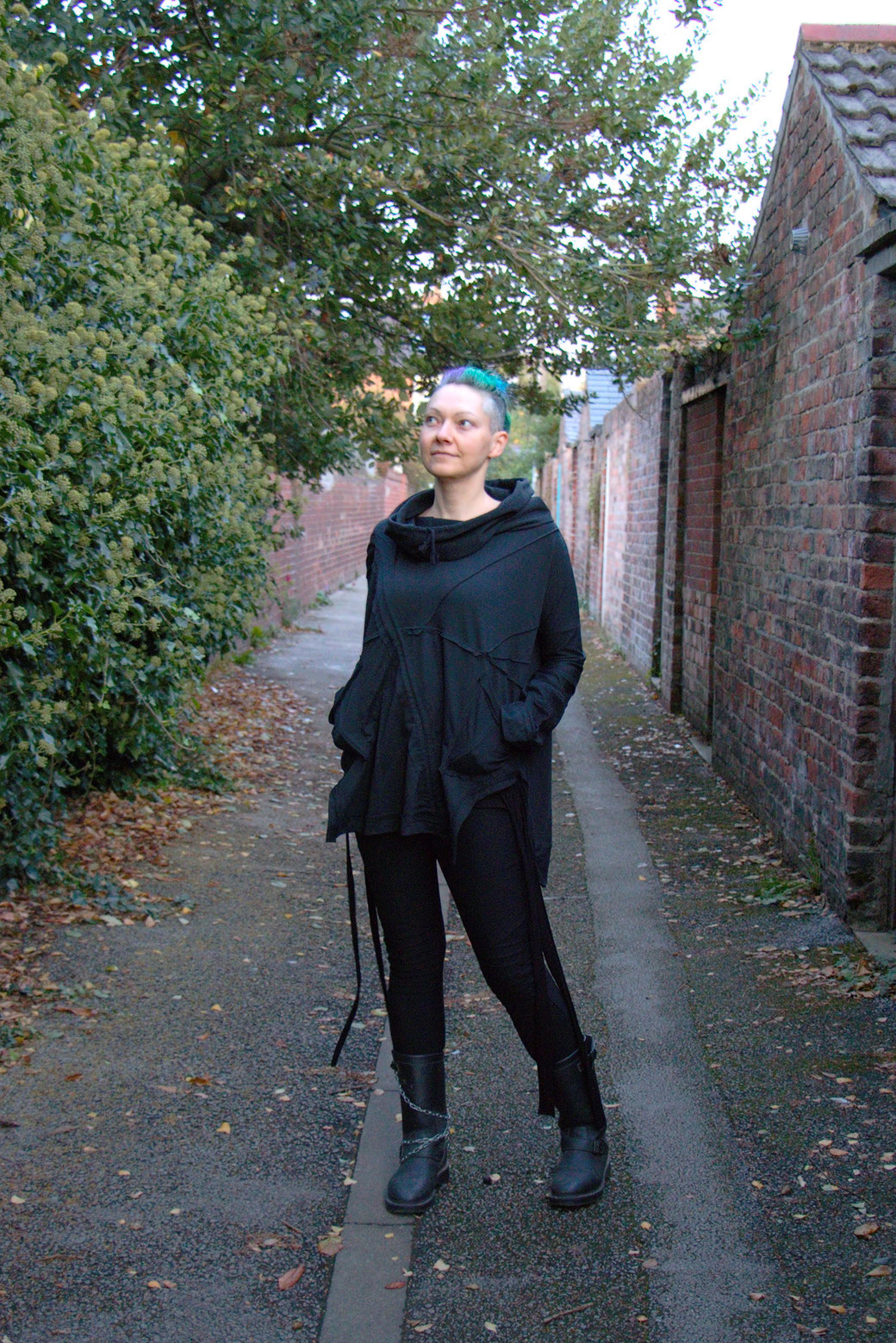 The hoodie is from Ynhoia - both designers combine perfectly, as I have shown you before. I ordered the DIASAR tank top when it came out in black, then spontaneously added the hoodie. It was the last one and luckily in my size. It fits perfectly, and I love the silhouette with the slim sleeves and the wide, boxy body part. And it has pockets!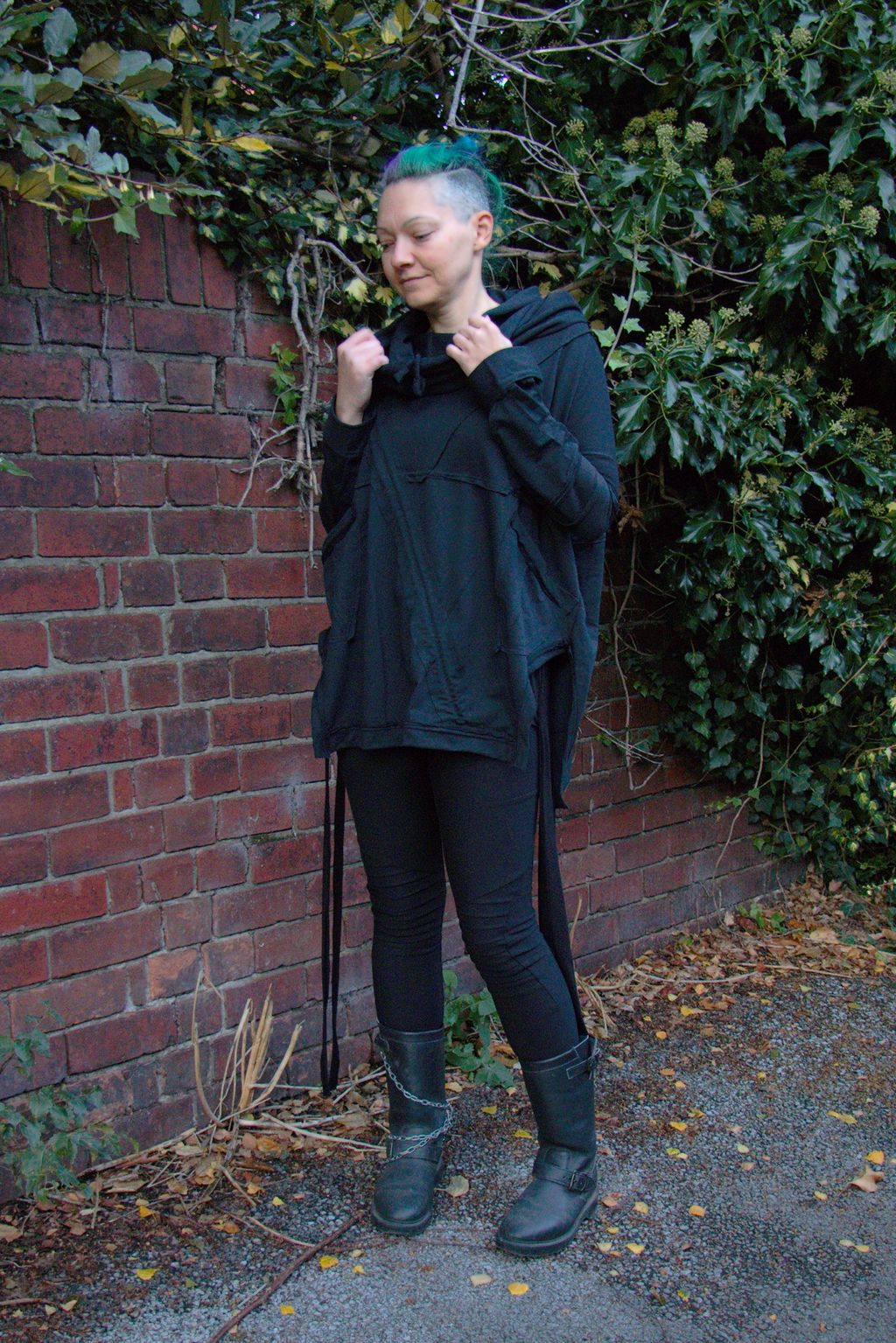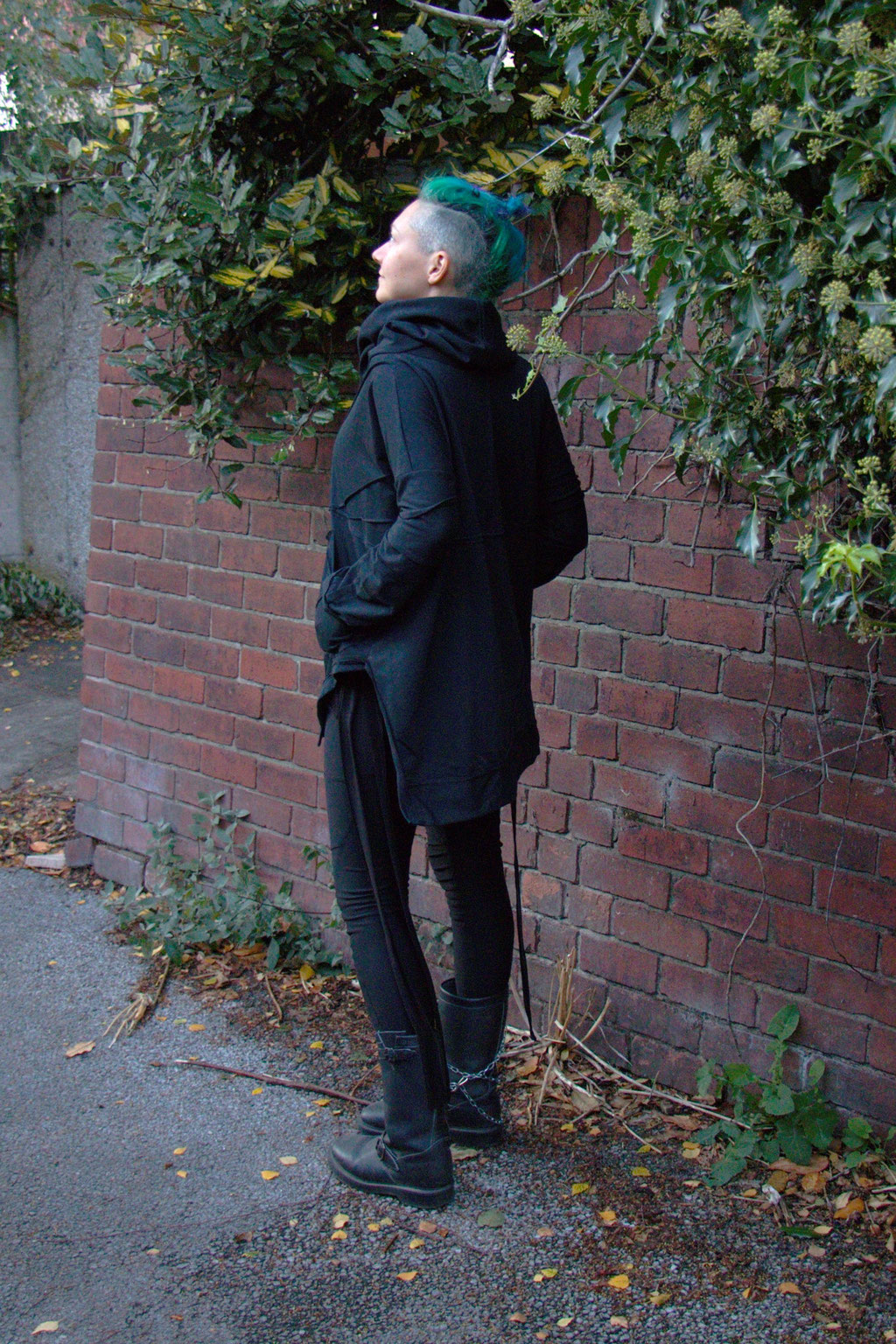 The hood is more like a big cowl with a tie to pull it together. The long strips of fabric at the sides are from the top underneath that I'll show you another time. I like to wear my engineer boots with skinny pants or leggings, but only in autumn and winter as they're a bit big and need thick socks. These are from Vegetarian Shoes and are made in England.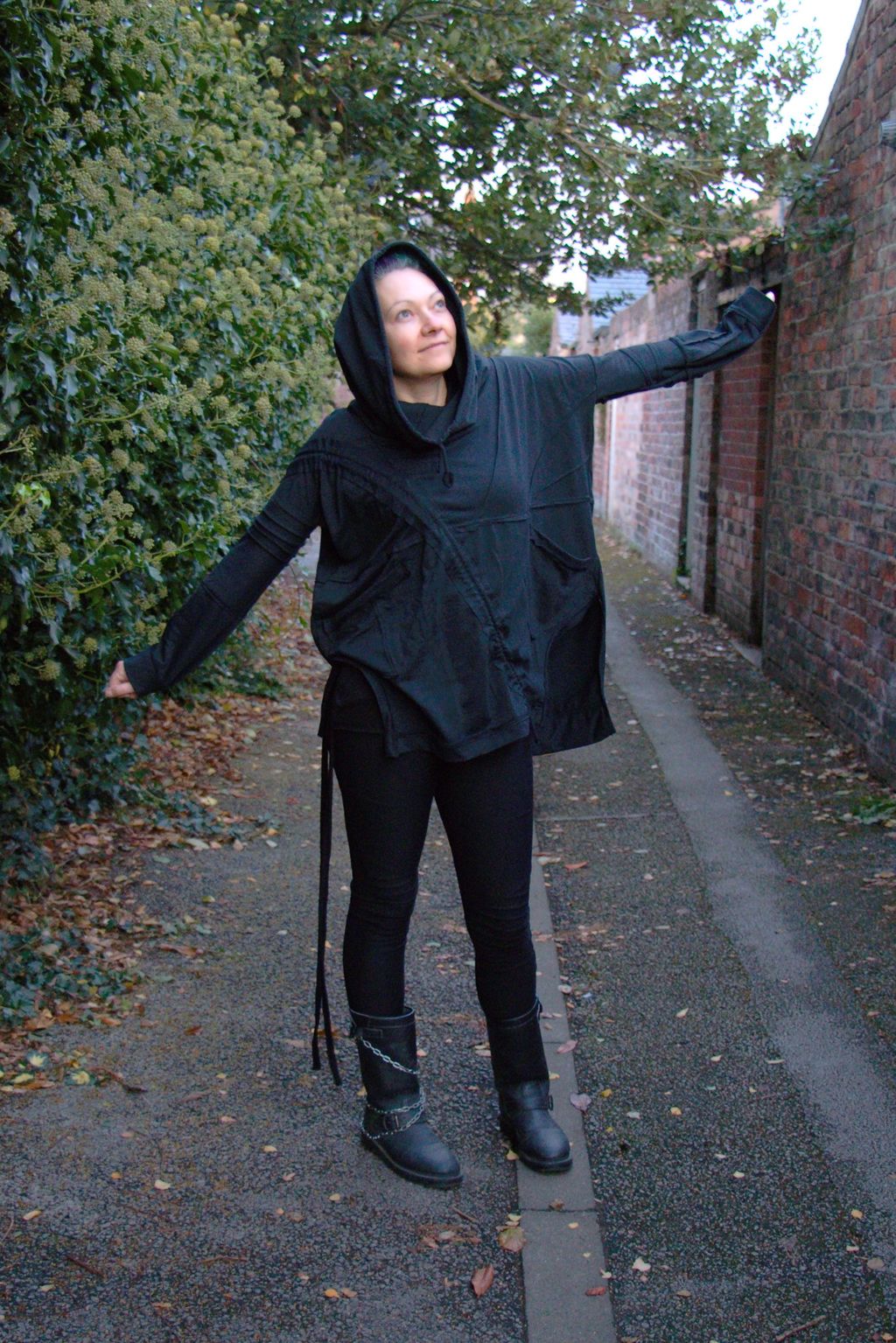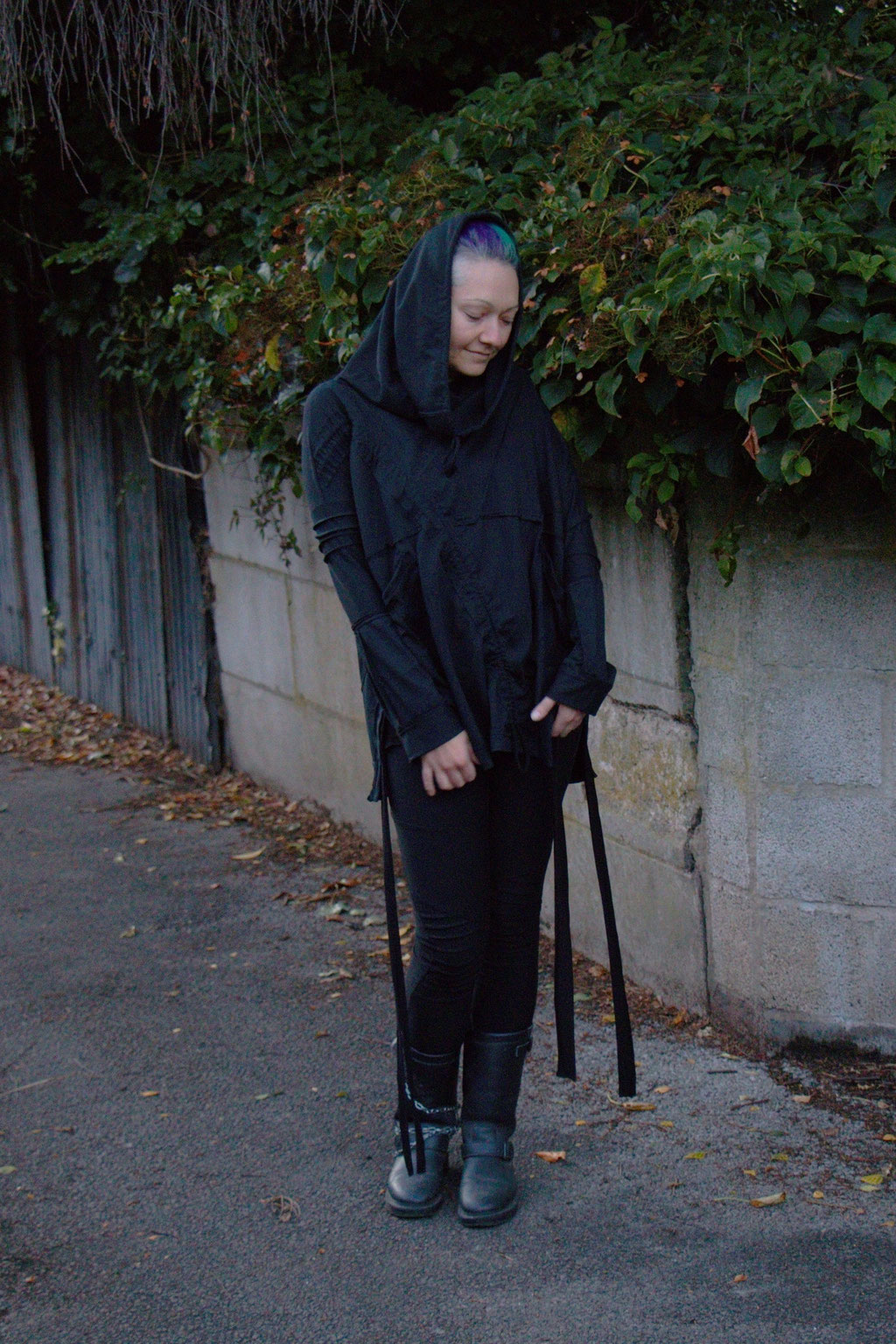 Yes, I love this avant-garde, post-apo look, being eco but looking totally bad-ass! What piece do you like best?
---
Zebraspider Updates
Don't miss any new one-of-a-kind design! Be the first to know about shop updates, events and the best blog posts by joining the email list!
You may also be interested in:
---