I'd like to introduce you to two slow fashion designers today, whose designs go together very well. We drove to the Yorkshire Moors to have an unusual landscape as an excellent backdrop for a post-apocalyptic vibe in nature. I totally wear these outfits to work, though. You know I'm always happy to spread the word about independent designers, even though I have to mark this post as an advertisement.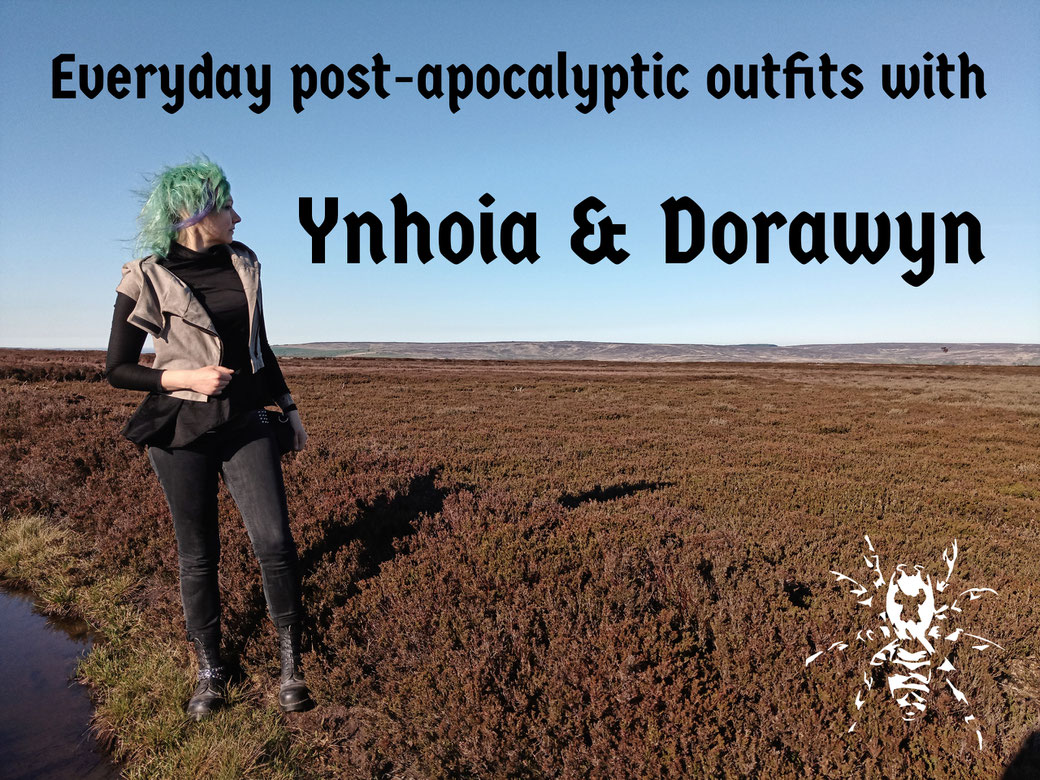 Ynhoia
Ynhoia (Ainhoa) is a young designer from Spain who makes zero-waste and genderless slow fashion. I discovered Yhonia in 2019 and fell in love with the dystopian style made sustainably. The garments are all made from deadstock, organic or recycled materials and have a unisex fitting. Zero-waste means there are no fabric scraps left after cutting. I'll do an in-depth blog post on this topic soon.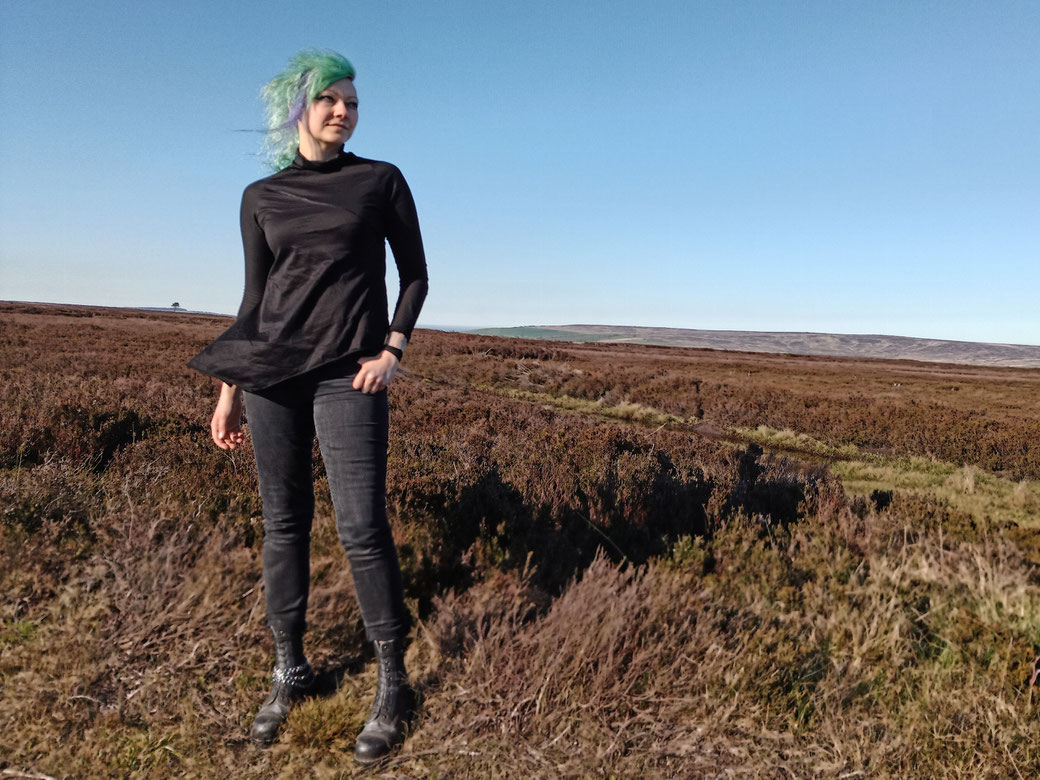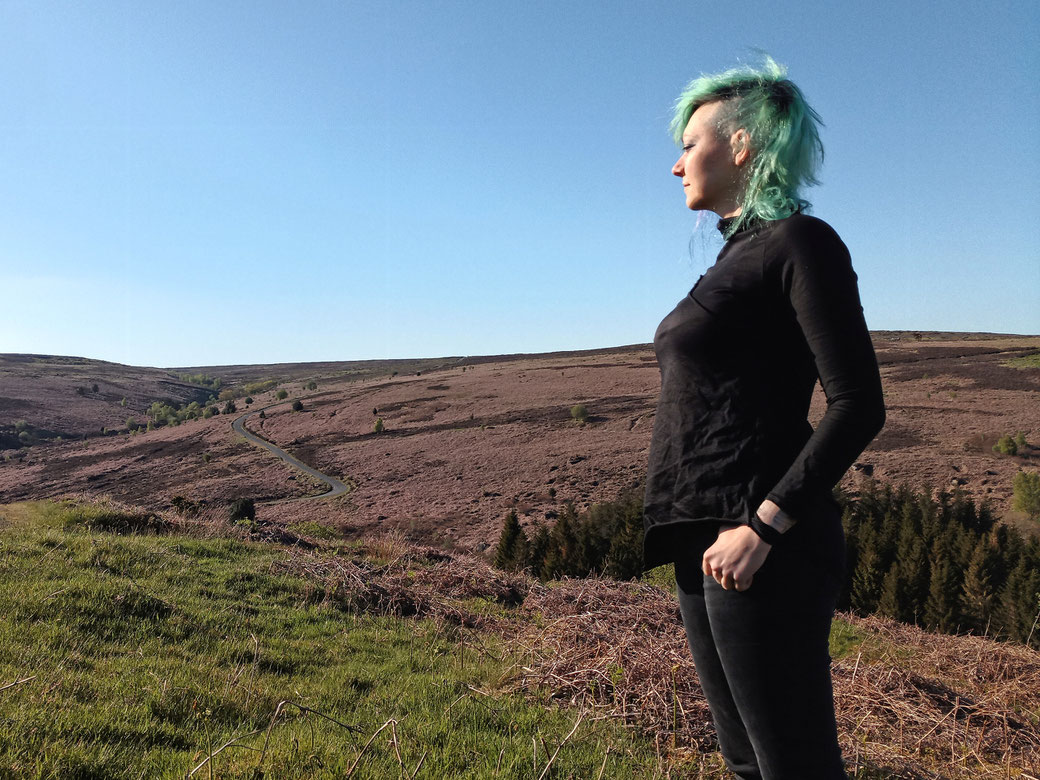 My first piece was the DEFNE longsleeve top in black (and size 2). It's very fitted at the top and the sleeves but has a wide, asymmetric raw hem. I love the little turtleneck that keeps my neck warm. The sleeves look a bit short on my long arms, but I don't mind and wear wristbands or arm warmers. The inside-out seams at the front and back are another cool detail. Combined with skinny black jeans and ready to go.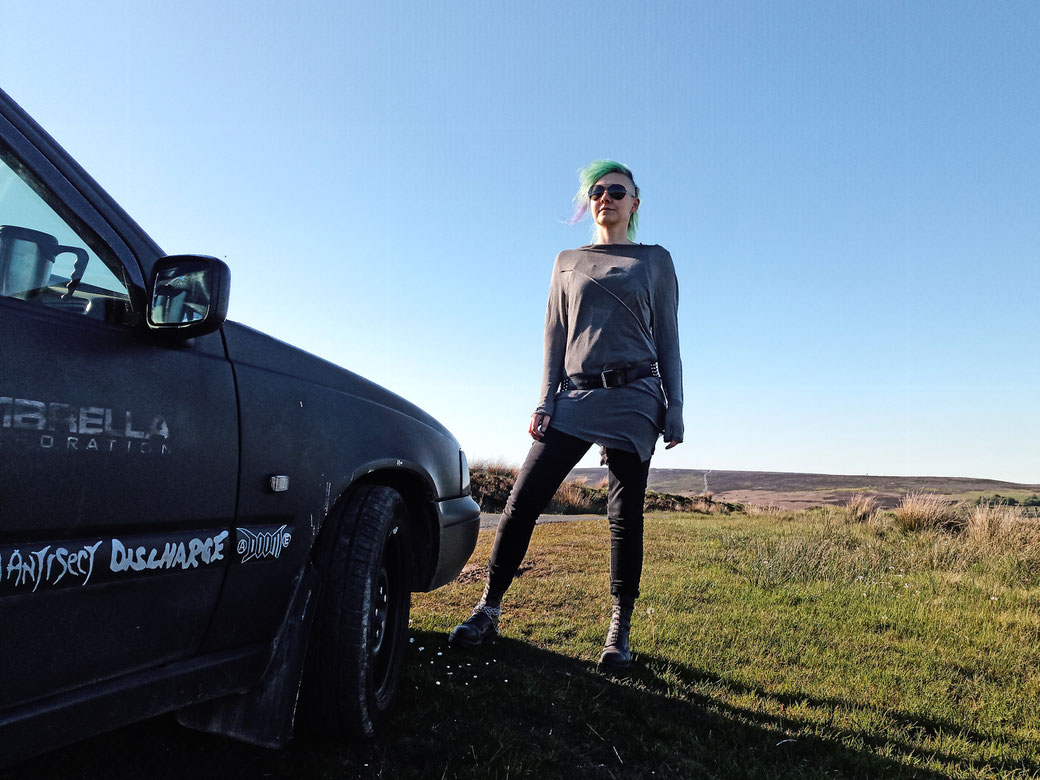 The grey top is the same design, just in a size larger and a different fabric - an incredibly soft knit, very flowy and a bit sheer. Astonishing how this can change the whole look! If the sun in these pictures wasn't so bright, you could guess the band shirt I'm wearing underneath. I'm wearing my studded belt (with the new belt bag prototype), but a waist belt would also look fab. This shirt is still available here.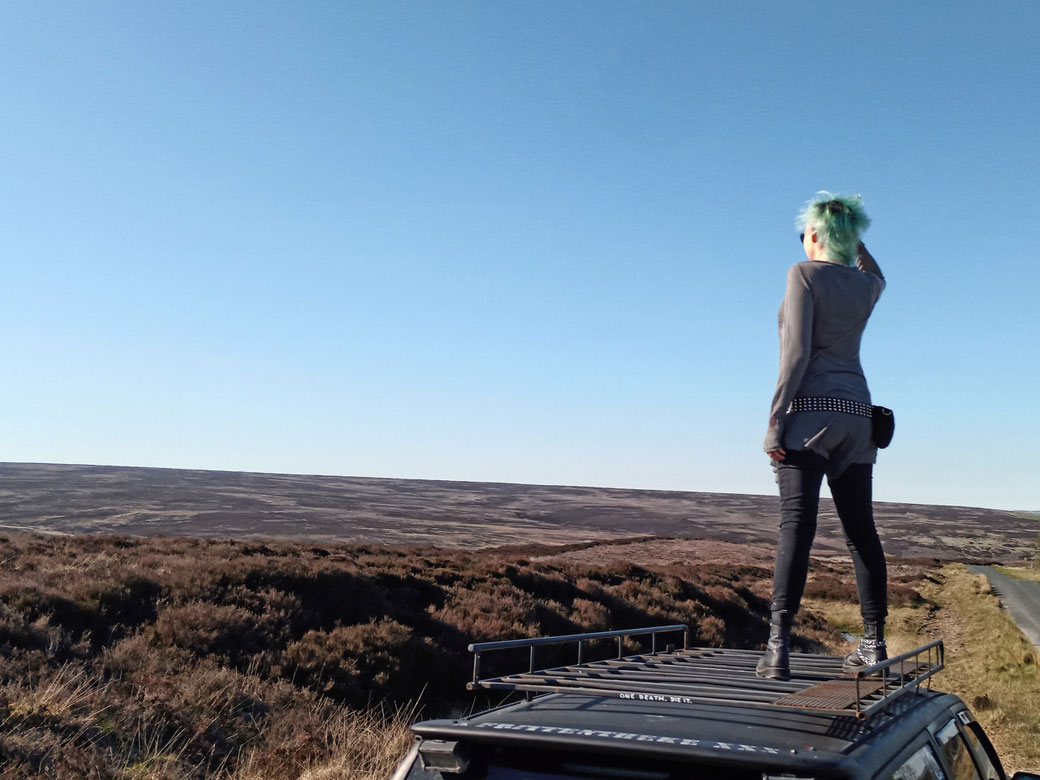 Dorawyn
Dorawyn is a slow fashion designer from Hungary known for knitting their own fabrics as well as plant-and rust dyeing the garments. I ordered a short, plant-dyed vest a while ago with a hood and lots of cool details. I didn't wear it in winter, but now is the right time to throw it over a top or shirt. The irregular pattern of the dye is rather subtle but has a lovely warm grey tone.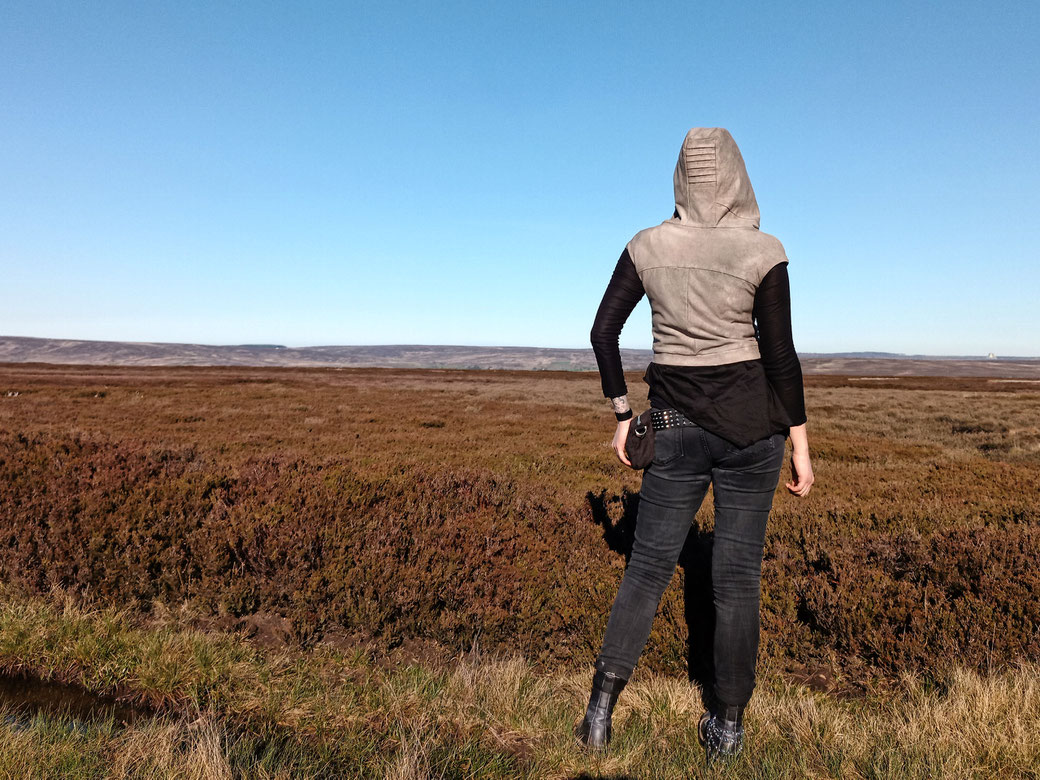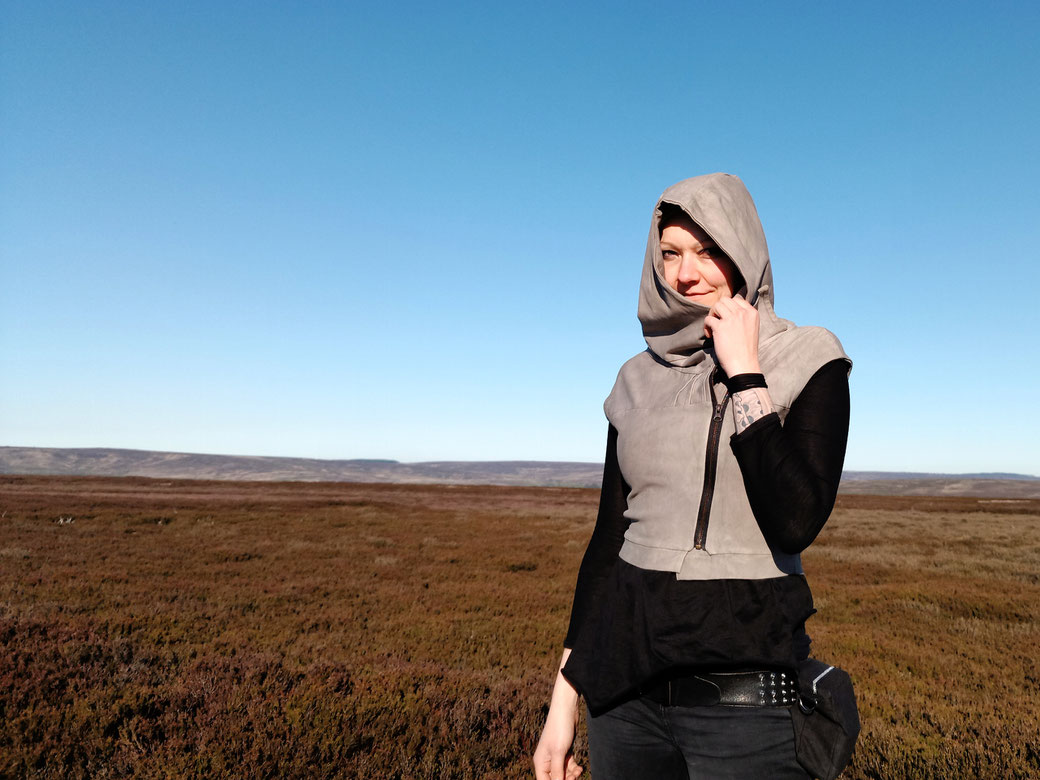 The brand's style is also post-apocalyptic but earthy, and I love that vibe. This vest is from an older collection and not available anymore, but currently, there are many black designs in the shop - check it out! I know these slow fashion pieces are expensive, but I instead save up and buy just a few new clothes in a year - slowly building up my sustainable wardrobe that I'll enjoy for many years.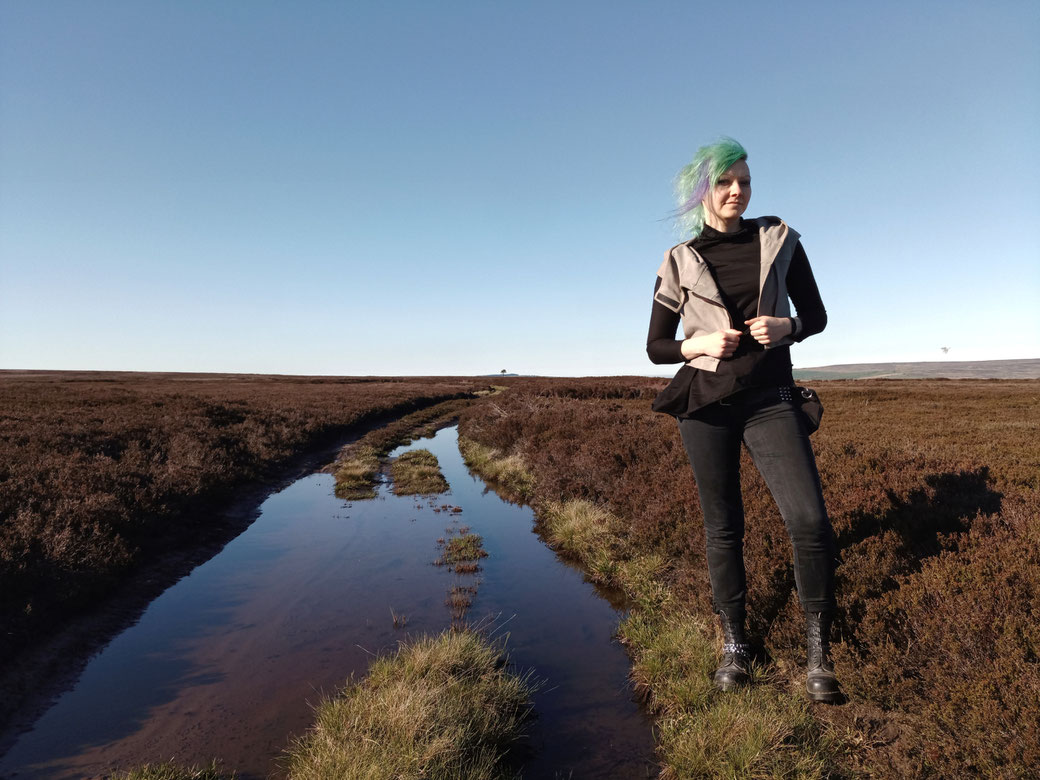 After taking the pictures, we just sat in the sun and enjoyed the brilliant weather.
---
Zebraspider Updates
Don't miss any new one-of-a-kind design! Be the first to know about shop updates, events and the best blog posts by joining the email list!
You may also be interested in:
---