My biggest crochet project ever! I started making a large blanket that is coming along slowly, but I did have some problems with my right hand in between. I've been reading the blog Attic24 for a while. I always adored the colourful blankets and got inspired to make my own. They're lovely colours to look at, but not for my home as you could guess. Of course, I'm doing things my way.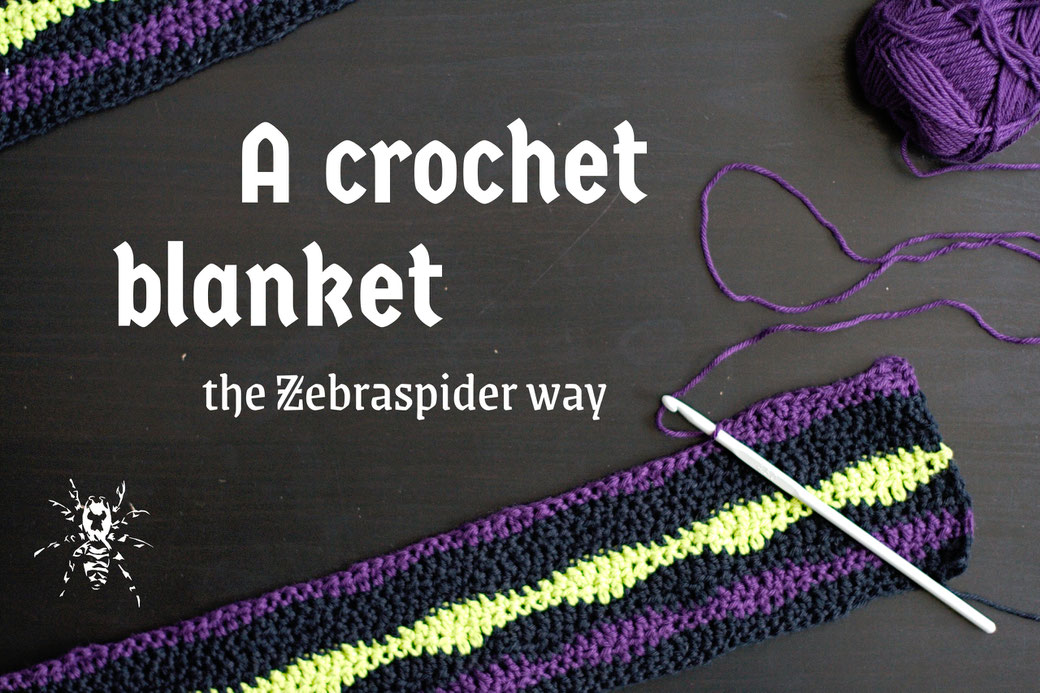 My choice fell on the neat wave pattern, an easy 10 stitches repeat that makes wavy stripes. I wanted to use cotton yarn to avoid the (micro)plastic and still be affordable at this scale. A regular size blanket of 120 x 170 cm already needs 1500 g of yarn. So I went for the (non-organic) Paintbox cotton DK and 30 of the 50g balls. The main colour is black, obviously. That's half of the yarn.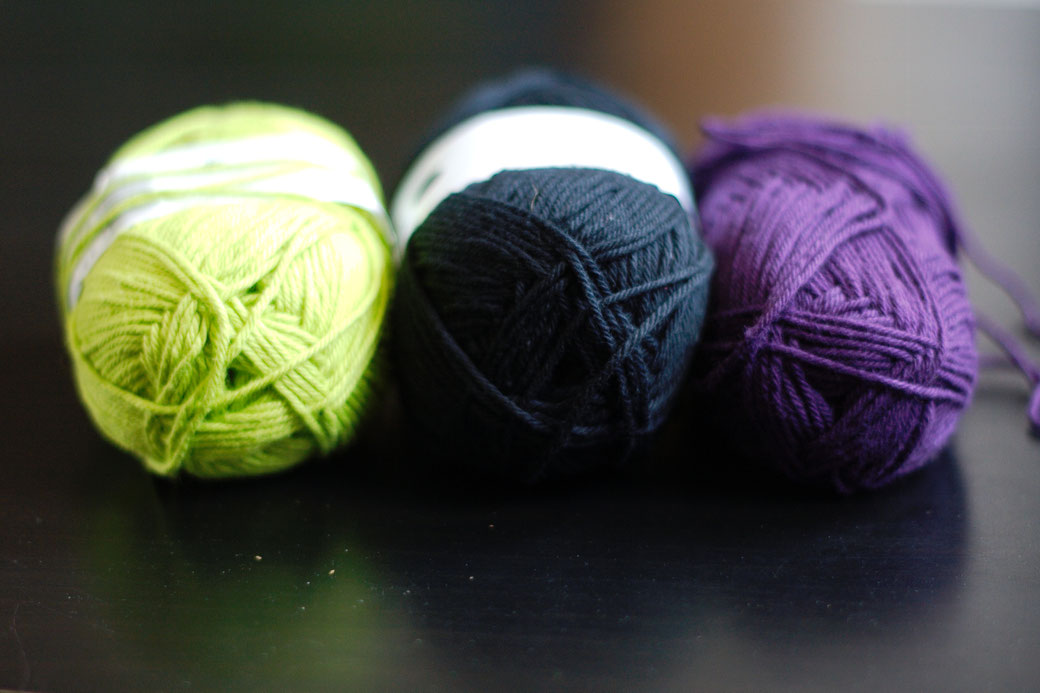 My favourite shade of purple is the Dark Aubergine (500 g), and of course, I picked the Lime Green (250 g) to stay in my colour scheme. With multiples of 5 balls, I could even save a bit with value packs. When I actually started, I thought an oversized blanket would be even better. My calculations told me that with 750g more, I will get 153 x 200 cm. I will buy some more black yarn when I need it later.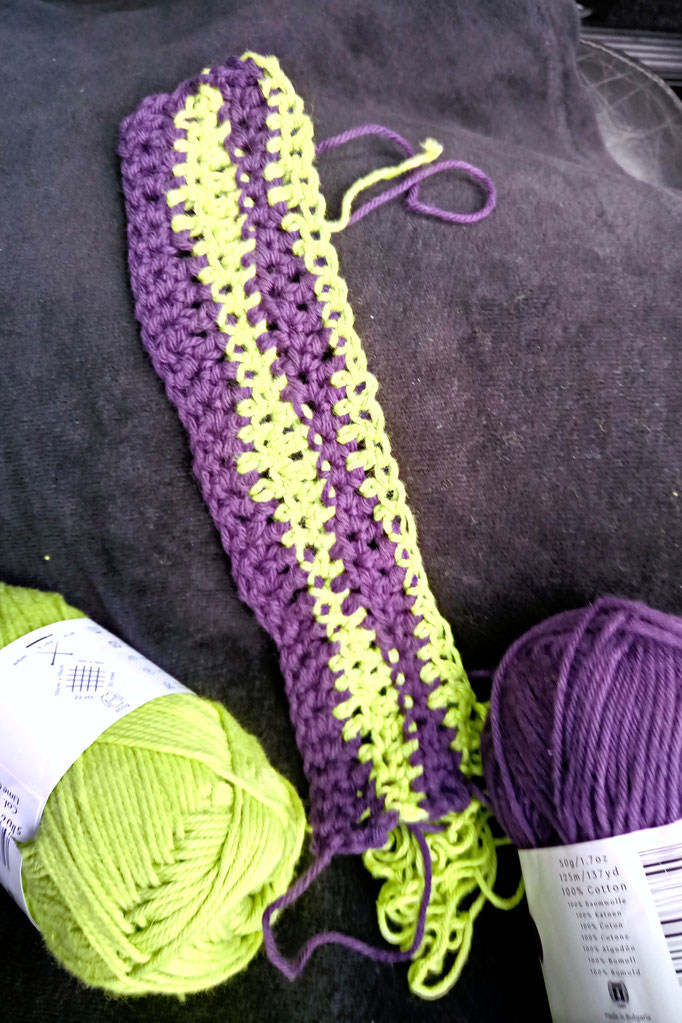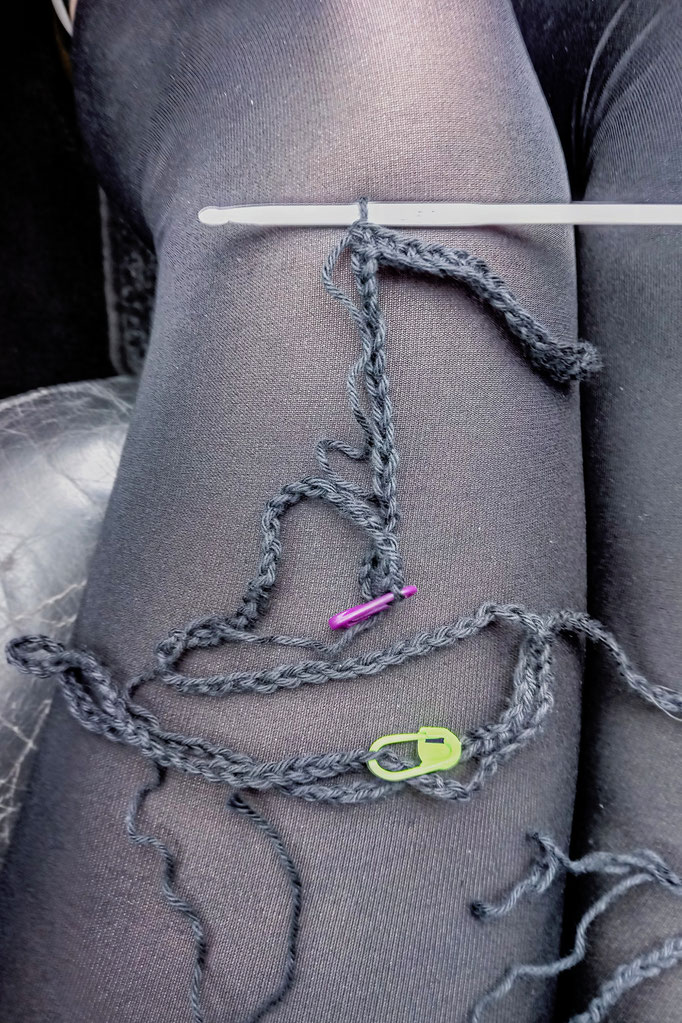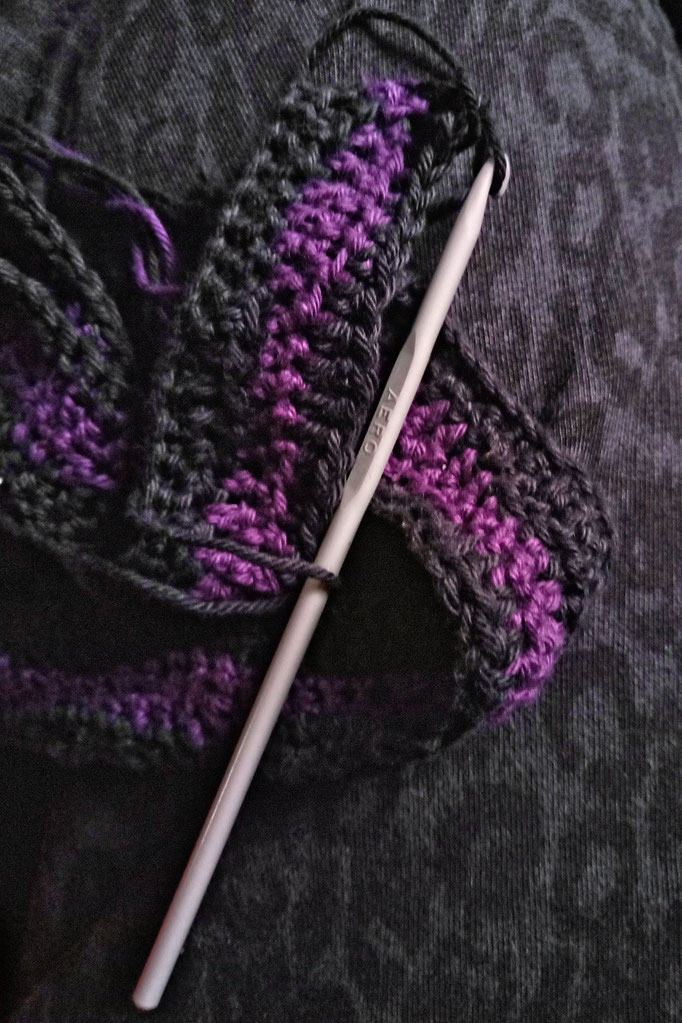 In the beginning, I did a lot of crocheting in the car during our eased lockdown getaways in summer. (Hence the blurry phone pictures, sorry!) I started swatching with a 4 mm hook. It turned out way too small because it seems I'm a tight crocheter. I switched to 4.5 and tried to loosen it up a bit, and then I got the excellent match. A swatch is always a good idea, especially when using a different yarn.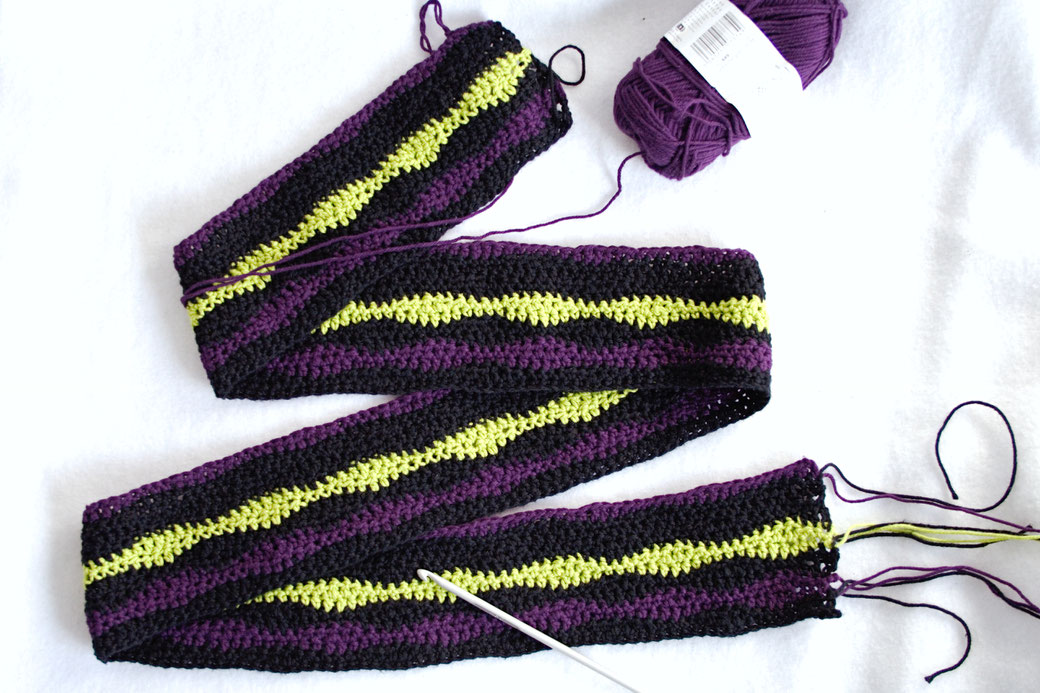 For the width of 153 cm, I started the blanket with 231 chain stitches. The stitch markers really came in handy at this point, but no need for them later. I did a bit of planning for the pattern, but that was for the initial size and 115 stripes. So just did black, purple, black and lime for the first rows, then double black to change it up a bit, and purple again. I'll have to do a new plan soon including the extra black.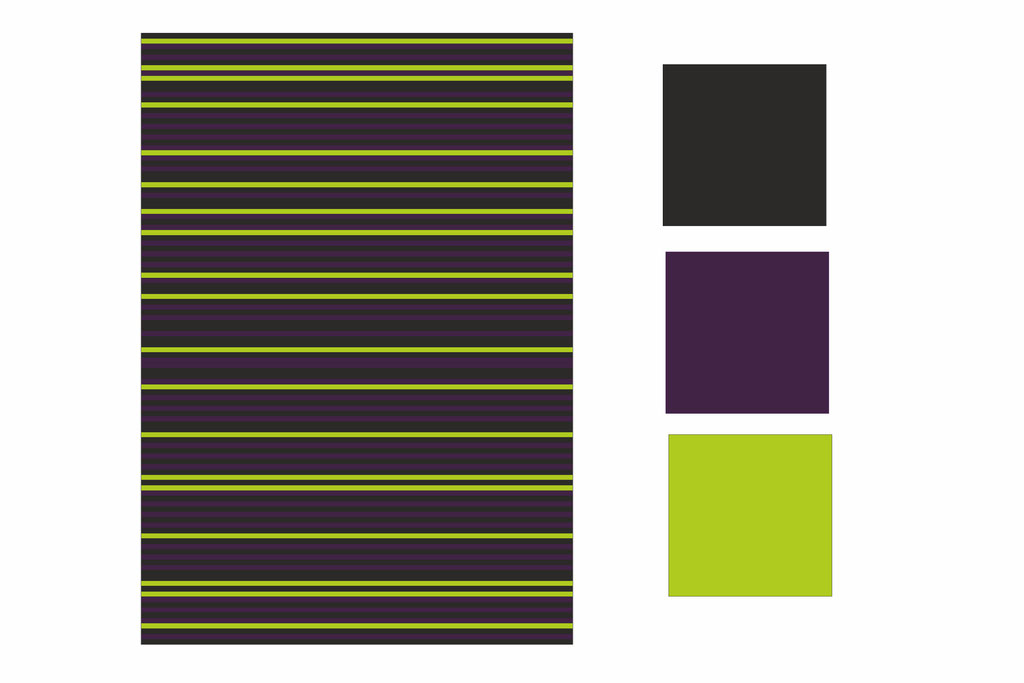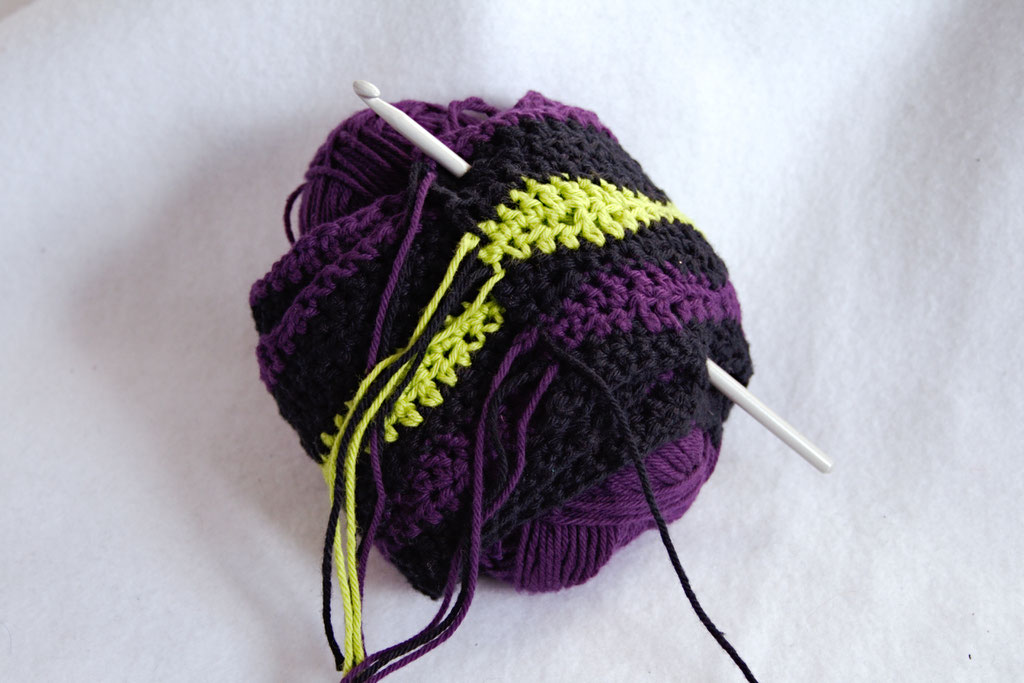 I have 7 cm of the 200 now and no idea when this will be finished - probably in 2-3 years - but the main goal is to keep my hands busy anyway. What was/is your biggest project, crochet, knitting or otherwise?
---
Zebraspider Updates
Don't miss any new one-of-a-kind design! Be the first to know about shop updates, events and the best blog posts by joining the email list!
You may also be interested in:
---