---
This is one of my most popular blog posts in German from a while back and I thought you might like my DIY tips on bleaching as well. I have often experimented with bleach, be it with a spray bottle or a homemade bleaching gel. Today I get to the basics with bleaching a domestos jeans the classic way. "Mistake" may be a little over the top for some points, but there are a few things that can go wrong. So if you haven't dared yet or just need a few tips, this is for you: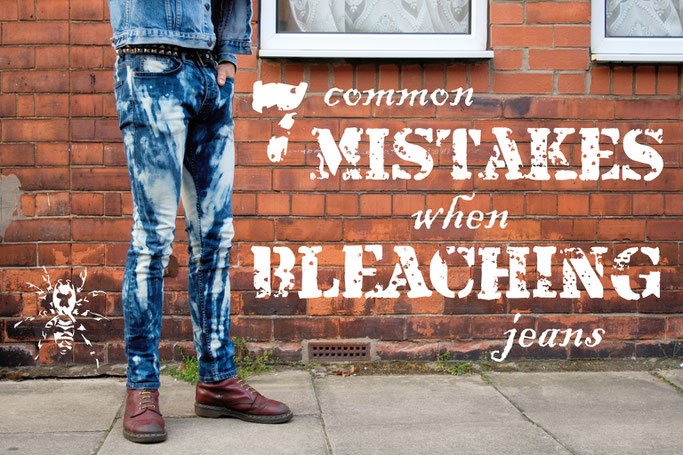 1. The wrong bleach
Whether Domestos, Eau de Javel or Dan Klorix (Clorox) - you definitely need a chlorine-based cleaner, not oxygen-based. I heard from someone who probably bought the wrong type of Domestos that didn't work. There are some differences, e.g. these three have 4.5; 2.4 or 2.8 g sodium hypochlorite per 100 ml. Although hair bleach sometimes bleaches clothes very well when this is not intended - maybe I'll try something with that ...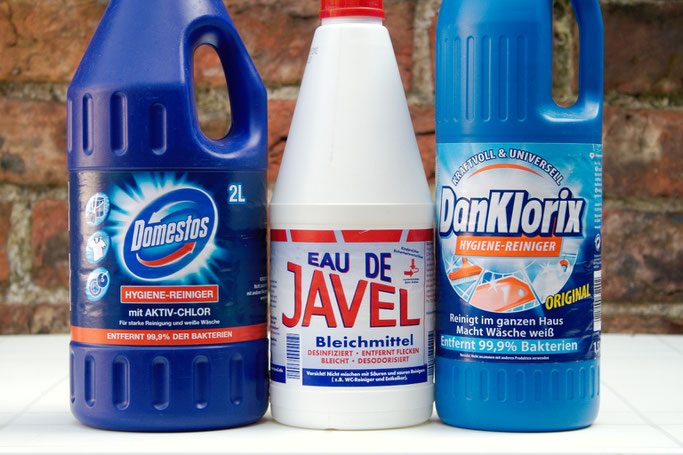 2. Too much bleach
Under no circumstances pour the bleaching solution directly from the bottle onto the trousers, this can hardly be controlled and in the best case gives large stains that don't look good. At least I think so. I use the bleach undiluted, but I re-fill it. For nice little stains and splashes I used to take an empty liquor bottle with a metal lid, in which I pricked small holes. I don't have that kind of thing on hand anymore today, but the ginger beer bottle works just as well.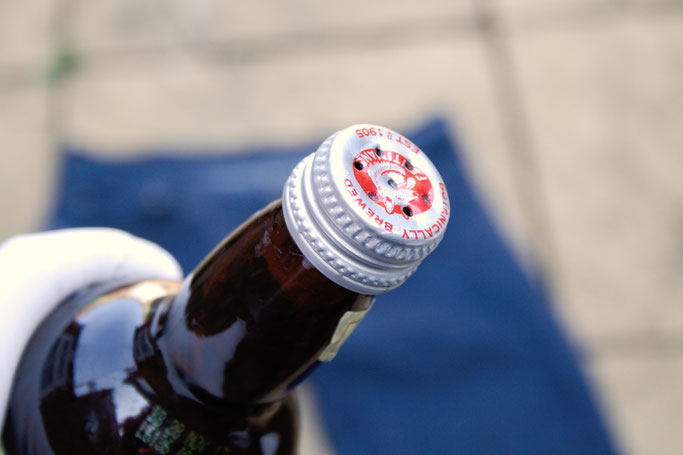 3. Not pre-washing jeans
It is best to bleach only freshly washed items. Whether brand new with a finish or second-hand clothes with fabric softener - if other chemicals are attached to the fibres, bleaching will not work well. We had to find that out with the first pair of jeans, because it only worked the third time after this used pair had been washed twice. We then washed the other pair twice, but the result was still weak even after a long soak.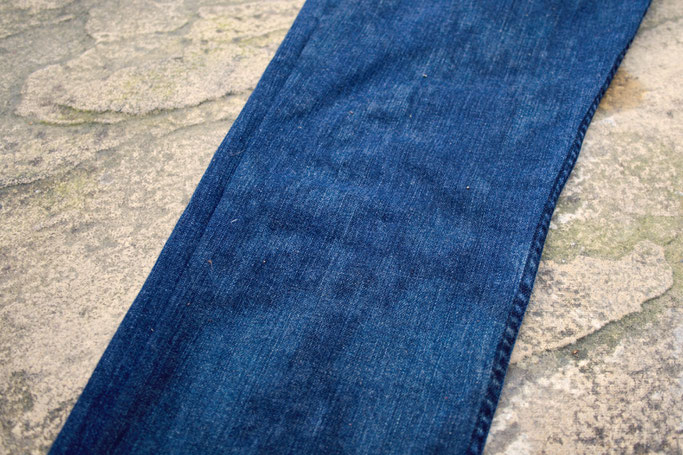 4. Dye of the jeans
However, this could also be due to the fact that this is a Levis. With our common experience we can say that cheap jeans (like the first one) are often less well dyed, so they are easier to bleach. If you have ever tried black, you know that unfortunately this often only turns orange to yellow. But depending on the intensity, this can be over-dyed, like I did ages ago with the purple and green jeans. Other colours can also turn out really cool.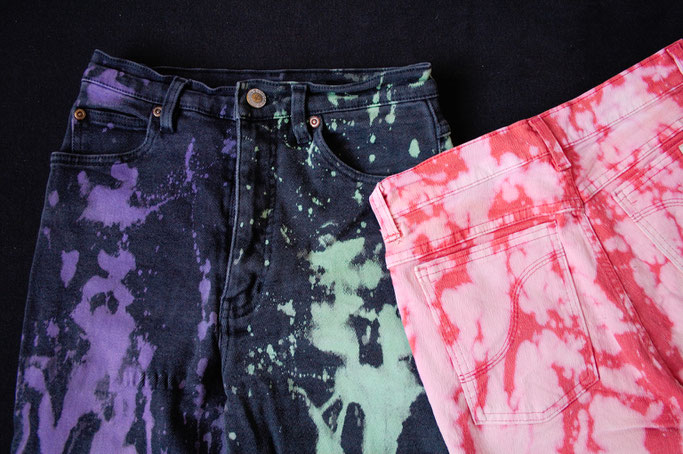 5. Hang up jeans
Hanging up the jeans for bleaching may seem very practical at first glance, but it is a bit tricky if, for example when the liquid drips off and distribution is not so even. An exception is the relatively viscous Domestos from our first attempt. The streak effects created in this way are quite nice, but unfortunately they got a little crooked - just like the trouser leg hung. Lying down works better and the sloping bathtub is enough.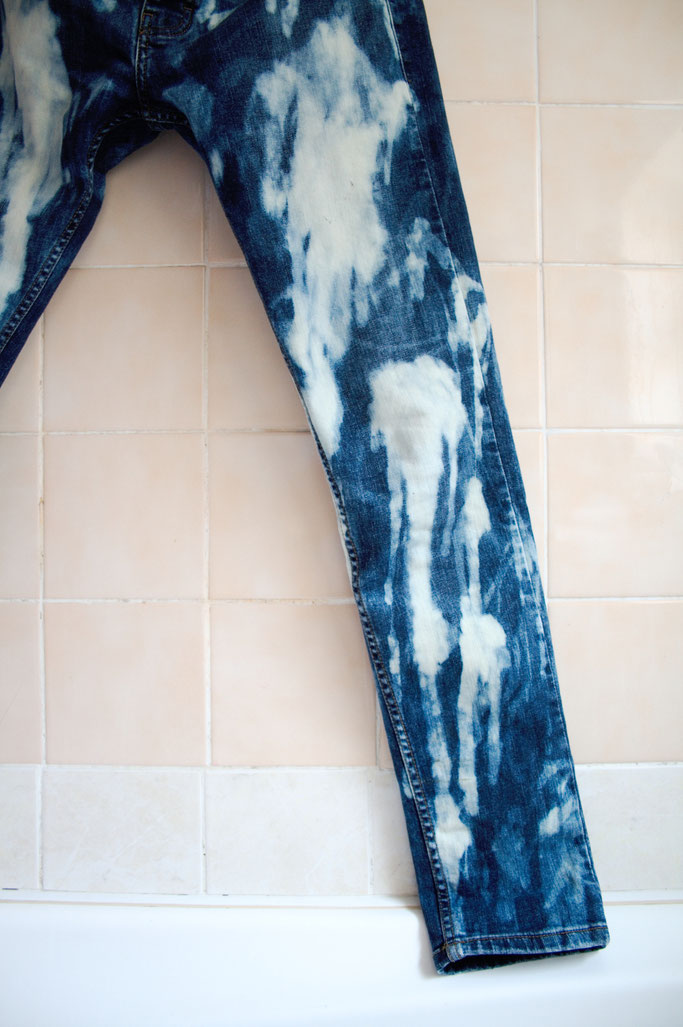 6. Bleaching the surroundings
With all the fun do not forget that it's an aggressive alkaline solution - so put on gloves (+ preferably old clothes) and protect the surroundings. A bathtub is very practical there, unfortunately something still got on our bathmat. We then bleached the second pair of pants outside, which is also better because of the smell of chlorine. Now let it take effect until it is bright enough and then wash it off with water.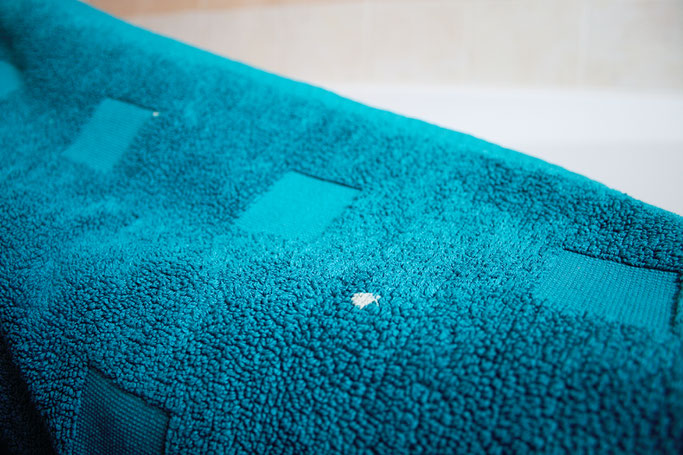 7. Not washing out chlorine well
If the piece looks like it should, wash it out with plenty of water first. This often looks yellowish due to the decomposed pigments. Then we put the things in the washing machine without detergent to completely get rid of all bleach. After that at least one more wash with detergent is recommended. The pants will still smell like a swimming pool for a while, but venting them helps.
What is your experience with bleaching jeans or other things? Did something go wrong?
---
You may also be interested in:
---
Zebraspider Emails (deutsch)

Zebraspider emails (english)

---