I've done a few pattern testings by now, but this is my first design sewing. Sara from MetalMotte has ne
w unique designs in her fabric shop (shipping across the EU) a few times a month and asked me to be part of her sewing crew - how could I say no? I got a Medusa pa
nel for free - 150 x 150 cm of cotton stretch jersey that is a breeze to work with. Now, I'm thrilled to have made something for myself again.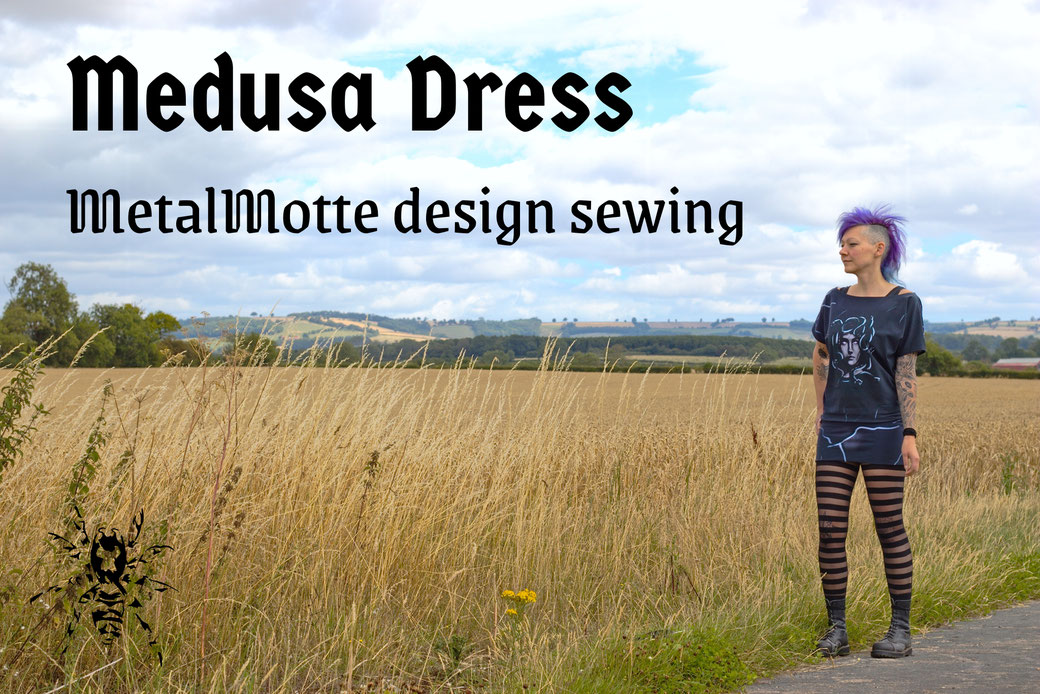 I wasn't sure what to make for a while, but I needed something light and breezy for the summer. I grabbed the pattern for my batwing top and modified it for short sleeves - fitting on the panel perfectly. The fabric piece was also big enough for the back part of the top in one piece. This is roughly a size small to medium. I always wanted to have a batwing dress, so here we go!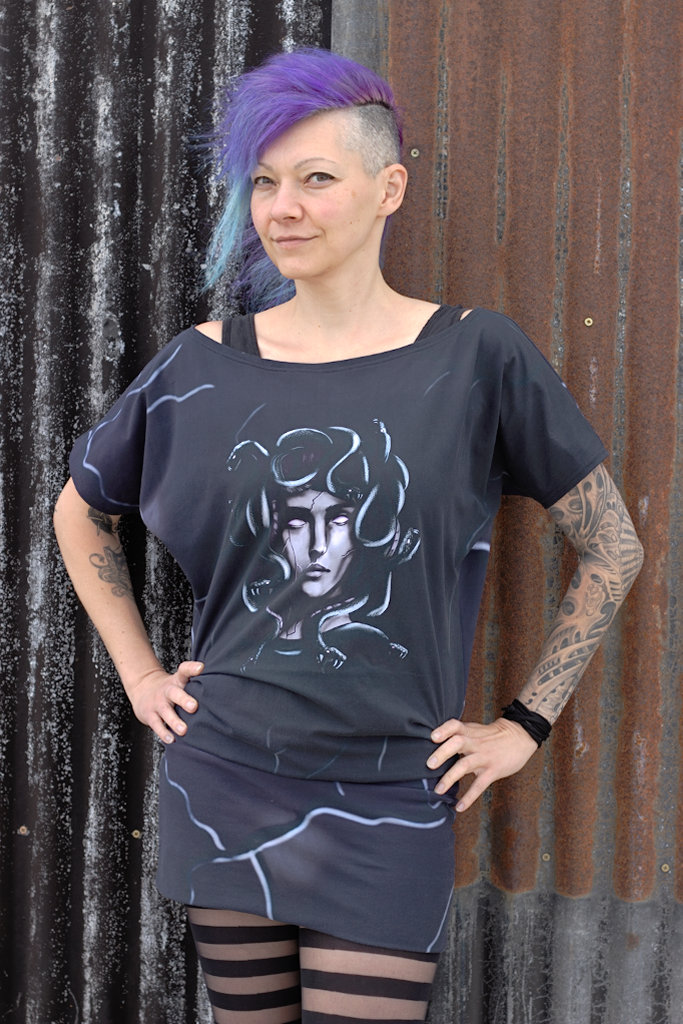 I cut the skirt pieces across the selvedge, this was not only the only way they fit onto the fabric, but it's also better for the print being stretched the other way, without showing the white underneath these digitally printed fabrics - thanks 4-way-stretch! I thought about doing cuffs, but I decided to hem the neckline and sleeves with my coverlock - easy and good.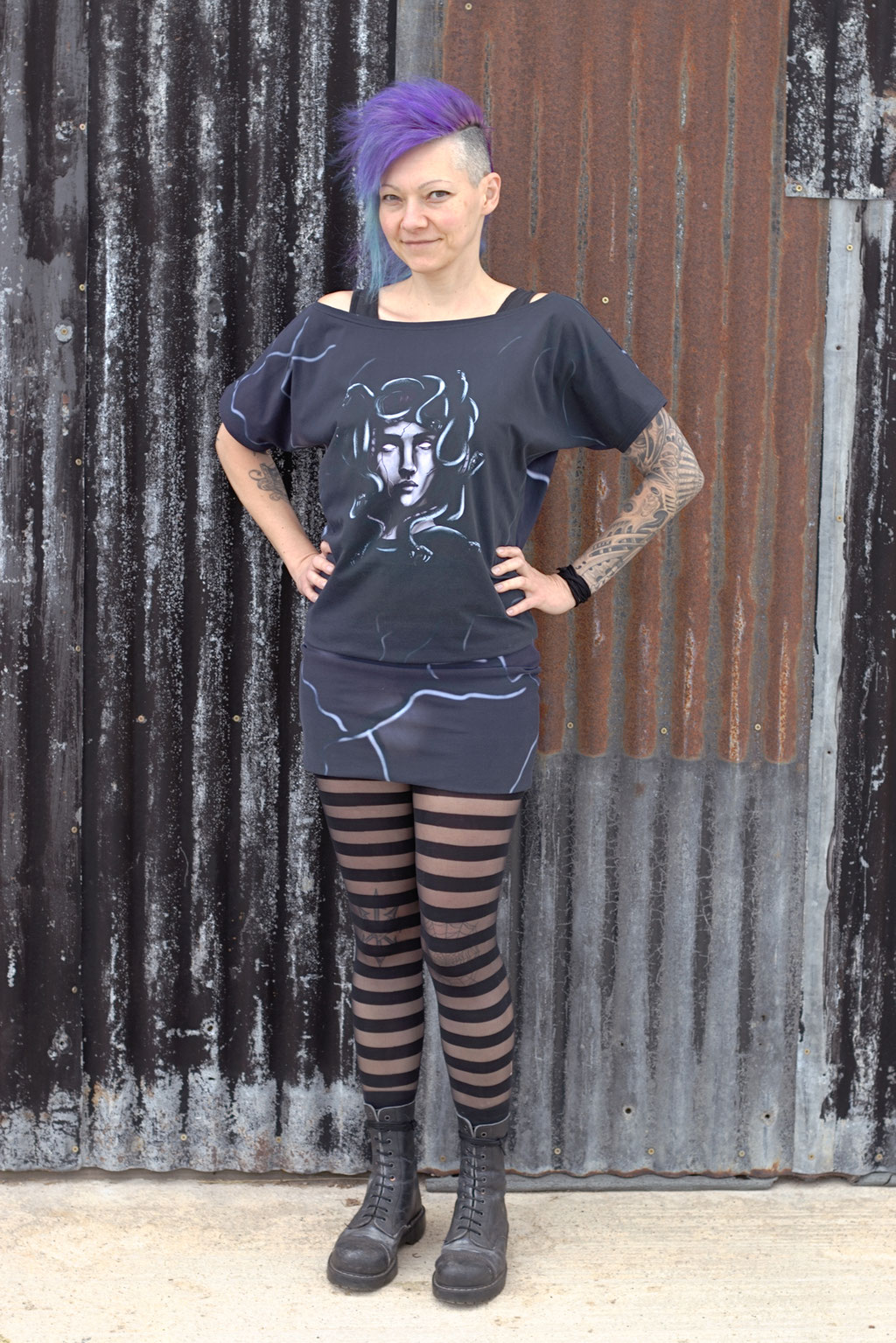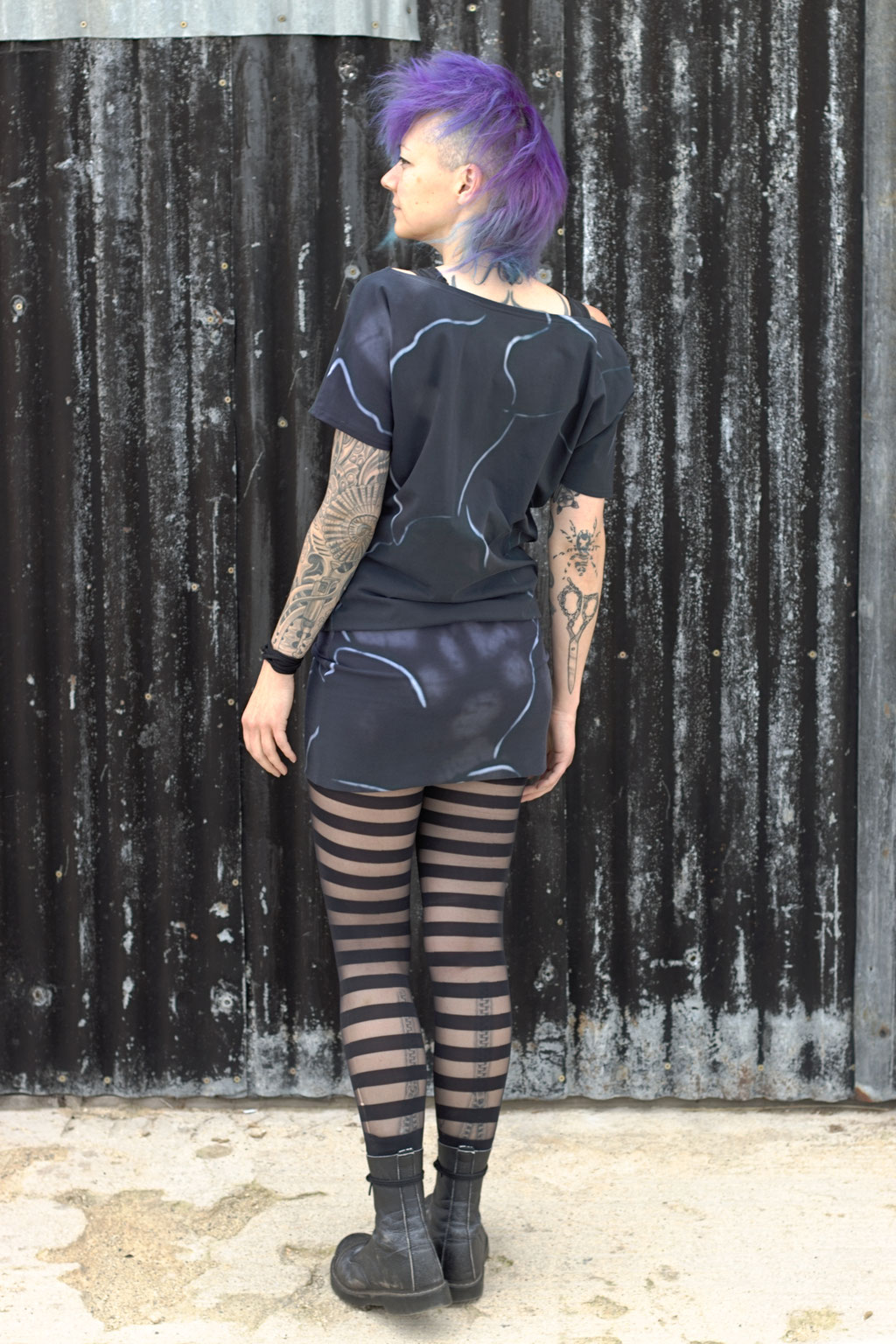 The design is by Kristin Heldrung and is available in green and purple. The first prints came out a bit darker than intended so some details in the portrait got lost. But it still looks fantastic, and the background pattern goes well with it. You can see the purple more on the sides of the panel - the skirt part on my dress - some thought this was a two-piece.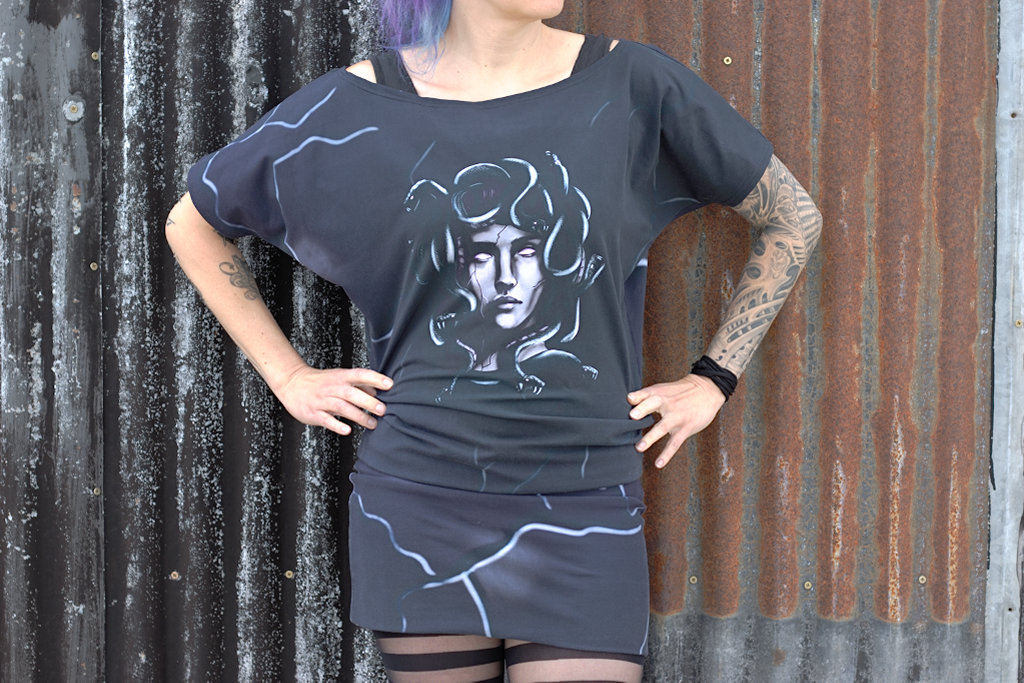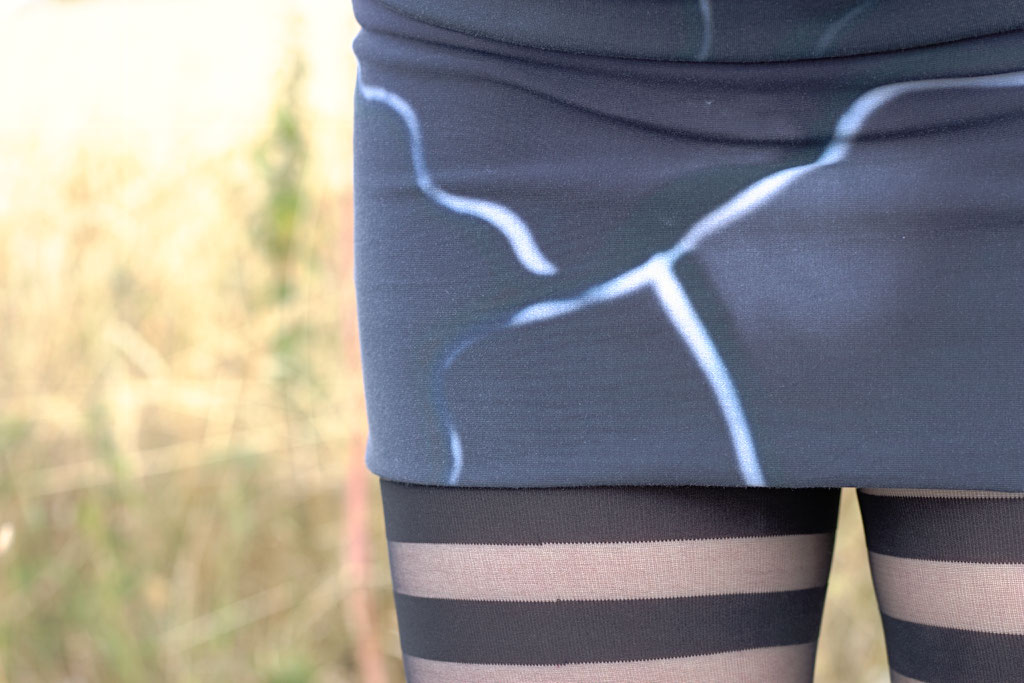 I know I've been quiet on here for a long time. I worked a lot on new items for the markets but did not even have the time for photos to show here, yet putting everything in the shop. I did start travelling again, and then the big C hit me the first time after over two years. I'm still not back to my usual energy level, (and my main job goes first,) but it is getting better.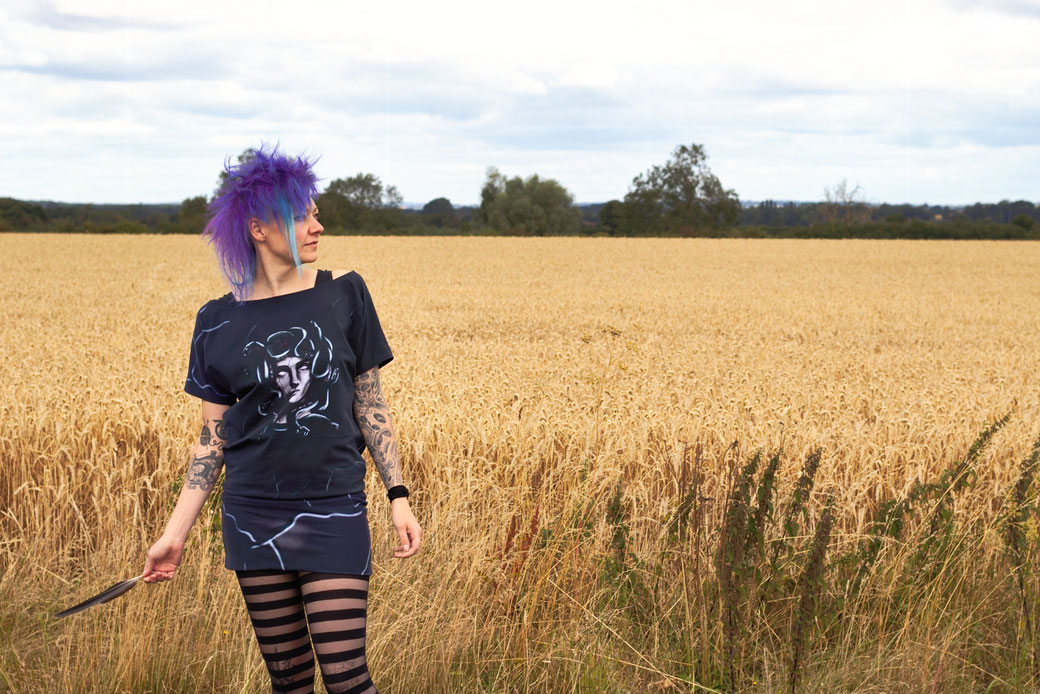 The field behind me was harvested just a few hours later after the photo shoot, and I keep wearing the dress for a summer party - I hope you are having a great summer!
---
Zebraspider Updates
Don't miss any new one-of-a-kind design! Be the first to know about shop updates, events and the best blog posts by joining the email list!
You may also be interested in:
---