As promised, here is the second part of the Halloween DIY projects from the last years now translated. There is a printable garland if you're into paper crafts or prefer something quick and easy. When you don't mind getting your hands dirty, try modelling a horror-themed candle holder. If you have more time and like needlework, be inspired by the cross-stitch towel project.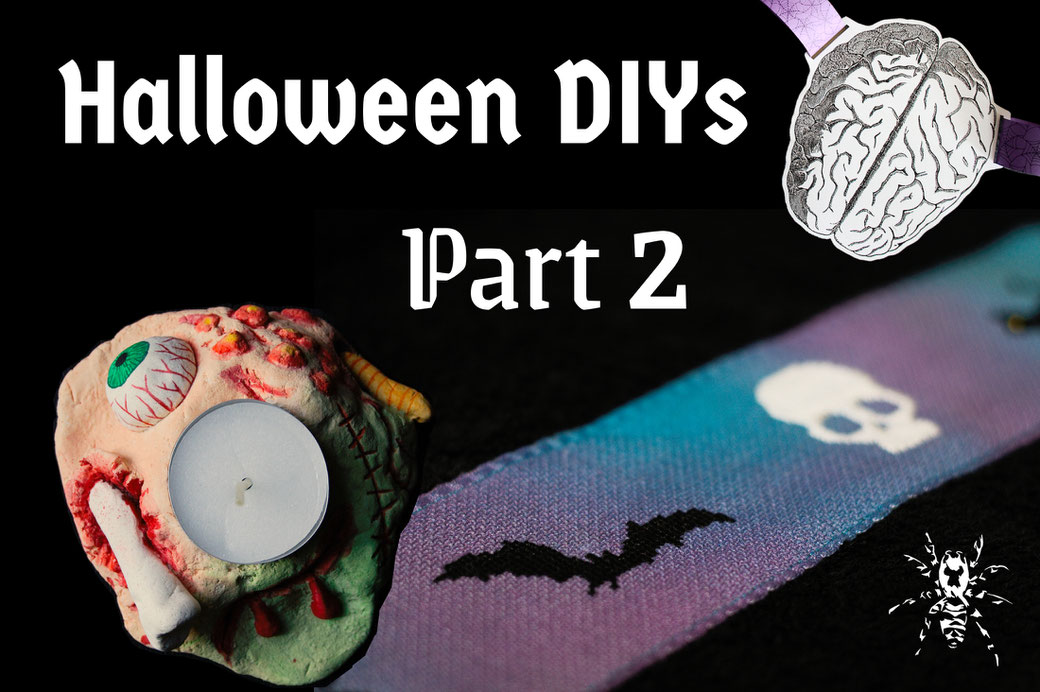 Halloween Paper Garland (Free Printable)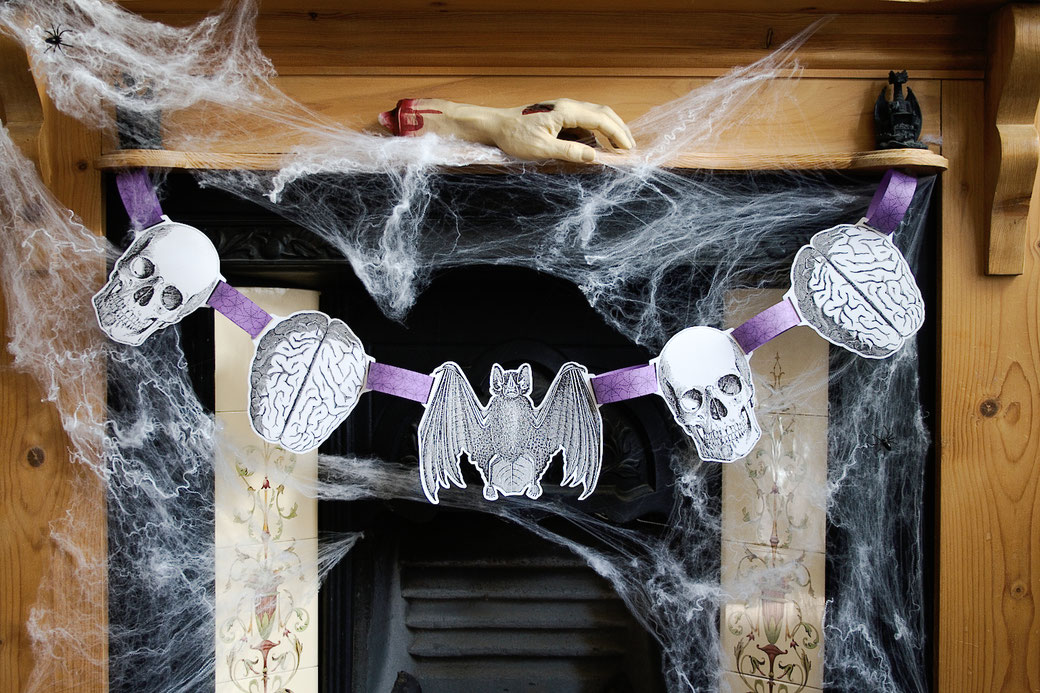 It's amazing what you can buy as Halloween decorations now. Every year I have to hold back a little more to not buy more "useless stuff" made of plastic, and I'm also thinking about using more natural materials for my projects. I found some vintage images of anatomical drawings and thought they would make a pretty paper garland with just a few alterations in my graphics program.
I used regular printing paper but can also print on something thicker, e.g. 100gsm. It looks incredibly cool when the spacers have a different colour. I still had a purple sheet for the stripes with my self-designed cobweb pattern. The slots for the connections are best cut out with a craft knife first. Then you don't have to be particularly precise with the scissors; just cut between the motif and the thin line.
Only the bat is a bit trickier with its many small curves, so nail scissors are recommended. Pull the strips lengthways over the edge of a table to bend. Then, connect the motifs with the paper rings to form a chain. I used a glue stick, but it also works with scotch tape or something similar (the unpatterned box is for the glue.) I pressed the rings a little flat so that the whole thing hung nicer.
I had the garland up on the fireplace (which is otherwise a bit ugly.) It will indeed look good on a wall or in the window as well. Your garland can also have a completely different composition. Maybe you like the brains in pink with red blood splatters as horror-themed decorations or just skulls on yellowed paper for a pirate party? The bat also has an upside-down version in the pdf file.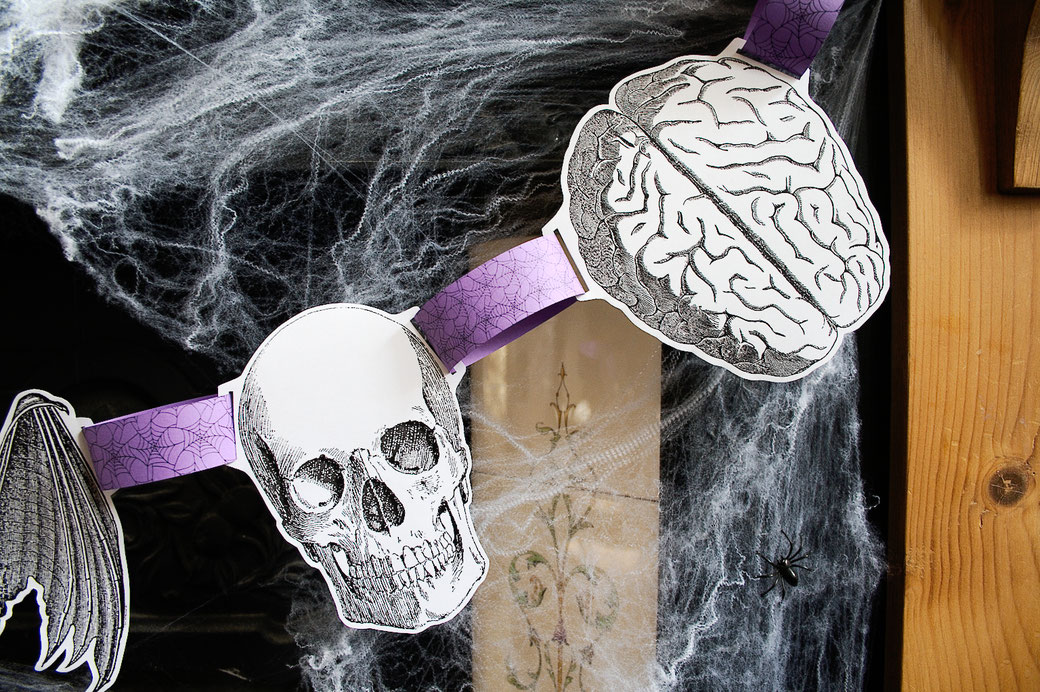 Halloween Paper Garland (Free Printable)
Template for a paper garland as a Halloween decoration. Simply open the PDF file with Adobe Reader or another PDF program and print it out (landscape format).
Halloween_Garland.pdf
Adobe Acrobat Document
7.9 MB
Horror Candle Holder - Salt dough or modelling clay
Another Halloween decoration from 2016, when I had most of my many crafting materials in storage. So I used what I had: my watercolour paints and the ingredients for salt dough. It would work better with white air drying modelling clay, but more on that later. To paint the tea light holder later, you can use watercolours, gouache or acrylic paints; that's also up to you.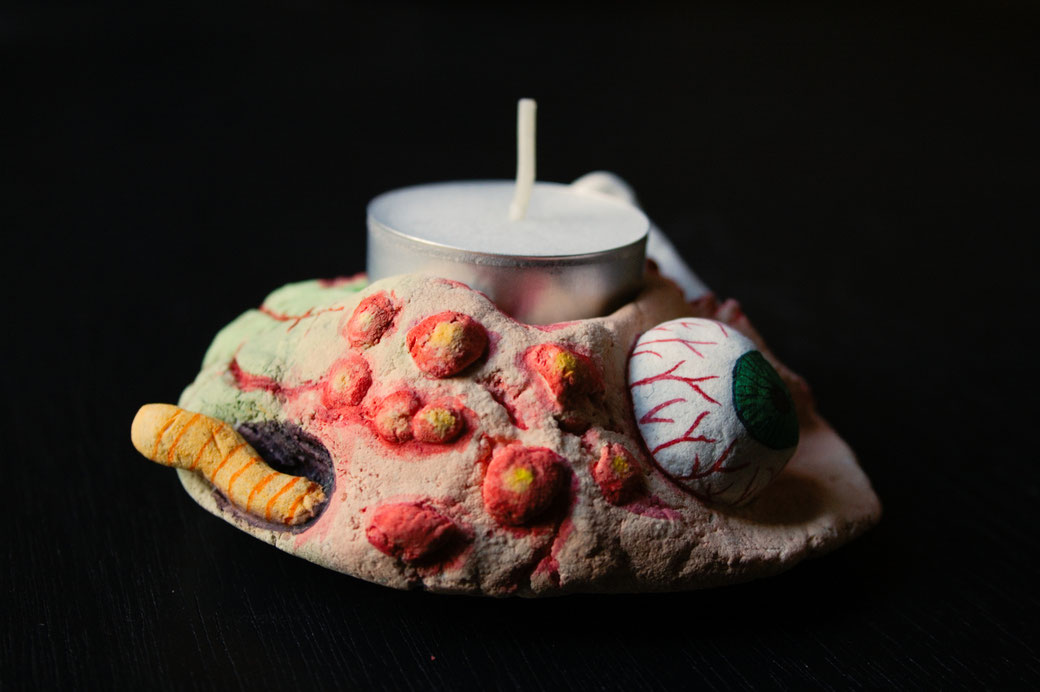 If you decide on the salt dough, here's what I used: 150 g of flour, 50 g starch, 100 g of salt, 100 ml of water and a few drops of oil. Hot water is supposed to make the dough a little finer, but the salt does not entirely dissolve. Fine-grain salt made all the difference for me, so I was able to model finer details. The dough was pretty crumbly at first, so I added more water until it was smooth.
For the creepy candle holder, I started with a misshaped lump and pressed tea light into the top. The design includes scars and open wounds, pimples, a worm, protruding bones and an eye. The salt dough should actually dry for at least 1-2 days before baking - or entirely because it's much more gentle. According to most instructions, bake at 60-80° C for 1 hour and then slowly turn up the temperature.
I used a set of kid's watercolours for painting that luckily came with a light skin tone. I gradually added green to this and primed the meatball all around for a zombie-like colour. I also used different shades of red for a beautifully bloody look. A fine brush (and a steady hand) helped me a lot with the details. Clear varnish makes the salt dough and painting durable afterwards.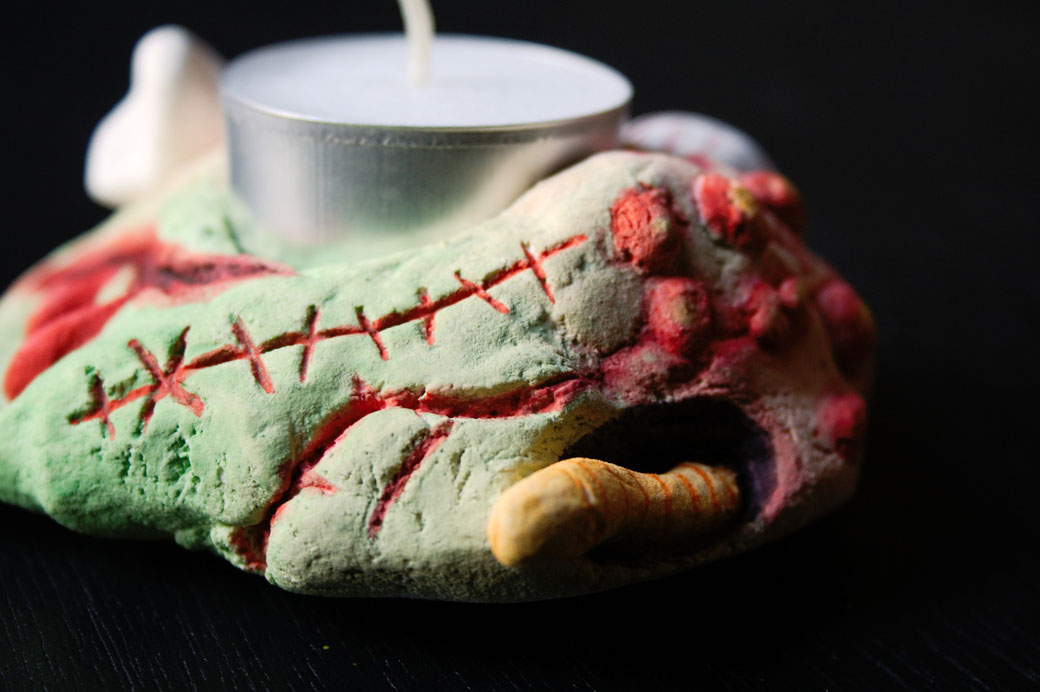 You might need to carve a bit for the tealight to fit in as the whole thing shrinks a bit while drying. I was impatient with the air drying and baked it another 2-4 hours at 100-120°C because the candle holder is such a big chunk. I enjoyed this creepy piece for a few years, but unfortunately, it broke eventually. Maybe because of the heat or the salt dough was too crumbly.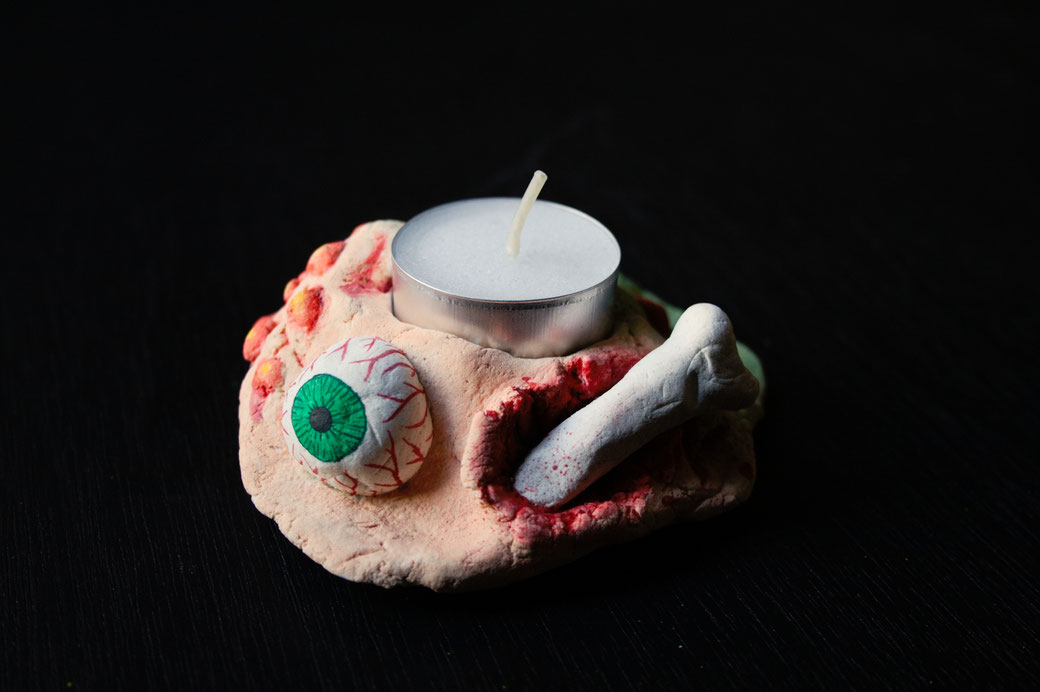 Halloween Cross-stitch Towel
This was a gift I made for a Halloween gift swap a few years ago. It is undoubtedly a little more time consuming to make, but it's also pretty and practical all year round. Needlecrafts on the sofa in the evening are so relaxing and perfect for the season, right? You only need a (black) towel, Aida fabric, fabric paint and four colours of embroidery thread - white, black, yellow and grey.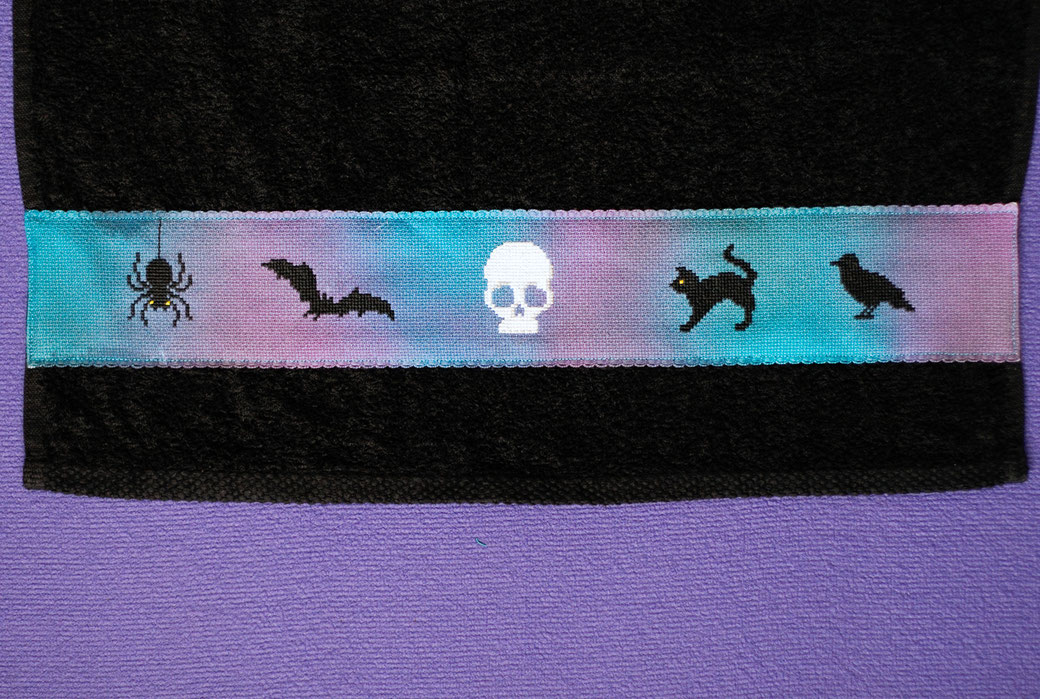 Ravens, bats, cats and skulls were on the favourites list of my giftee. I browsed through Pinterest one evening and pinned some Halloween cross-stitch designs. I transferred them on small squared paper that I printed myself and changed almost all of them a little until I was satisfied. I even drew the raven myself, as I couldn't find a template in the correct size.
The problem now was that the animals should all be black, but the skull white and light grey. Aida fabric is only available in white or black (ok, pastel colours, urgh), so I bought white cloth for dyeing. I ended up using a wide ribbon because the pre-cut fabric was too small for the width of the towel. I sprayed it with purple, petrol and black textile paint.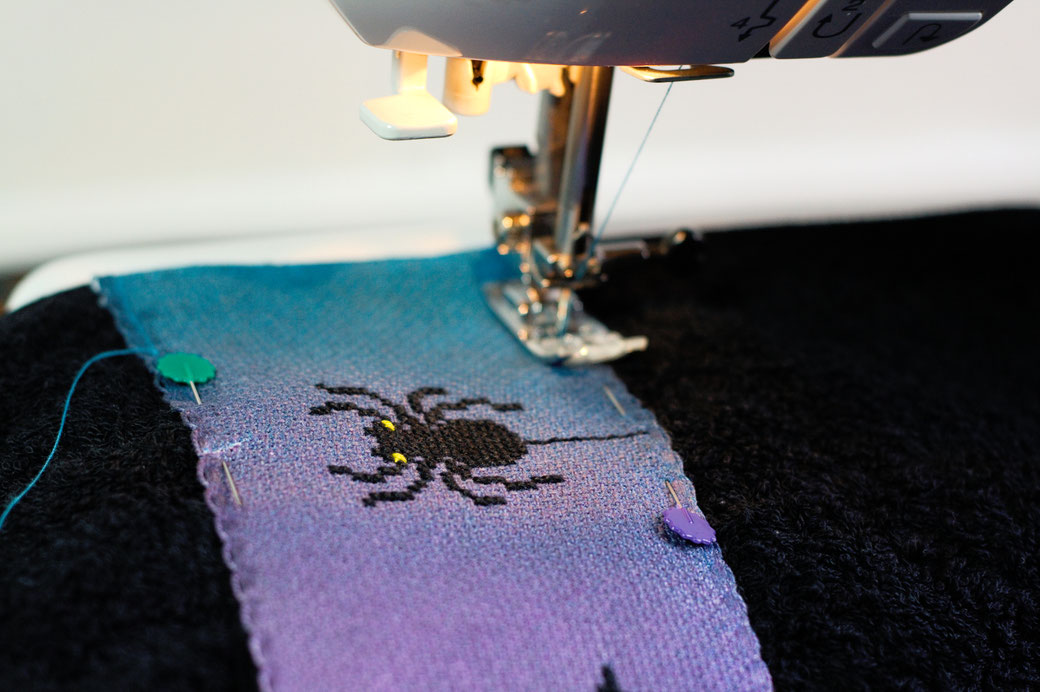 I didn't use a hoop for stitching as I didn't have one small enough, but it was alright. To evenly distribute all motives, I started with the skull in the middle and counted a lot back and forth to balance the others with their slightly different sizes. You could do only skulls, bats in different sizes or whatever you feel inspired by. Let me know if you are interested in the raven pattern!
I love how all of these turned out, even if I don't have them anymore for different reasons - would make them again any time! What project do you like best? And what are your plans for Halloween?
---
Zebraspider Updates
Don't miss any new one-of-a-kind design! Be the first to know about shop updates, events and the best blog posts by joining the email list!
You may also be interested in:
---