I have a quick
shop update
for you today. There are two pieces with my latest patterns printed on an organic jersey, and I hope you like this top and the mini skirt. Otherwise, I'm swamped preparing for the upcoming markets. Mark these in your calendars: First, the
Alternative Market
on 1./2. Oktober (online on Facebook) and second, the
Leeds Goth Market
on October 23rd. Hope to see you there.
Now to the new pieces. I used the watercolour coffins print for a
sleeveless summer shirt
. It's the same cut as the
bats top
, just with a different arrangement of fabrics. The coffins are on the whole front and the top part of the back. The lower part of the back is plain black.
There are no extras, so this makes a great everyday top that adds a little bit of colour. This top is available in size M ready to ship. All other sizes are made to order, but only three in total. At the moment, I can make sizes S to XL for this style but more's in the works.
The
Bats & Bones Skirt
has not one but two exclusive prints combined in a diagonal split. I really like this look, and similar skirts always sell fast. The bats are the same as on the bat top, just in black on grey. The bones came from a page in my sketchbook that I made patterns of. This is the stripe version.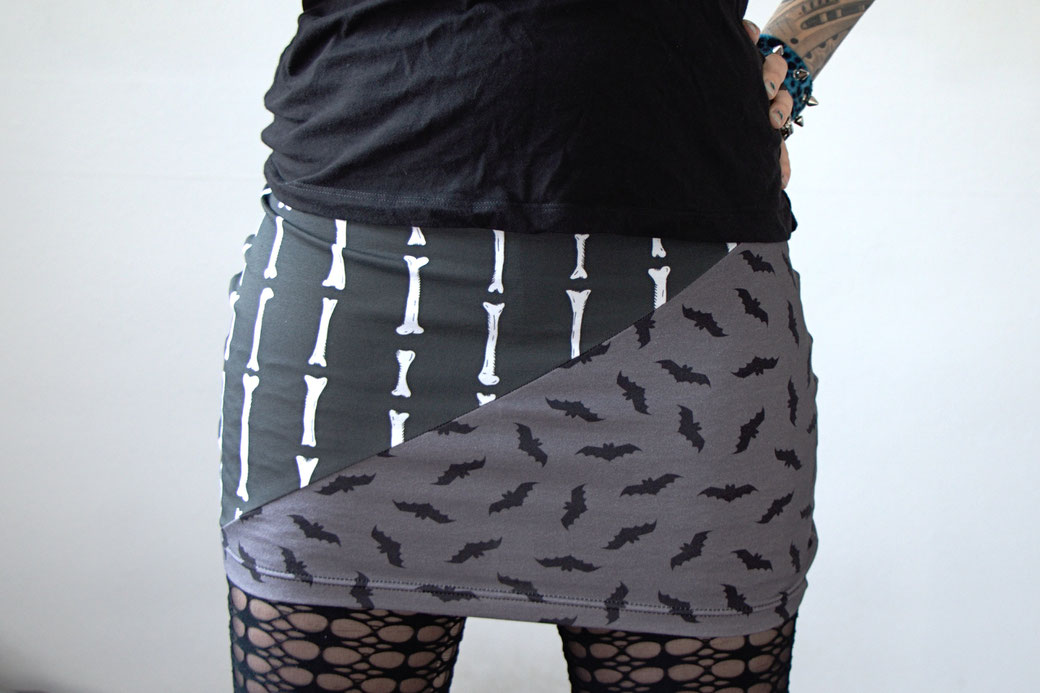 The skirt itself is a basic stretch skirt to make the most out of the prints. There is elastic enclosed at the top for a good fit. I only have one mini skirt for now (in size M), but I can make more in all sizes when I get more of the fabrics.
Let me know
if you're interested!
---
Zebraspider Updates
Don't miss any new one-of-a-kind design! Be the first to know about shop updates, events and the best blog posts by joining the email list!
You may also be interested in:
---