Back in 2010, I had a collection based on some punk T-shirts that I turned into skirts, tops, pants and other things - look at the collage below! It was punk as fuck, and that's what I named it. I felt a strong pull to my roots recently when I re-discovered not one but two boxes full of band shirts that I collected for these kinds of pieces. I pulled out the first few and let my creativity run wild. I present you: Punk as Fuck Recharged!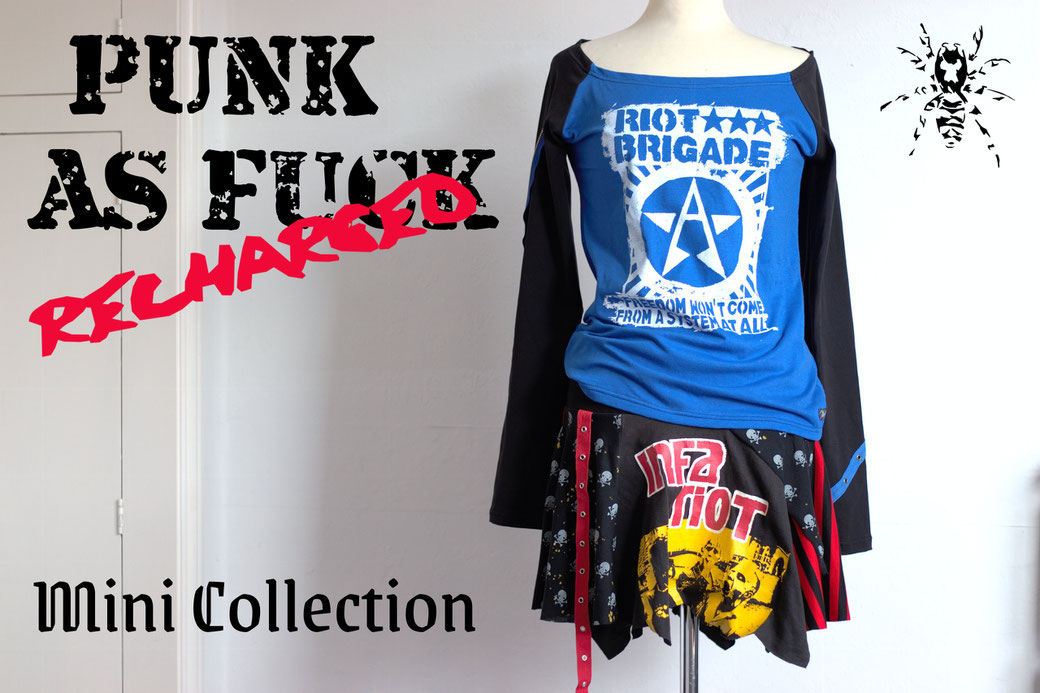 The Punk as Fuck Recharged Collection is made with cut-up punk tees, boldly patterned fabric, colourful eyelet tape and metal zips. The T-shirts are a mix of second-hand, misprints or from the bargain box for another reason - made wearable again in a bad-ass way. Almost needless to say, these pieces are one-of-a-kind. I wish I had th

e time for a proper

(modelled) photoshoot - but I didn't want you to wait any longer!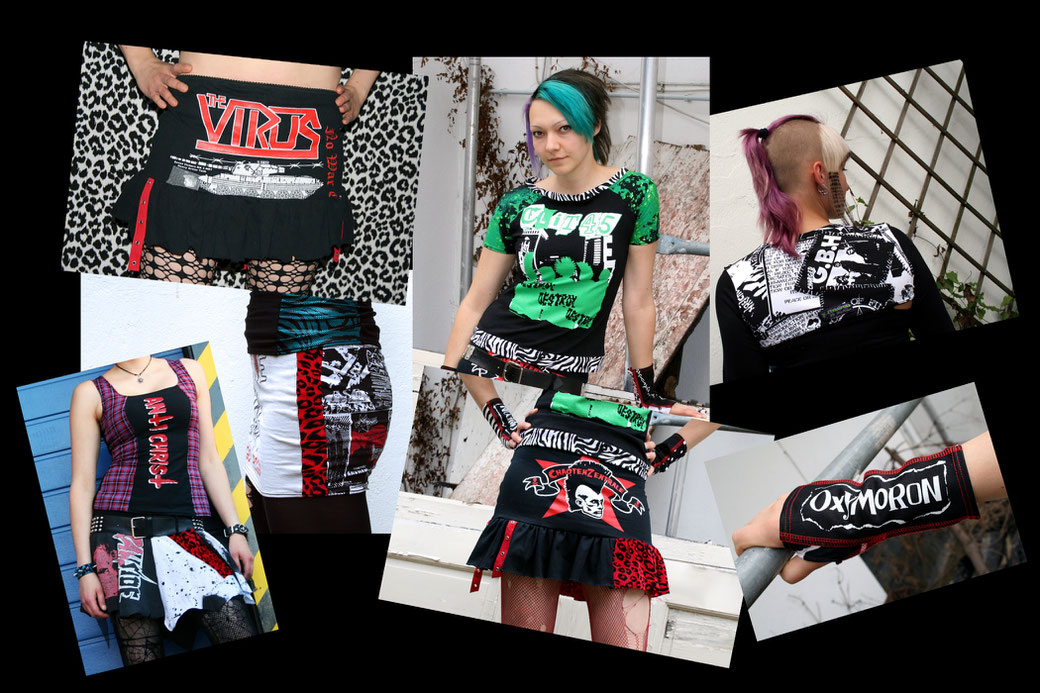 Slime Circle Skirt
Slime was one of the first German unk bands I listened to and greatly influenced me in my early days. The T-shirt seemed to had been used for test prints, which gave me the logo not only once but three times. The green fabric is the perfect match, as it literally looks like slime. The raw-edged circle skirt comes with a comfy wide waistband and decorative zipper and eyelet tape.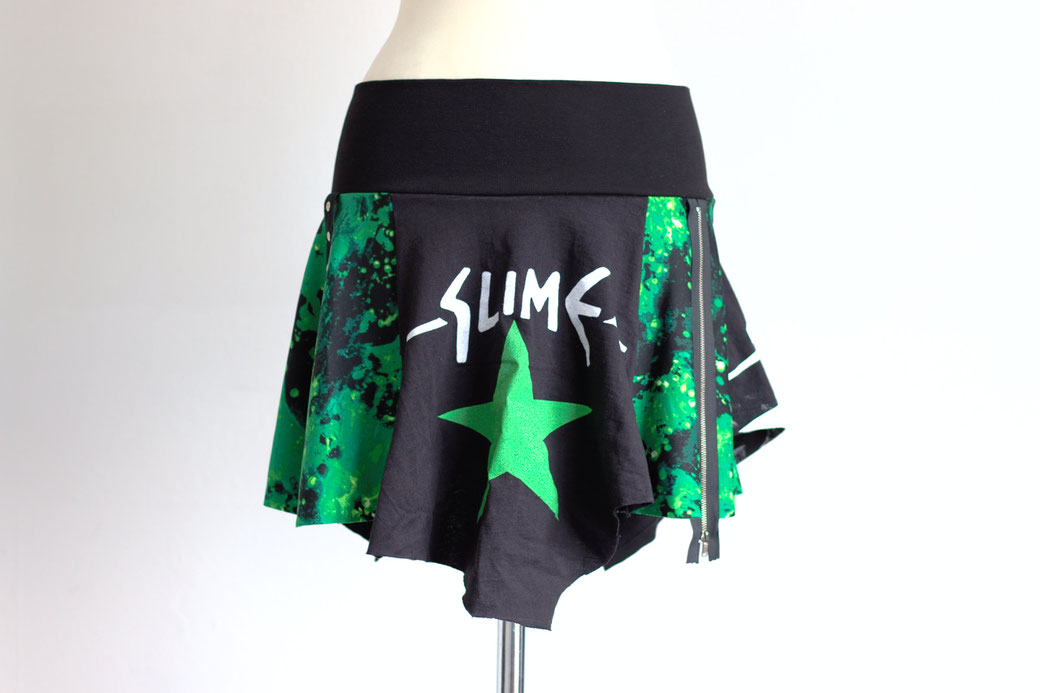 Infa Riot Circle Skirt
Another old classic band-wise. The large band print is cut straight through the middle with a ragged edge for the look. You can never go wrong with skulls and stripes, so I added a skull print with yellow splatters and red and black stripes to match the band colours. This circle skirt also has a wide waistband, some fabric scraps as a second layer and red zip and tape.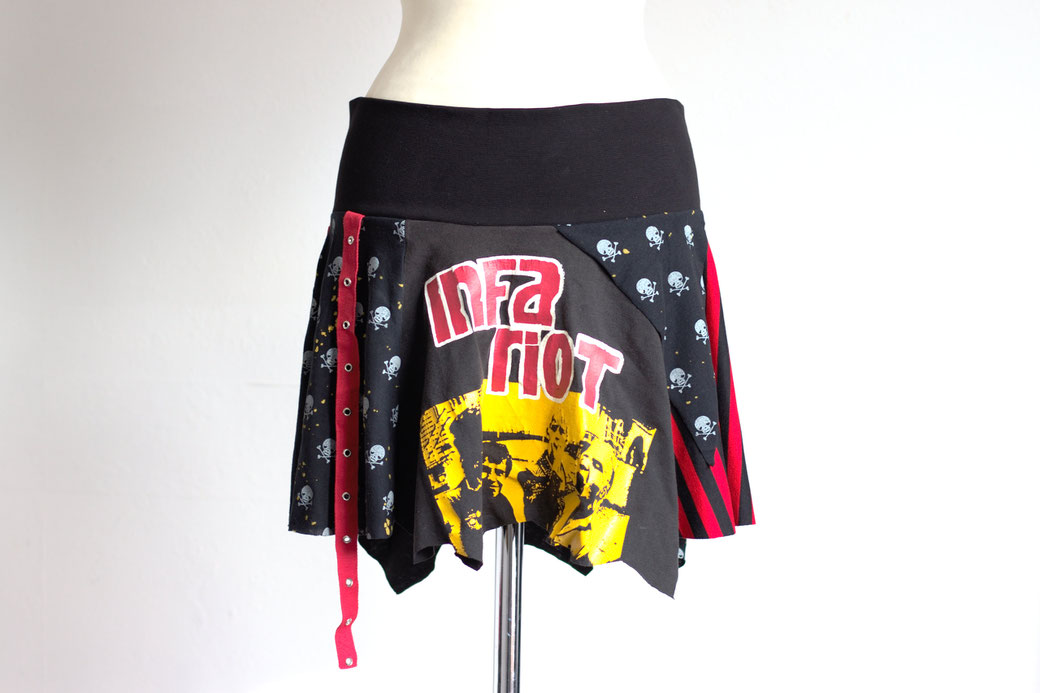 Riot Brigade Raglan Longsleeve
Riot Brigade is a german hardcore punk band that sadly doesn't play anymore - check them out! The blue T-shirt says: "Freedom won't come from a system at all", and I turned it into a raglan long sleeve with a wide neckline. The right sleeve has a blue zipper on the upper arm, the left one eyelet tape wrapped around the lower part. I'm really tempted to keep this one for everyday wear!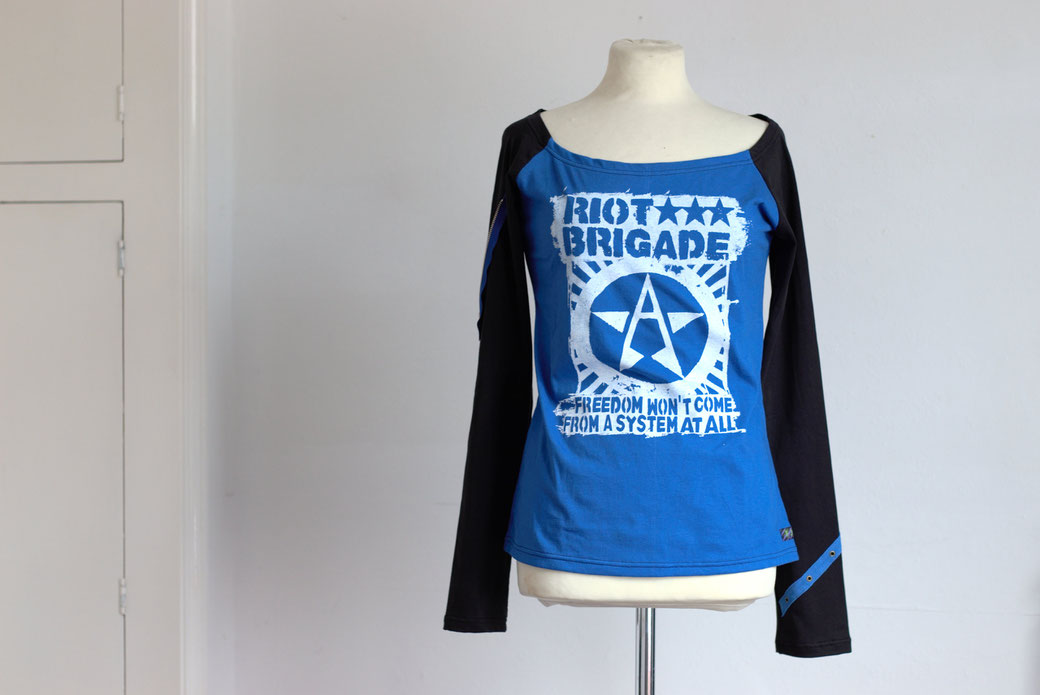 Cheap Sex Mini Dress
This is strongly inspired by my Monster Squad zebra dress (from 2012), but with Cheap Sex and orange, plus a few extra details. I used as much as I could from the T-Shirt and orange zebra for the upper part with a wide boat neck. The bottom also has a zebra to add a bit more length to this mini dress
(but not too much ;) ). There is an eyelet tape X on the front and a long double zipper on the back - making it a kick-ass dress!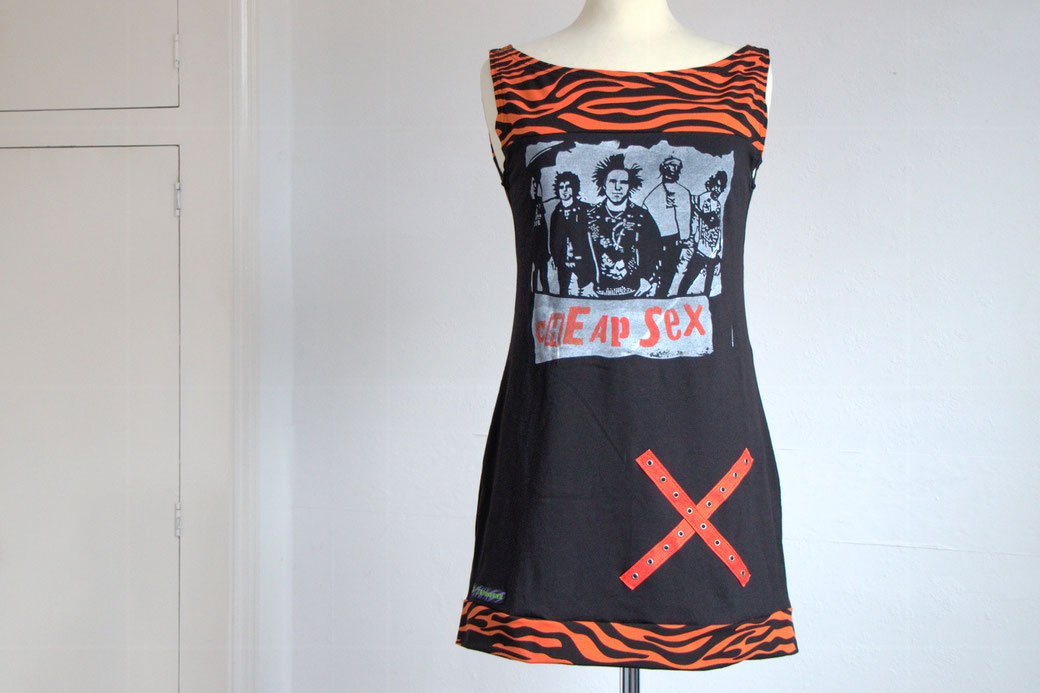 Middlefinger Mini Dress
Not a band shirt, but the message is clear! This one is a mini dress with straps, the left one is decorated with white eyelet tape, and the other has a zebra print ribbon. The dress is fitted at the top and flares out at the bottom with the help of a soft snow leopard print fabric. The back is decorated with a white open zipper at the top. This dress has a big riot grrl vibe and is best combined with ripped fishnets.
I loved designing and sewing these, and I will totally make more in this style with the shirts and fabrics I have left. I hope you like them as much as I do, and let me know what you would like to see next! You can find more pictures and all details about sizing etc. in the shop.
---
Zebraspider Updates
Don't miss any new one-of-a-kind design! Be the first to know about shop updates, events and the best blog posts by joining the email list!
You may also be interested in:
---