Today I have 24 shirts in different styles and sizes for you - some used, some bought new or second hand and never worn or altered like planned. Yes, My boyfriend and I had a large clearout. I still get asked for things from past flea market posts, so I hope you like this one as well. Because sizes can differ, I measured across under the arms and from the shoulder to the bottom. Compare these to a shirt that fits you well. I apologize that the phone pictures not as good as usual, I tried to edit them for actual colours.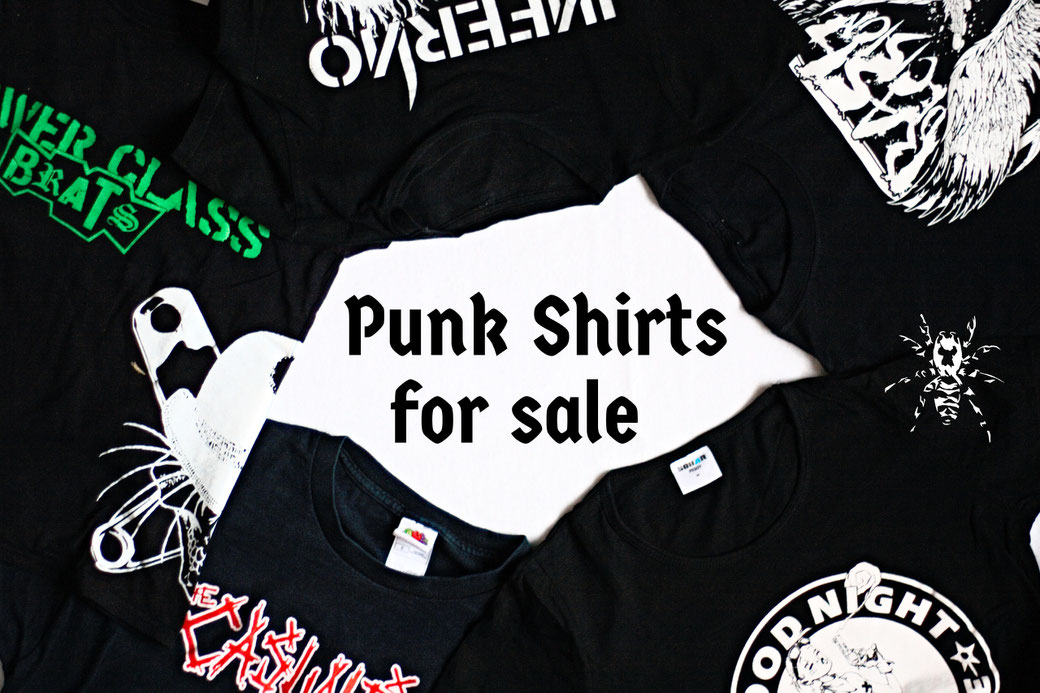 Casualties were one of the first bands I listened to back in the late 90s. The first one is an old-school "Girly" shirt. The label says S/M, but it's somewhat (extra) small: 43 cm wide, 51 cm long. It has a lovely thick fabric and looks like new.
"Stay out of Order" is an old tee with a large label: 55 cm wide, 71 cm long. It's a slightly faded black and used looking print, and there is a small hole next to the backprint.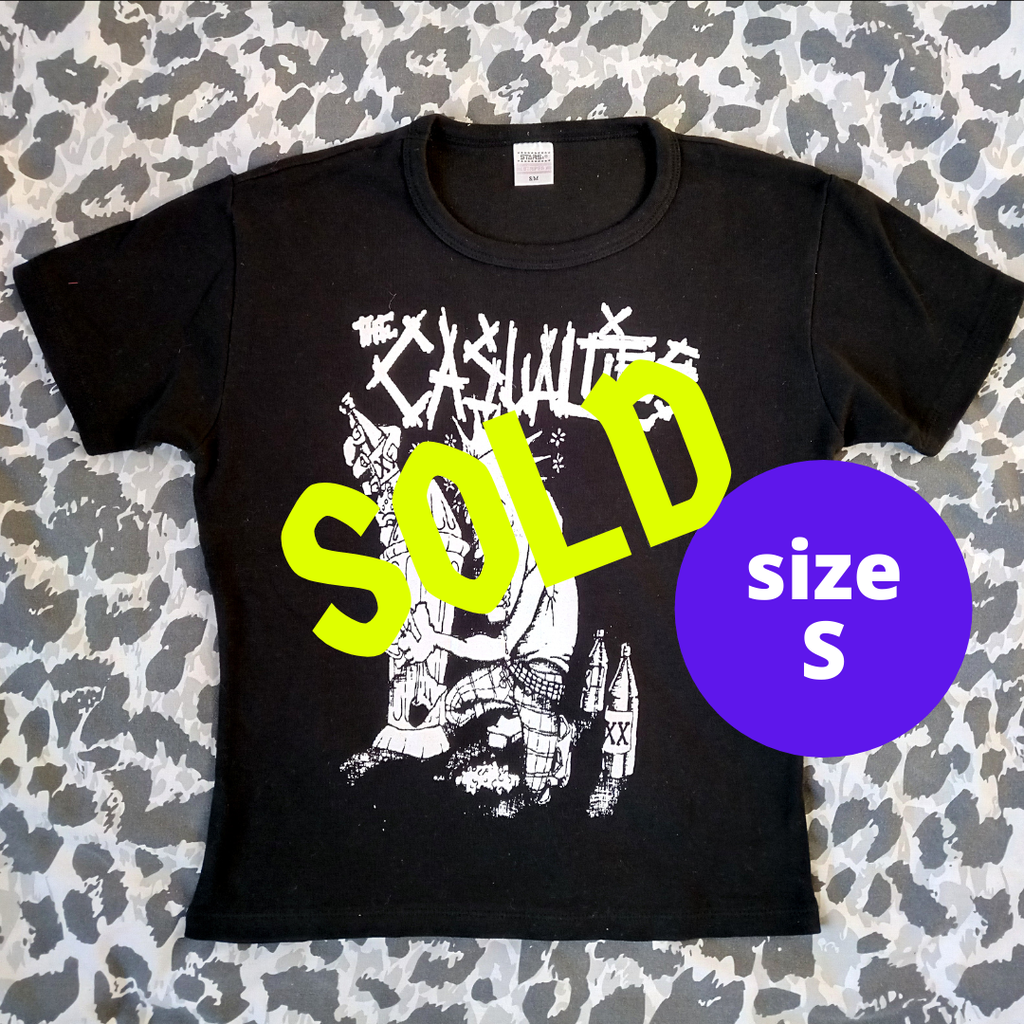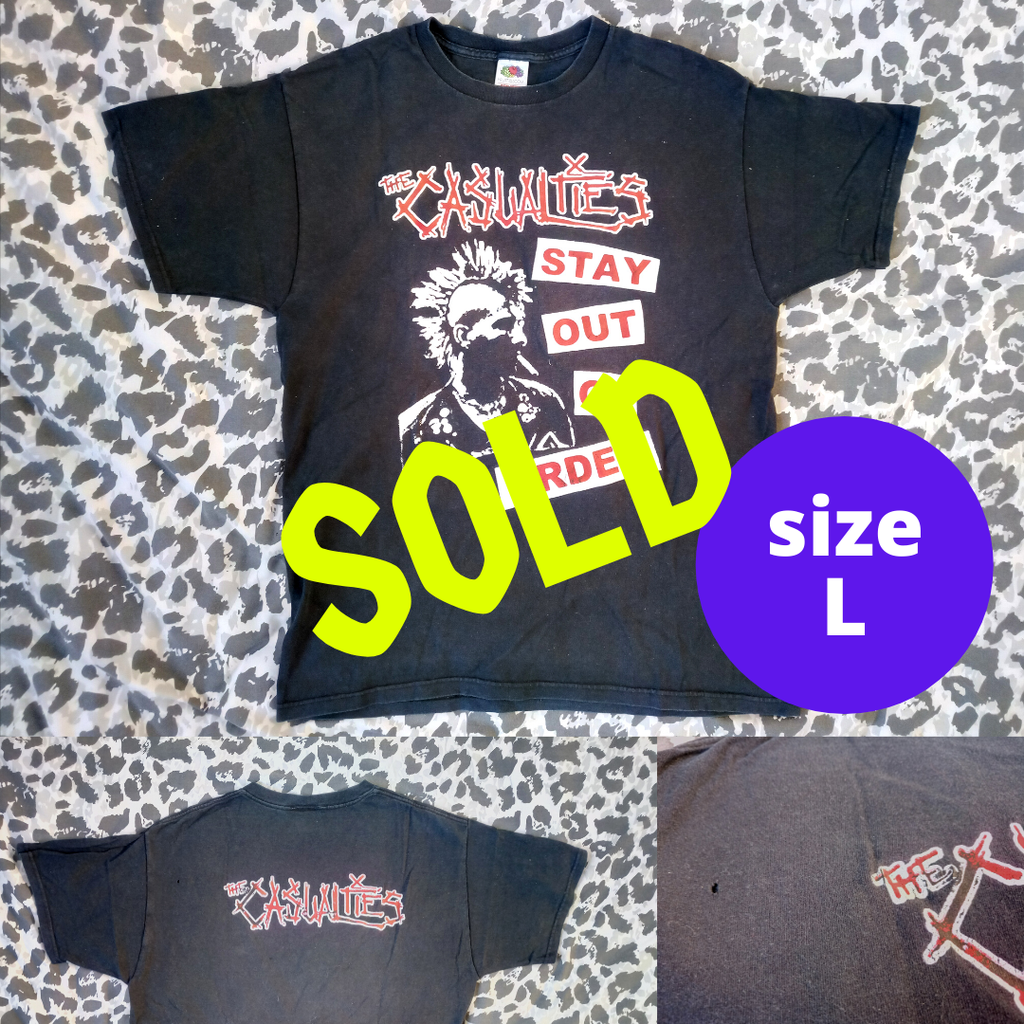 Another band probably everyone knows. I have two Misfits shirts that are like new because they are so big. The Crimson Skull with green is about size M-L, 52 cm wide, 64 cm long.
The multi-coloured skeleton print is an XL, I reckon, with 58 cm width and 76 cm length.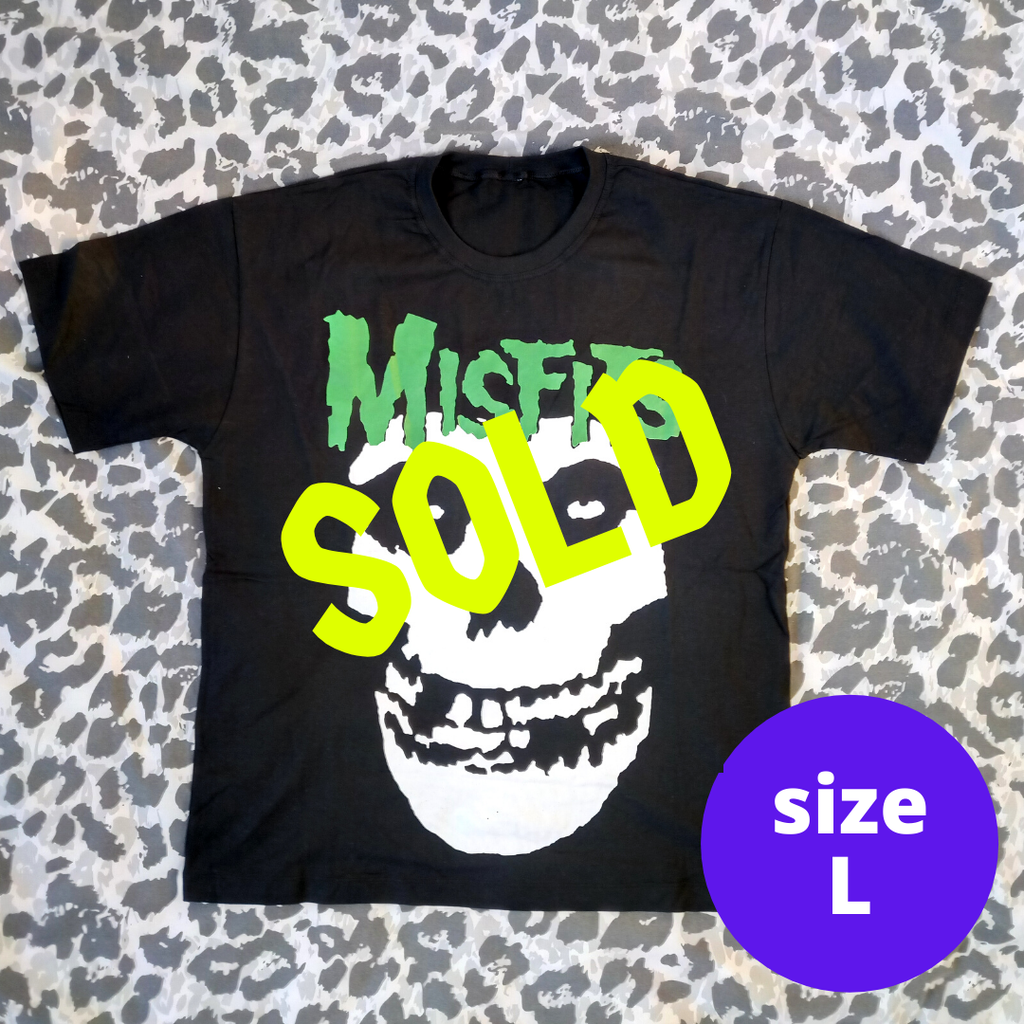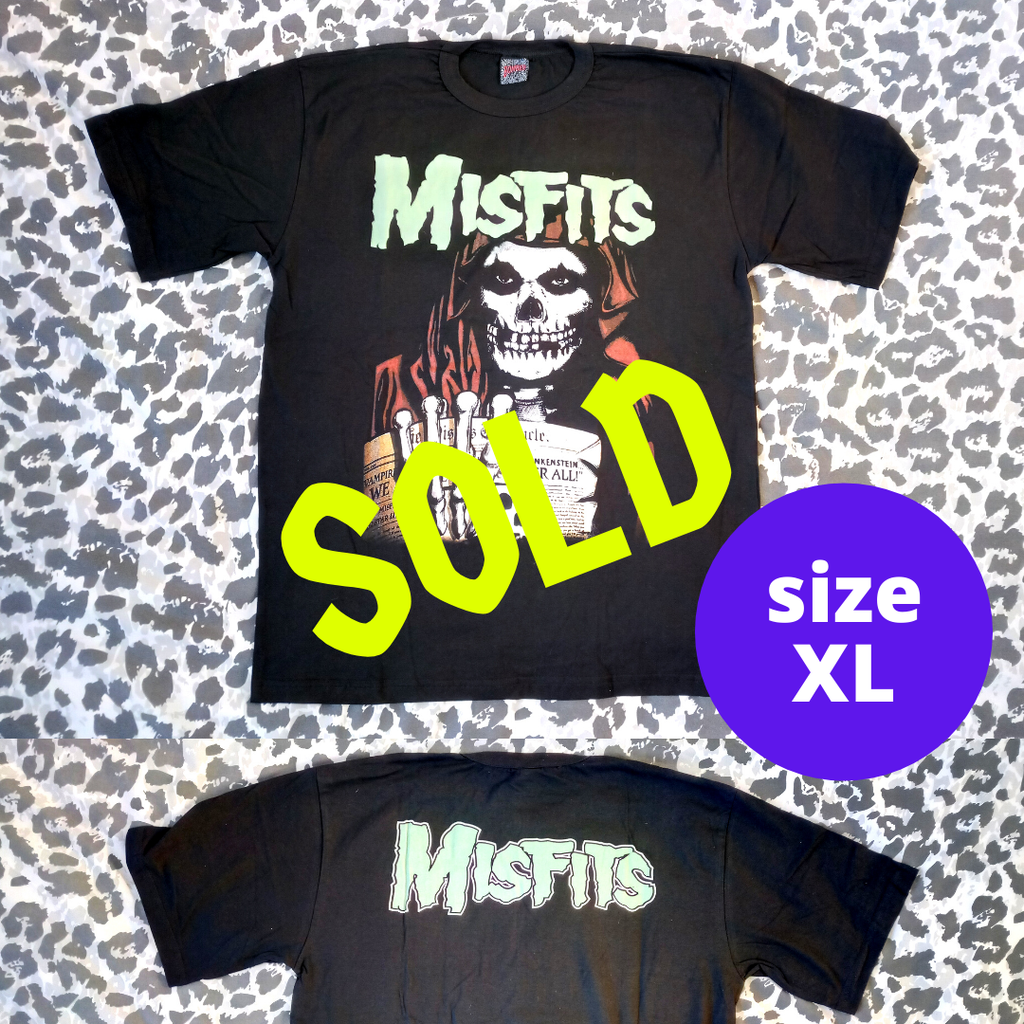 Next are two UK bands. Revenge of the Psychotronic Man is a small sleeveless shirt with cool back print: "Get pissed, talk shit, dance like an idiot". It's 47 cm wide, 64 cm long and like new.
Rash Decision "Seaside Resort to Violence" must be a medium with 49 cm width and 68 cm length and also looks like new.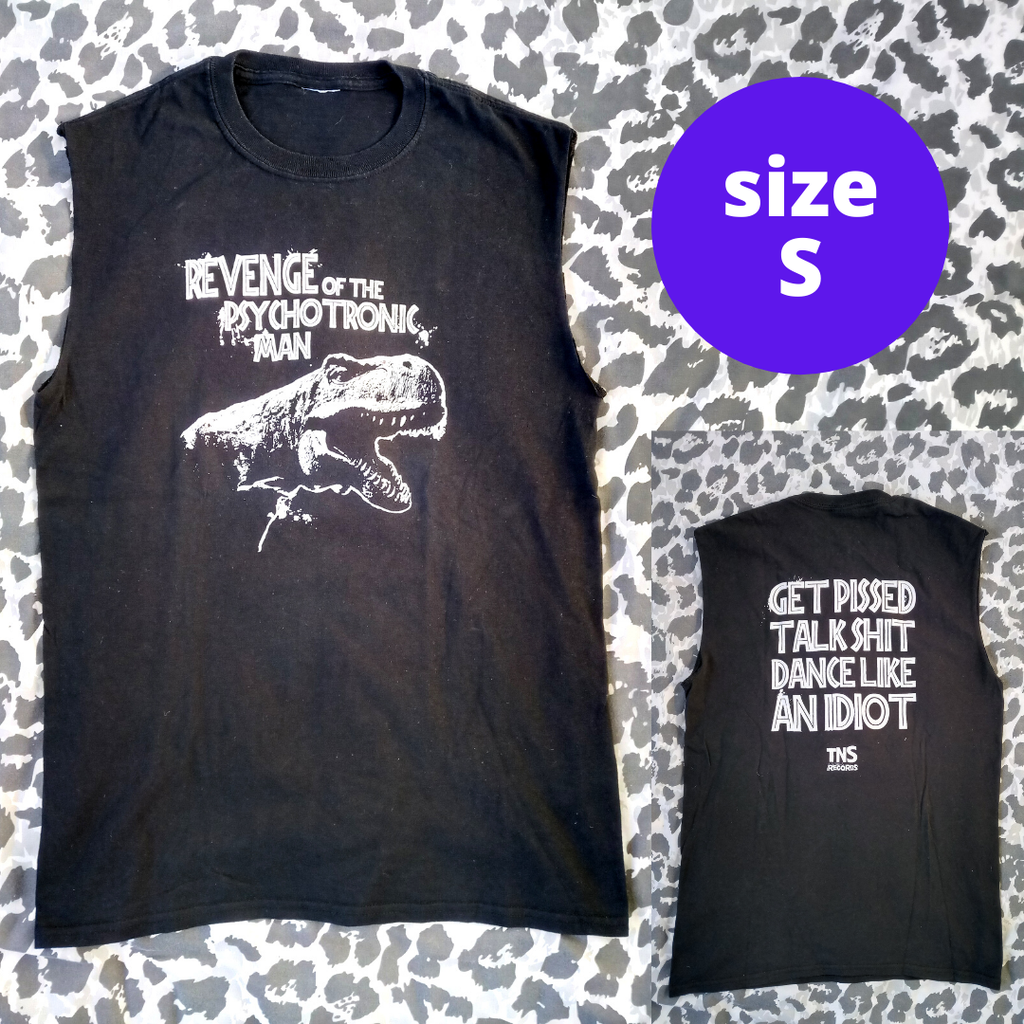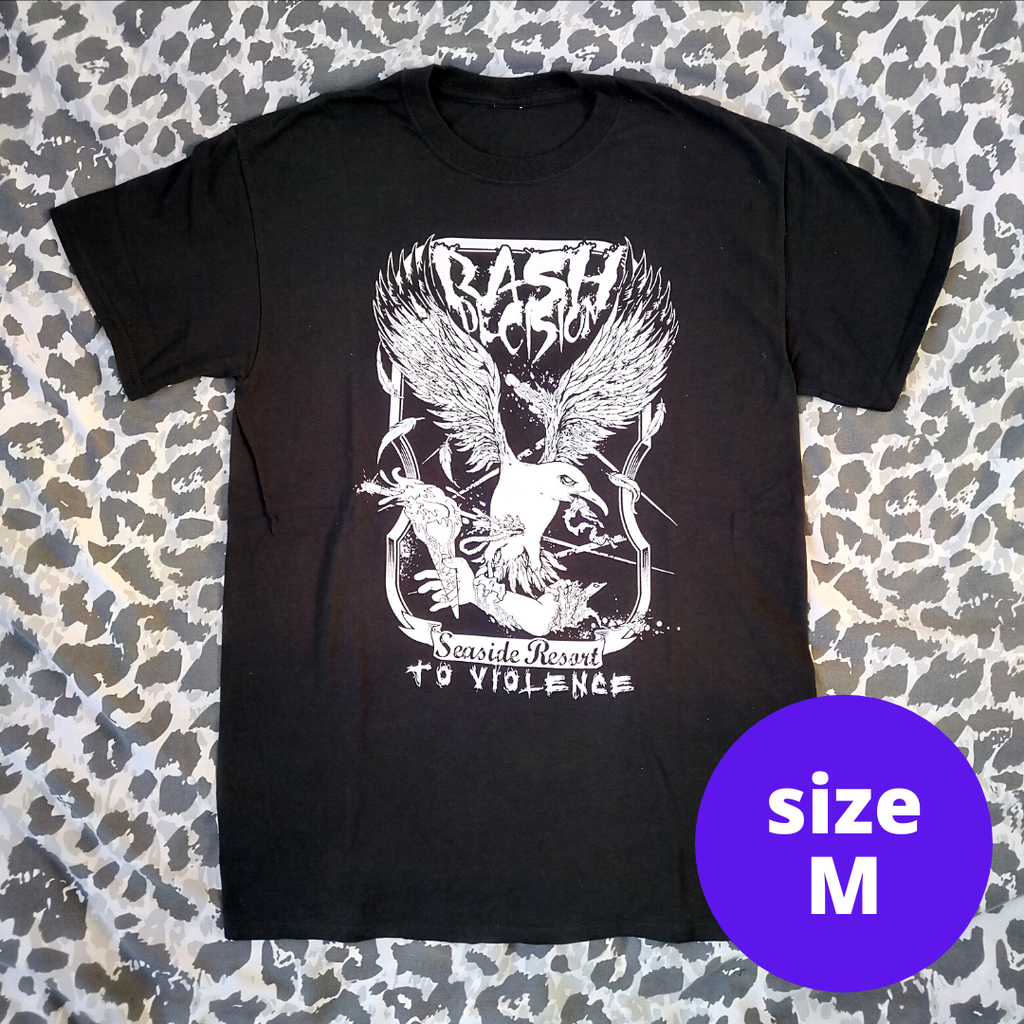 It gets more international with two bands from France and the Netherlands. The Charge 69 tee is about size XL, 58 cm wide, 75 cm long. It's used and has a few small holes at the botton but also a nice, soft fabric.
The Evil Conduct Shirt looks more worn with a slightly faded black and cracks in the yellow print. It's small on the label with 47 cm width and 68 cm length.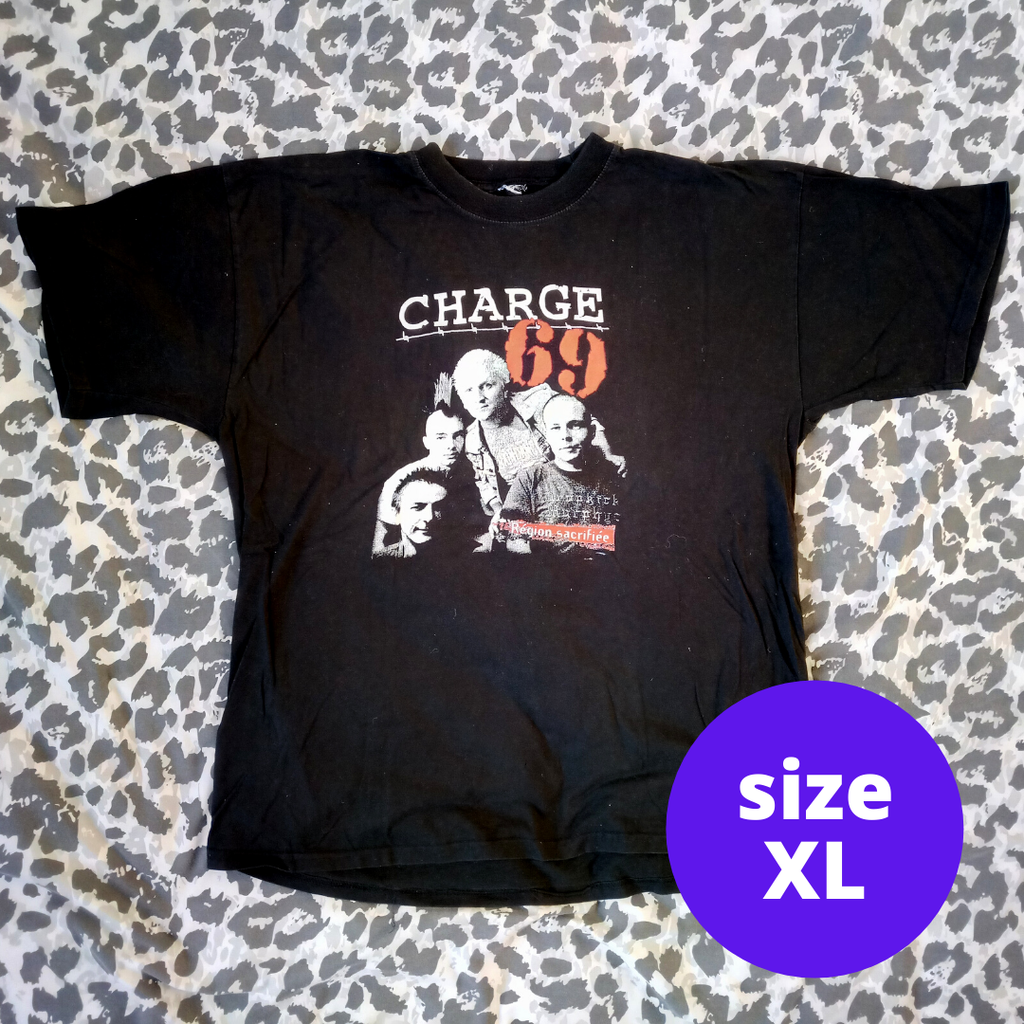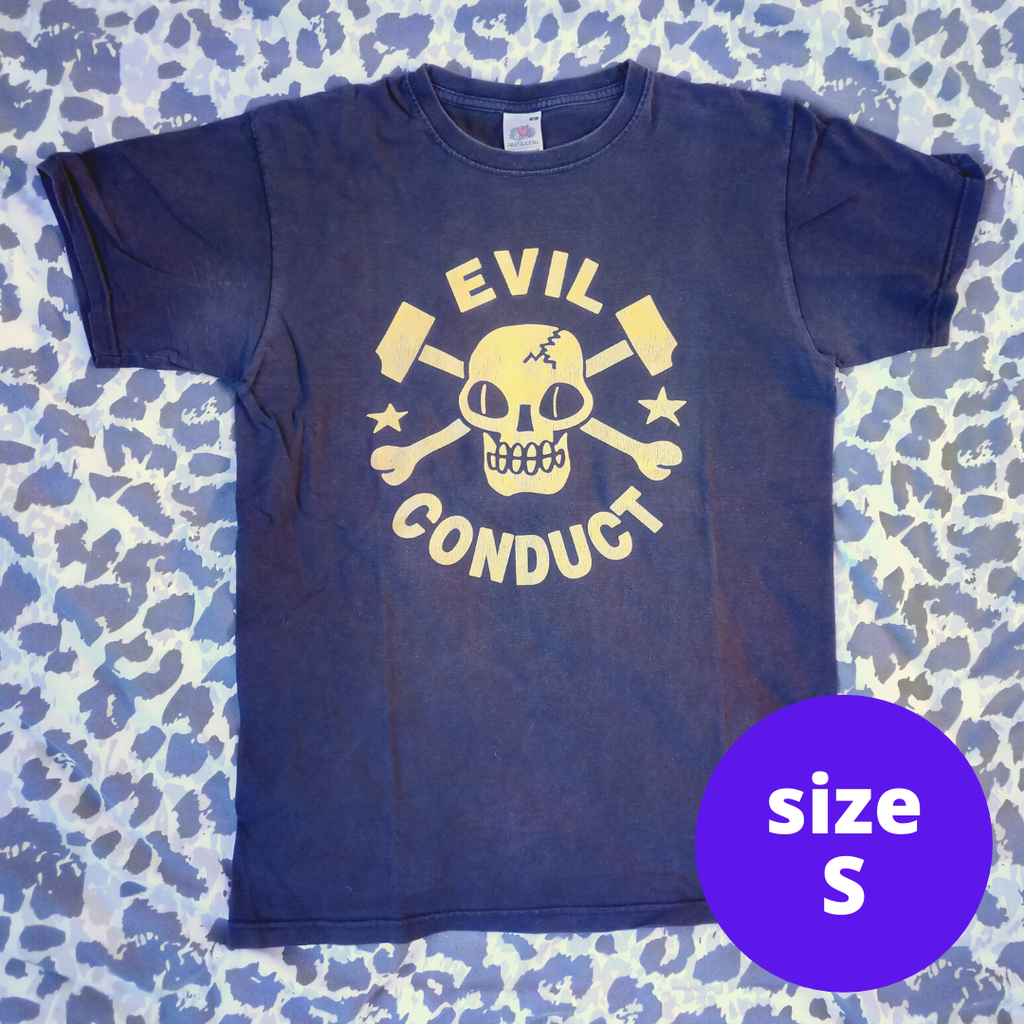 Two German bands are next: Fuckin Faces says M on the label, has 52 cm in width and 70 cm in length. It's slightly faded and cracked in print, still good to wear though.
The Razors Shirt looks new and is a medium according to the label, 48 cm wide and 65 cm long.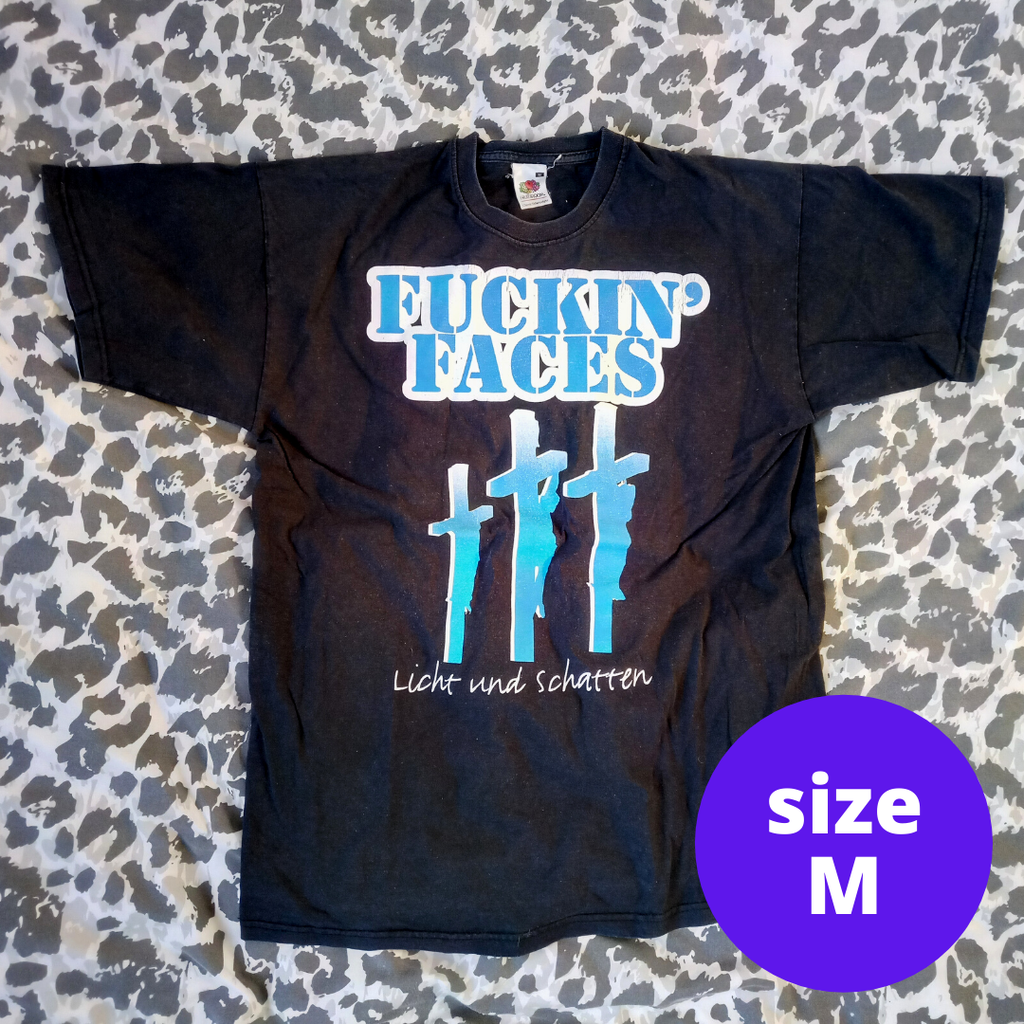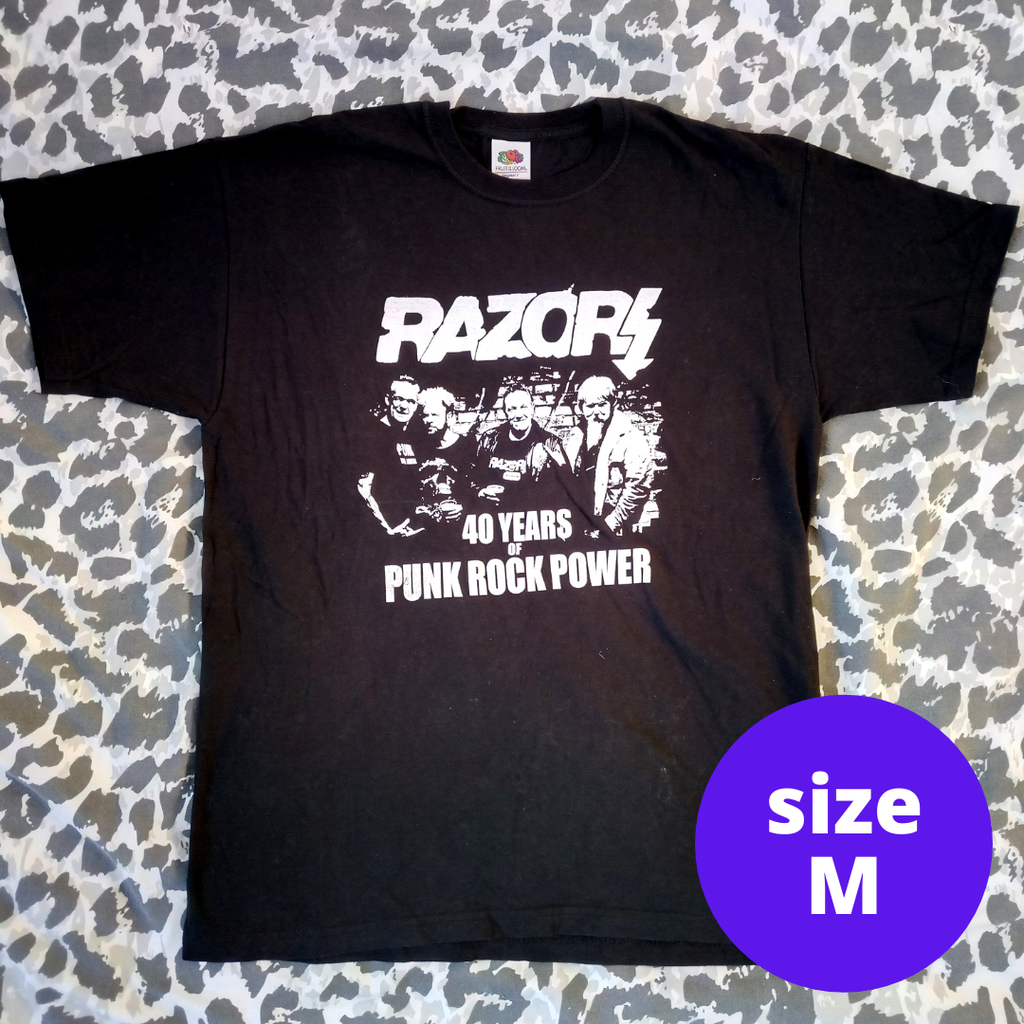 I rarely wear woman's cut band shirts - I don't know why I own so many. The Lower Class Brats shirt has a cool side print. It's regular T-shirt fabric, 44 cm wide, 56 cm long (size M) and as good as new.
The Springtoifel tee is a ladies cut V-neck with an L on label and prints on both sides. It's 46 cm wide, 61 cm long and new.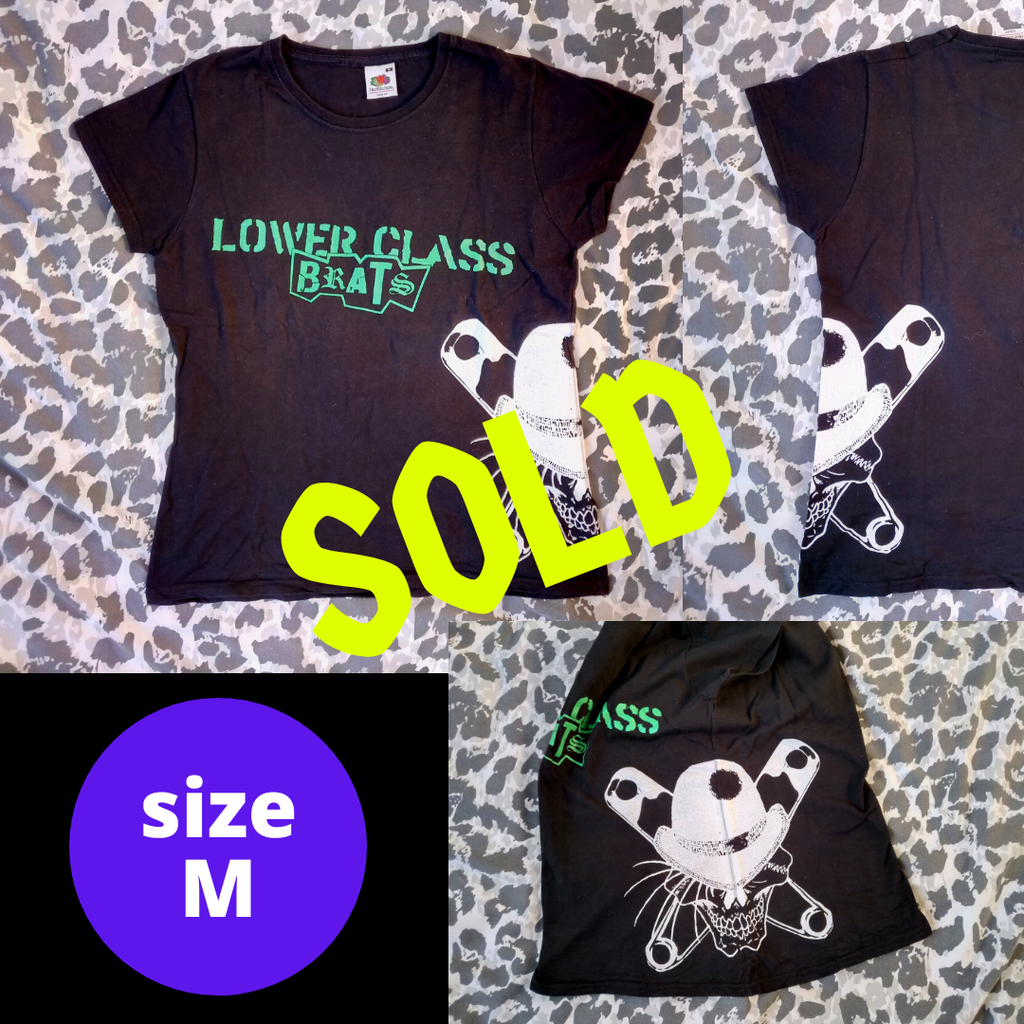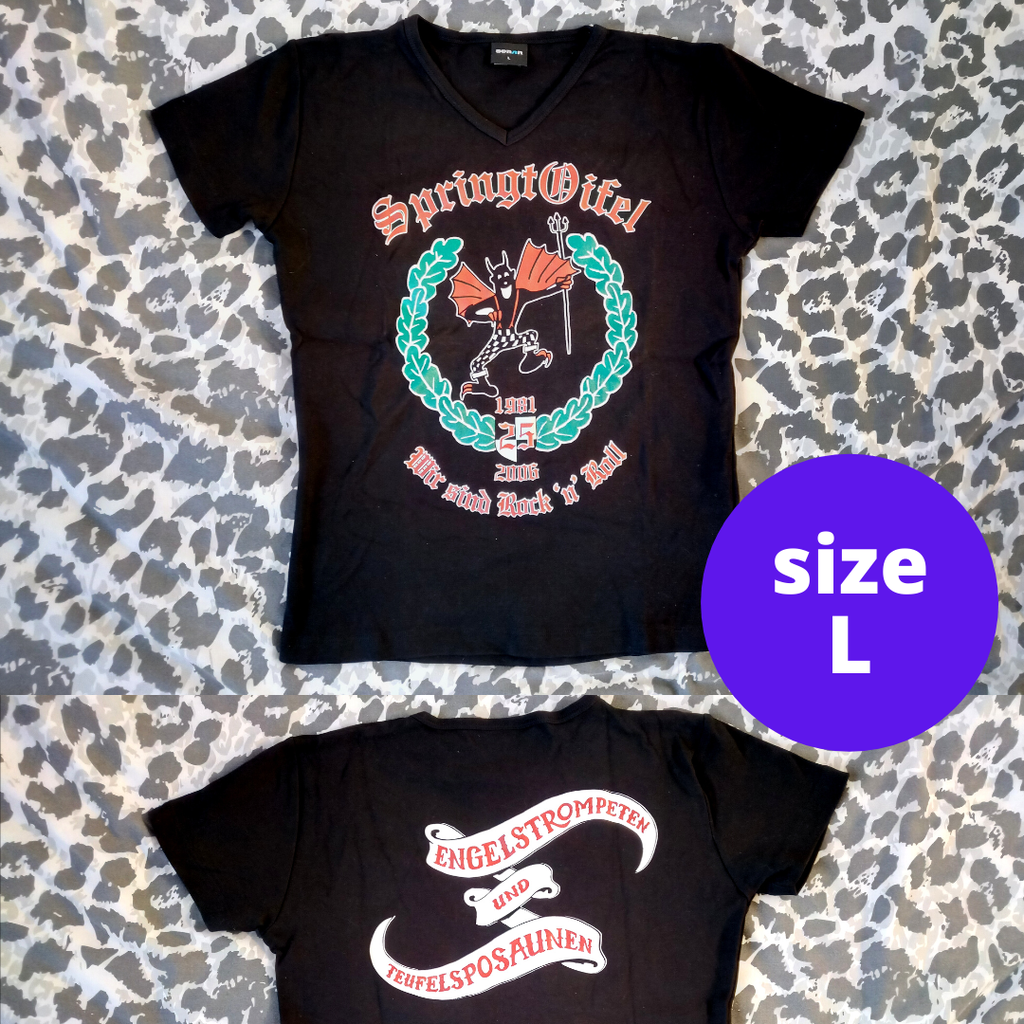 Two more I wish would look good on me. The Tank Girl shirt has a super cool "Good Night White Pride" print. It's a medium with 45 cm width and 61 cm length, looks like new.
80s hardcore punk band Inferno - sadly this T-Shirt is an XS-S and doesn't fit me. It's 42 cm wide, 51 cm long, slightly used but still in an excellent condition.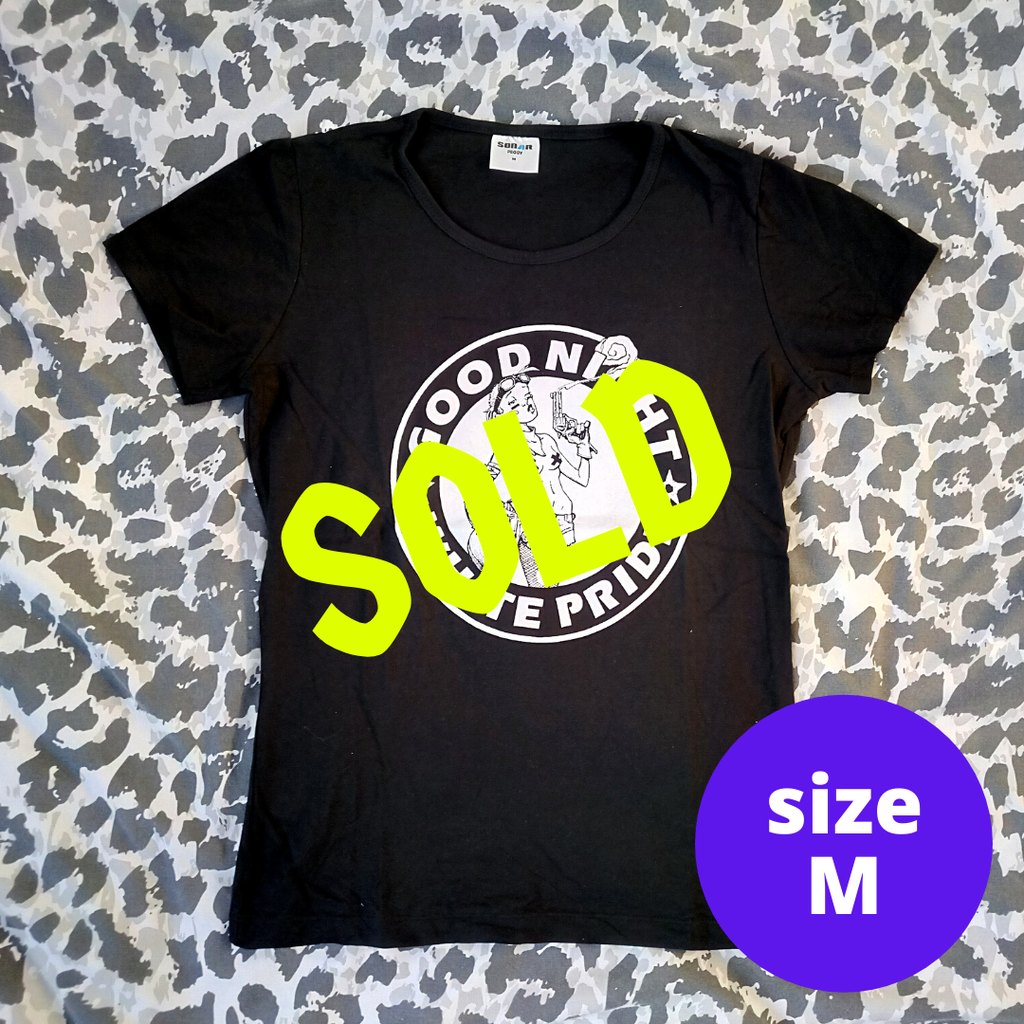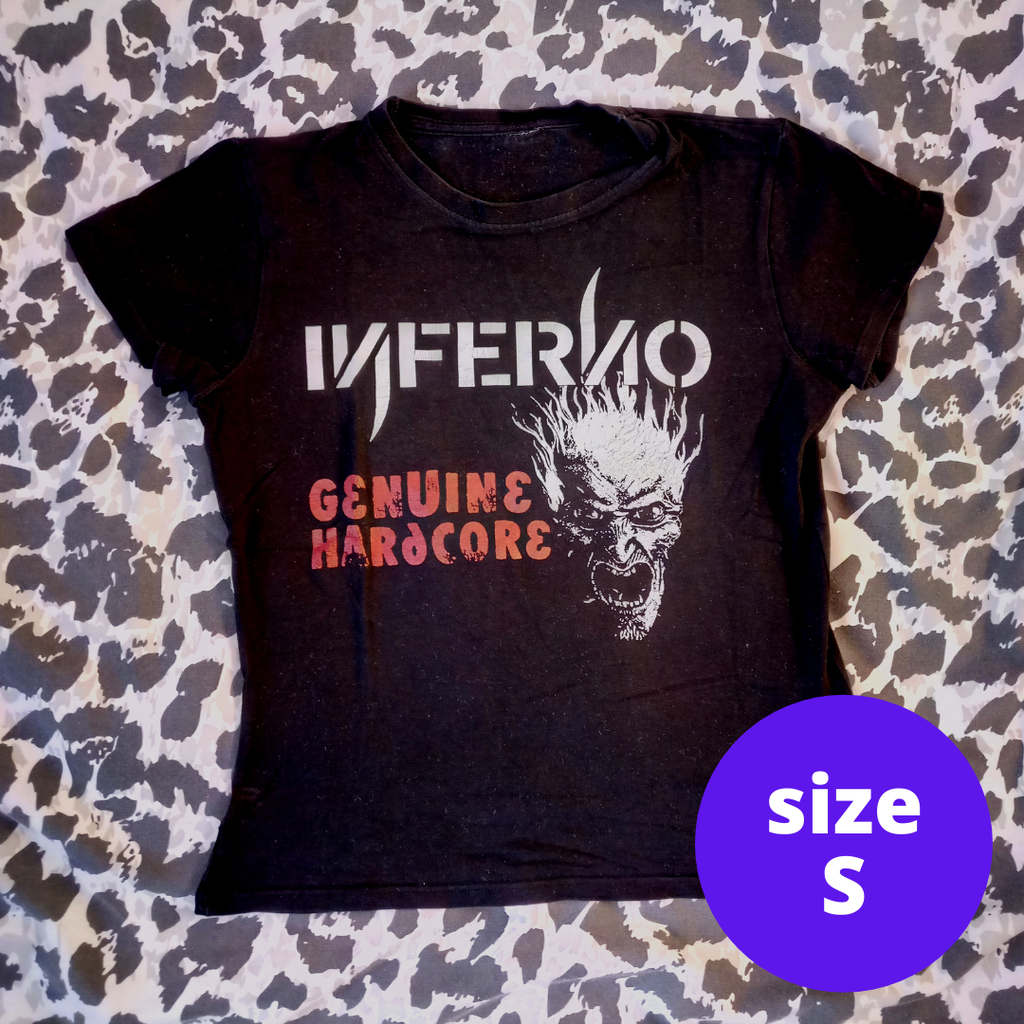 I love when T-shirts have prints on both sides. The sleeveless Cotzraiz has an M on the label, is 49 cm wide and 67 cm long. Domestics are another cool UK band. I reckon the shirt is a size medium as it's 52 cm wide and 71 cm long. Both T-shirts are in a used but still good condition.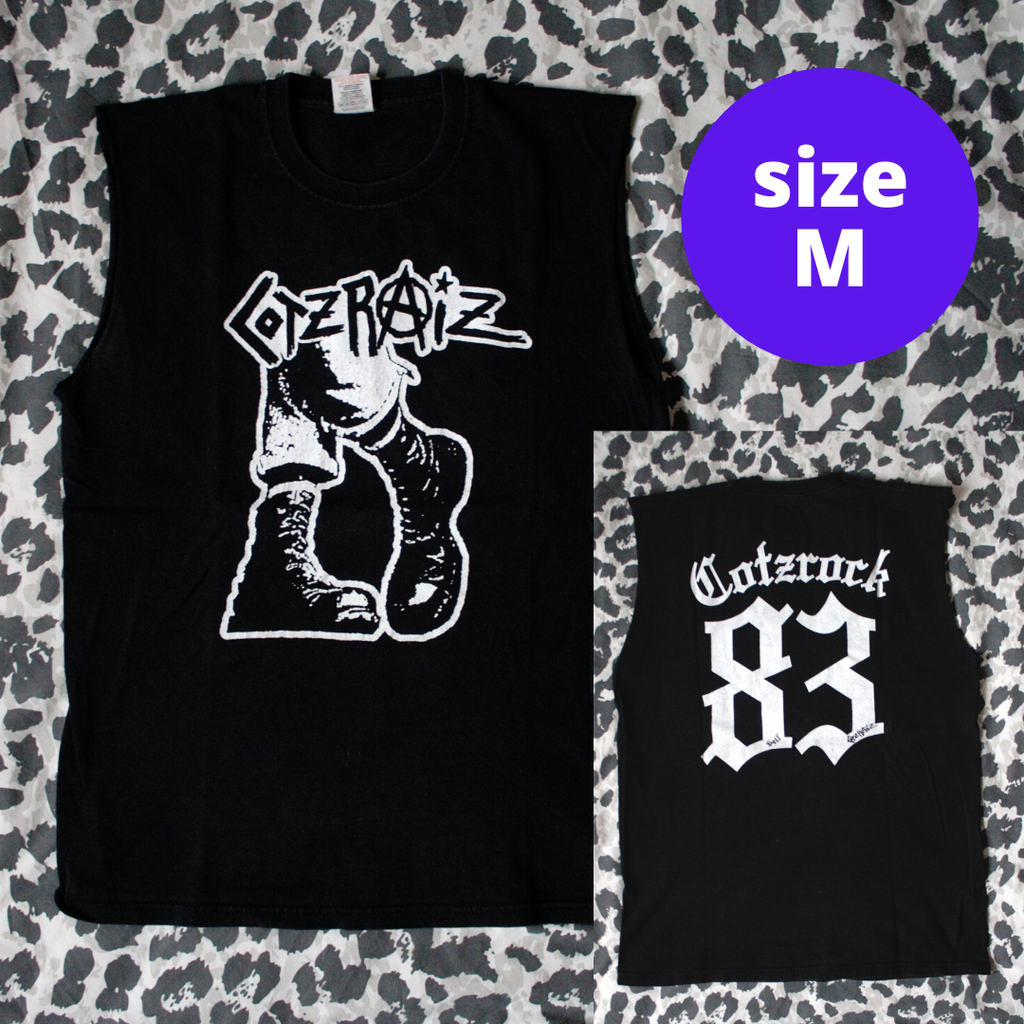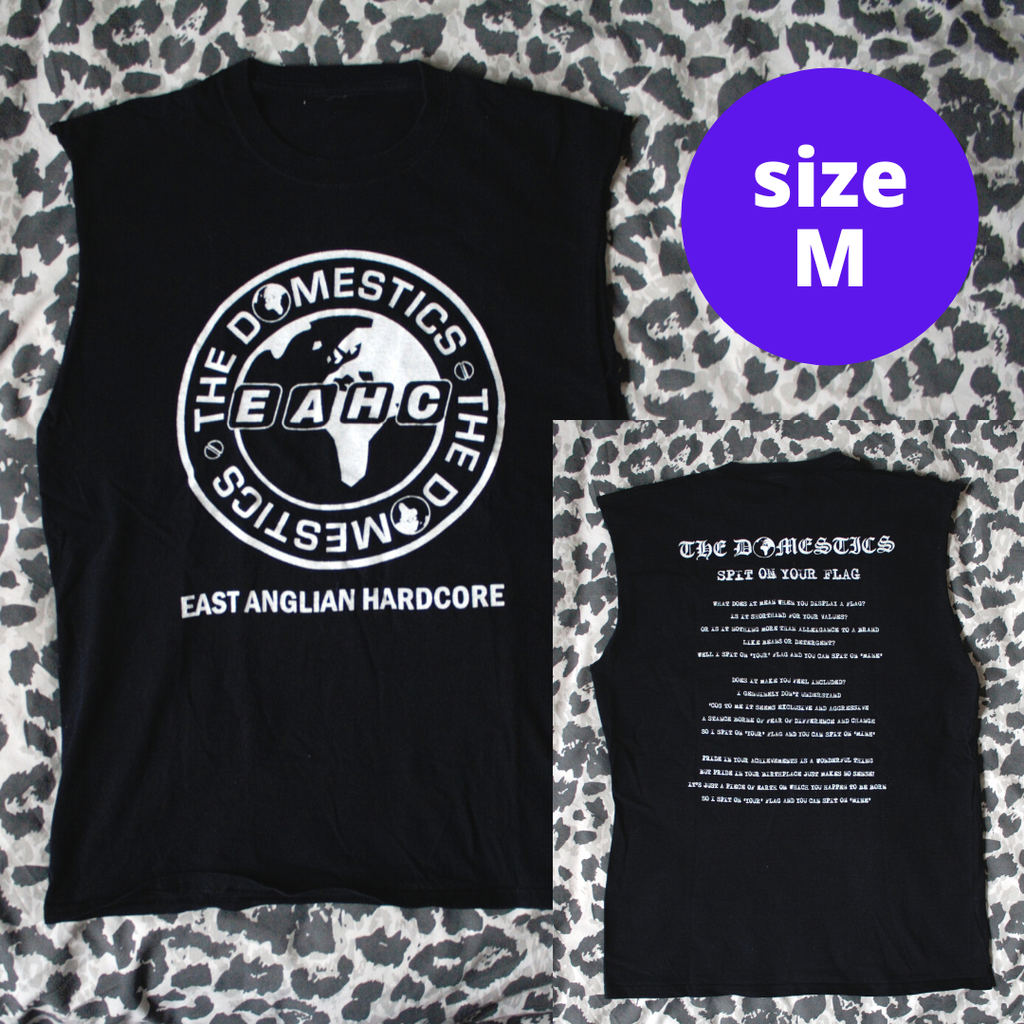 Now I have some hoodies for a change. The Blood for Blood has cut off sleeves and an M on the label. It's 59 cm wide, 67 cm long, slightly faded but still good.
The Blitz hoody jacket is slightly faded, has a hole in one sleeve and some small stains, but also thick fabric and lots of life left. It's a medium according to the label with 56 cm in width and 66 cm in length.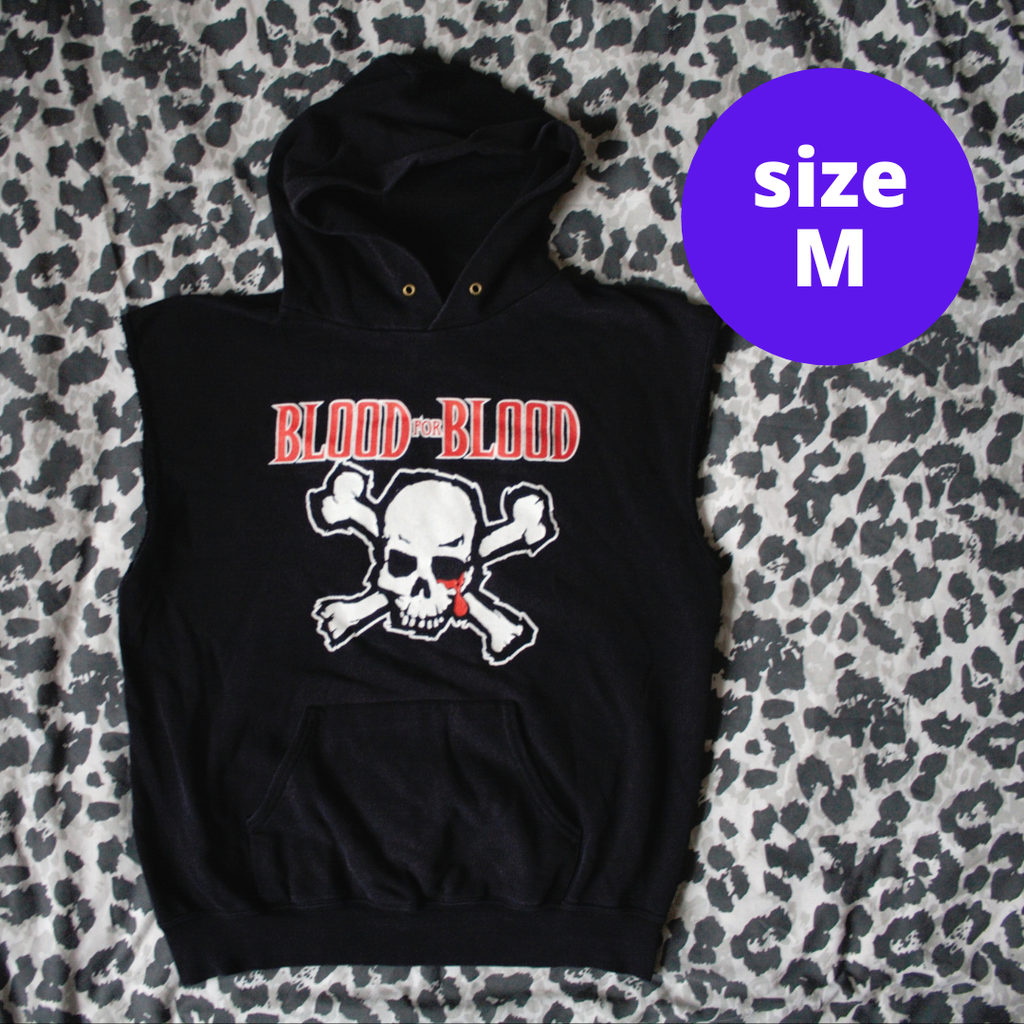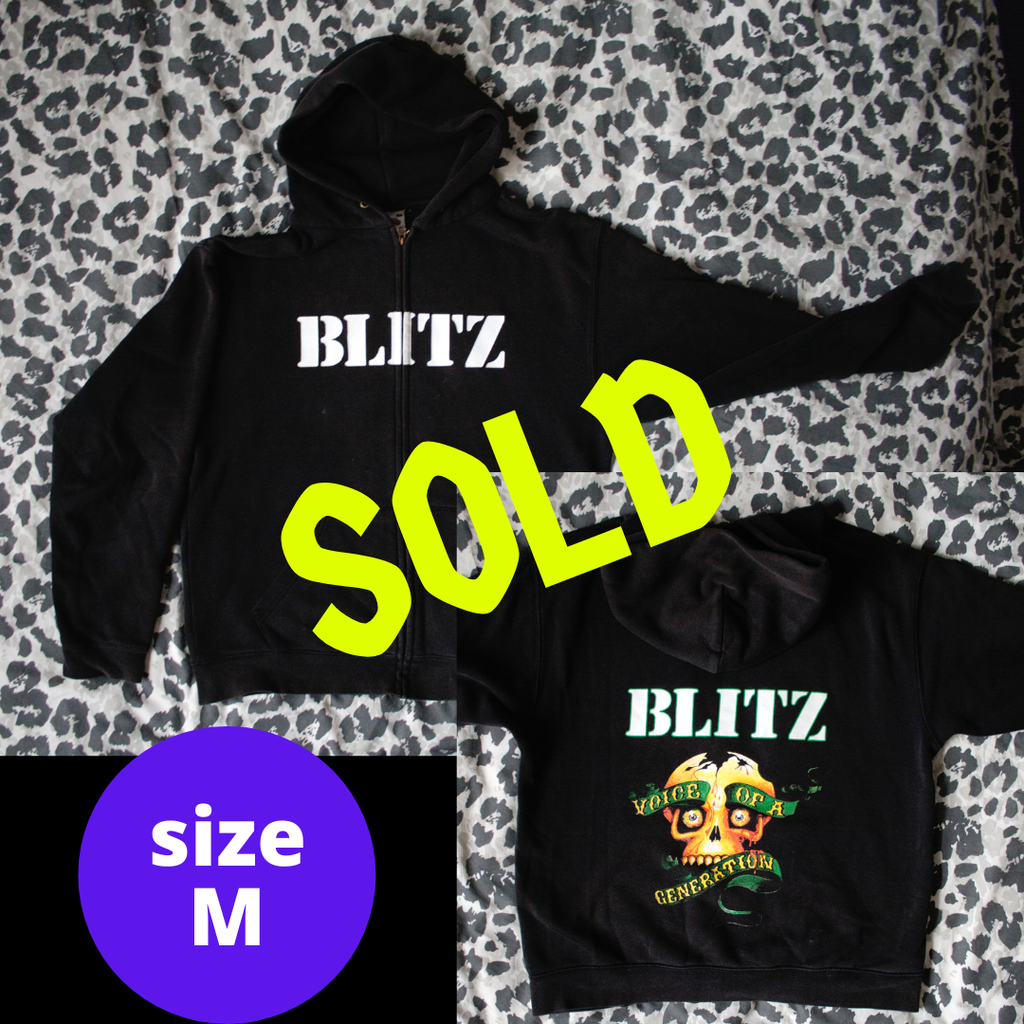 Punk shirts also come in other colours than black, and red is a classic. The Teenage Kicks tee is a medium size with 53 cm width and 70 cm length. It's used but still in good condition.
Handpainted on both sides, the Toxoplasma shirt is 110% punkrock. It's a size small, slightly fitted, 44 cm wide, 58 cm long. It was altered with a regular sewing machine and has a few small holes.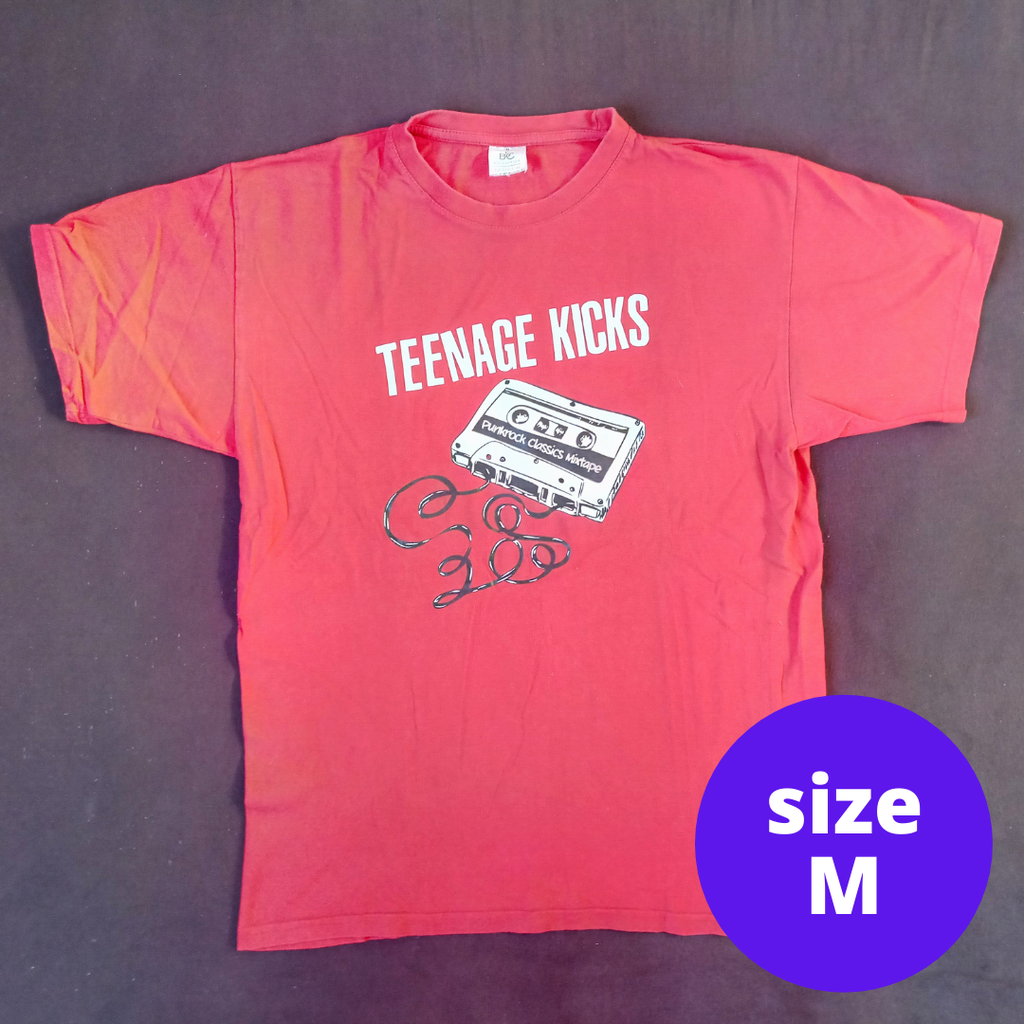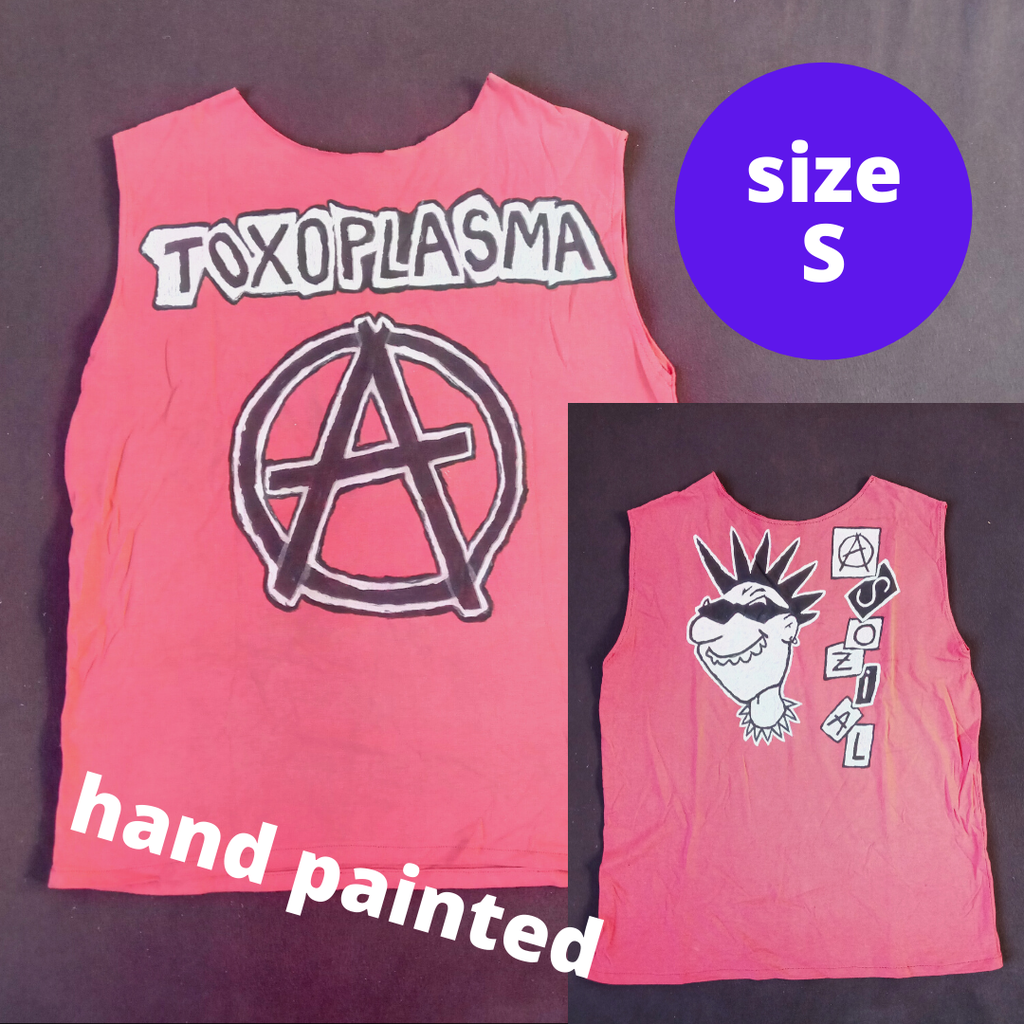 Two more coloured T-shirts are from probably lesser-known German bands. First, Subculture Squad with a print against the annoying Deutschrock trend. It's an S on the label, 48 cm in width, 70 cm in length - a light grey shirt with a thick print that looks like new.
Second, Brute 'n' Bottled with a bottle green tee in size small with a vanilla coloured print. It's 45 cm wide, 63 cm long and like new as well.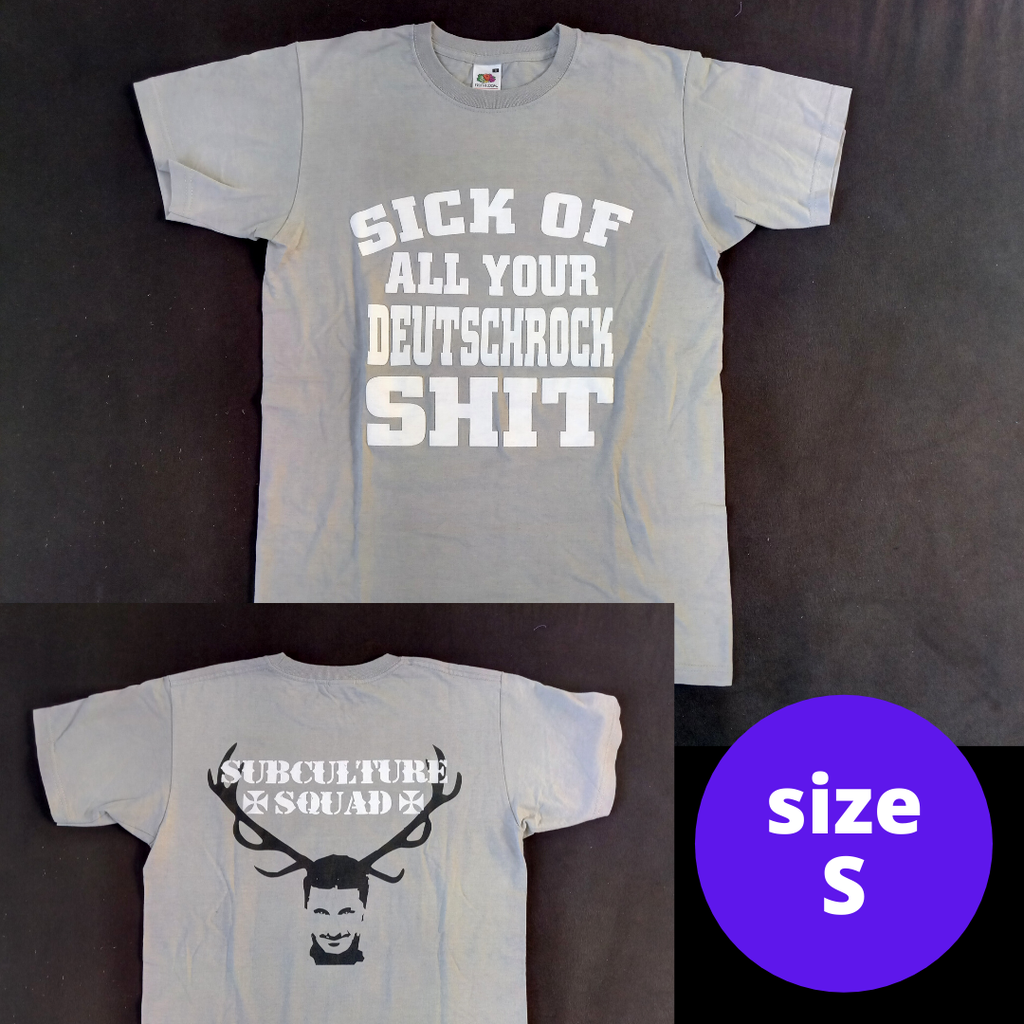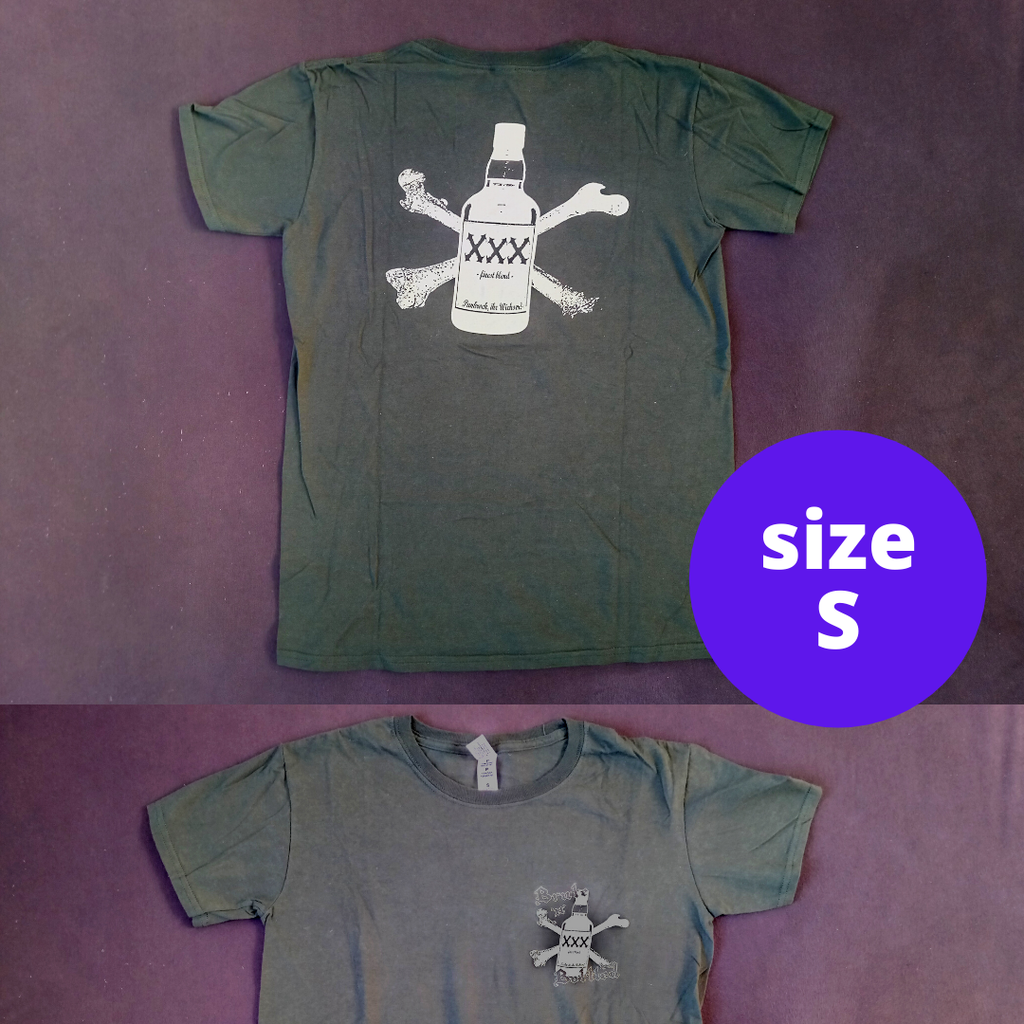 The last two items are not band shirts, but not less rad. The Iron Fist tee has a supercool allover print and an M on the label. It's 53 cm wide, 70 cm long and in a used but good condition.
The Jägermeister jumper is from the 80s or 90s and 100% cotton. It's a small woman's oversized fit with 56 cm in width and 57 cm in length. The sleeves are 52 cm long from the shoulder. The shirt has some light (not very obvious) stains, but is otherwise good, especially for that vintage age.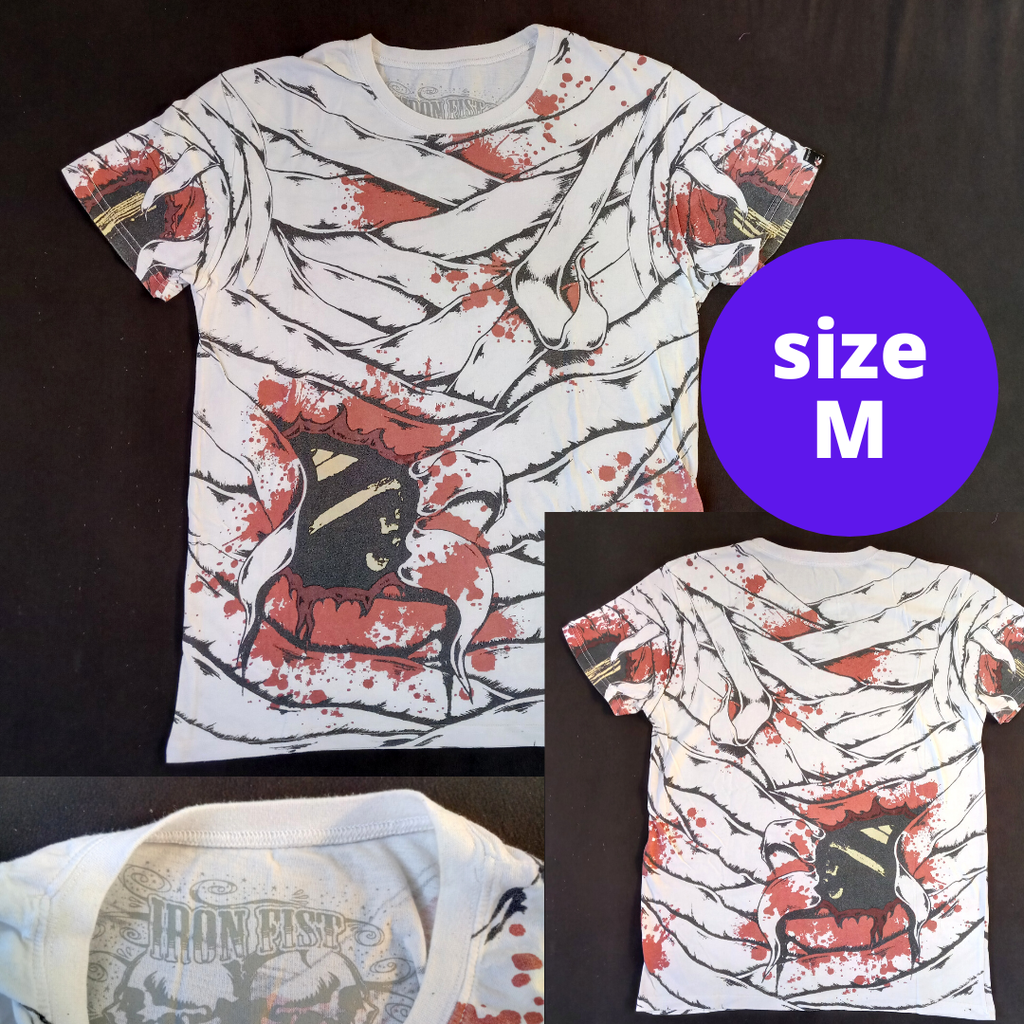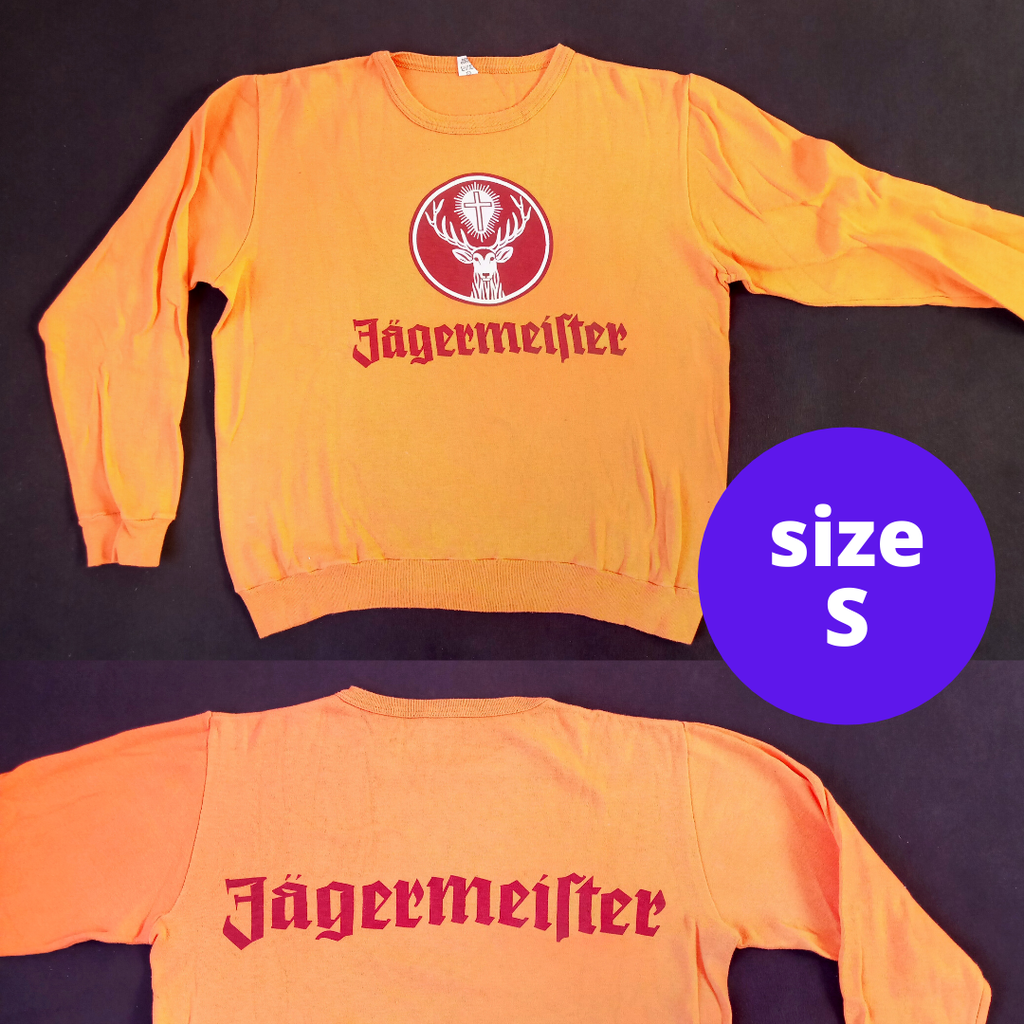 I'm asking for a fiver for each shirt, £10 for the Blitz zipper, the Iron Fist shirt and the Jägermeister jumper, but I'm open for negotiations, especially when you're interested in more than one. Here are the expected shipping costs:
1-2 shirts (up to 250g): UK - £1.60, Europe - £4.00, World - £5.50
2-3 shirts (up to 500g): UK - £2.00, Europe - £5.00, World - £8.00
4 shirts or hoodie: UK - £3.00, Europe - £7.50, World - £12.00
Write me an email to zebraspider @gmx.de - first come, first served!  I will update the photos of this blog post when shirts are sold.
---
Zebraspider Updates
Don't miss any new one-of-a-kind design! Be the first to know about shop updates, events and the best blog posts by joining the email list!
You may also be interested in:
---