Using stencils to paint my stuff was pretty much the first thing I did to turn my regular clothes into unique punk pieces. I don't count the marker-on-T-shirt scribble, and I have tutorials for bleach in other posts. Although I now have the option of screen printing, I still like to use stencils. In principle, it's straightforward - you cut out the motif, put the stencil on the fabric and start painting. I've tried many materials and techniques and would like to introduce them to you here.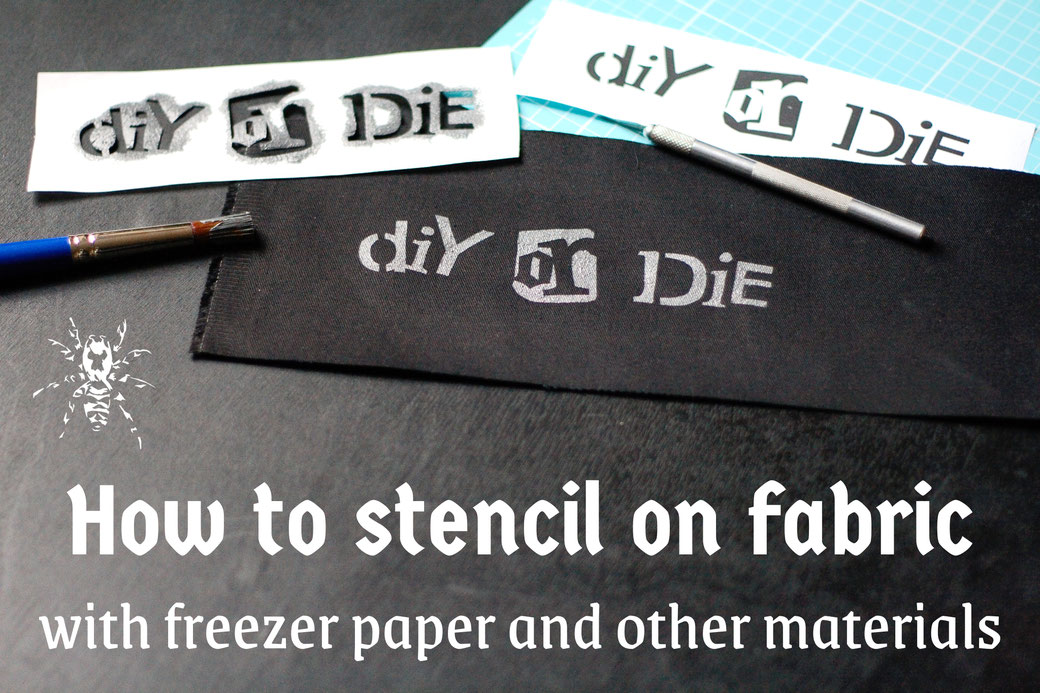 Stencil materials
When it comes to stencil material, I've tried pretty much everything from thick cardboard (not recommended) to foil (I didn't particularly like it) to thin, coated cardboard (works quite well). But it definitely works best with the iron-on freezer paper. The stencil cannot slip, and the paint cannot run underneath. When I paid 12€ for a roll in Germany, I found it rather expensive. But I never regretted it, mostly because after many motifs there is still so much left.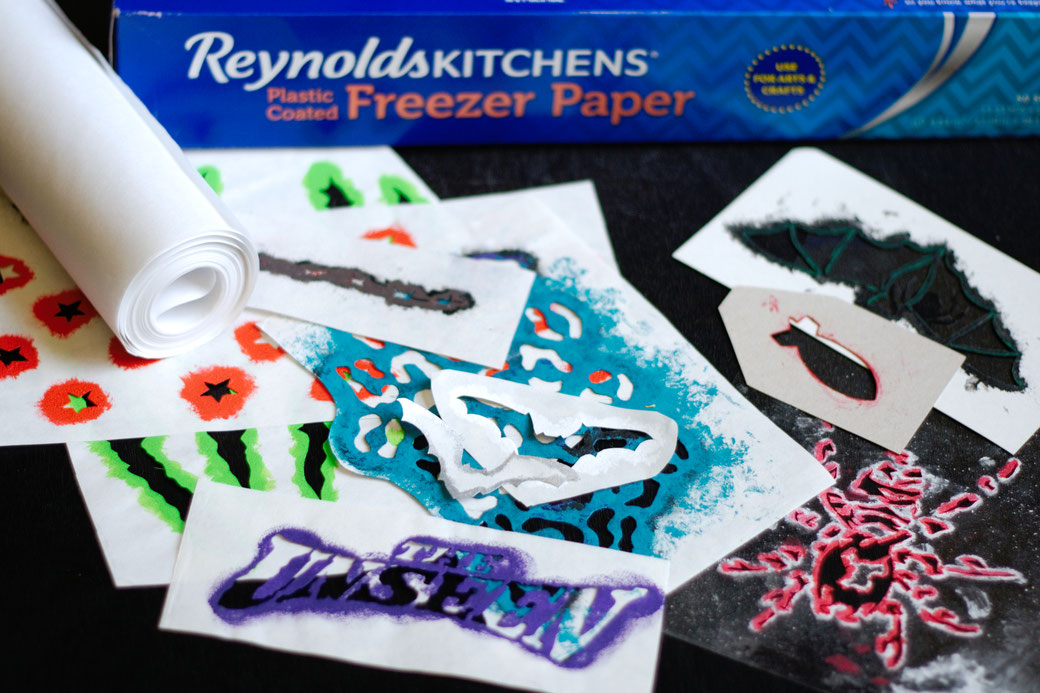 Other people have recommended overhead foil and using spray adhesive to stick it to the fabric. I haven't tried this yet, but it seems practical, especially when you want to use the stencil many times. When cutting, it is crucial to have a sharp, pointed knife. I like to use a crafting scalpel and to cut the parts from the outside in. Nail scissors may be used for uncomplicated motifs. For larger or more complex designs, I first cut out the pieces in the middle and then work outwards. This keeps the template stable while cutting.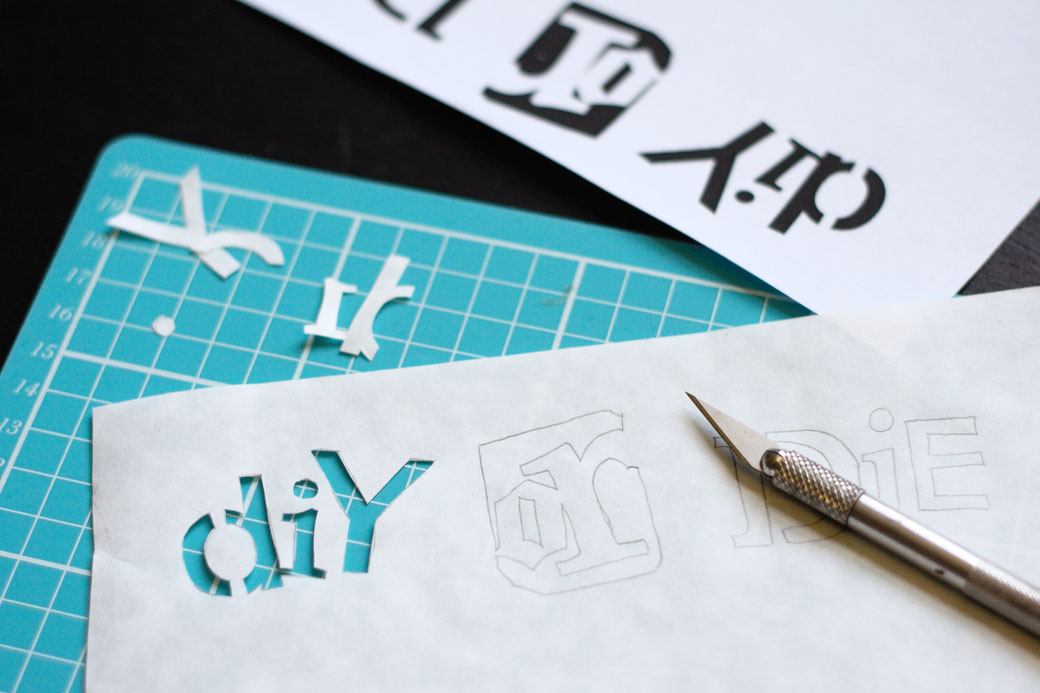 I once made the mistake of using cheap sheets of freezer paper, and it turned out catastrophic. The material ripped apart, even when it was completely dry, and half of it stuck top the fabric. I did get it off eventually, but it was a pain. Regarding the material to stencil onto, I can say in principle that the coarser the structure, the more difficult it is to get delicate motifs accurately. T-shirts usually work without a problem. With thick patch fabrics, e.g. canvas, denim or twill, it is sometimes better to use the backside.
Stencil motifs
Of course, the motif itself must be suitable for stencils, that means no individual fields with internal parts or "islands". A classic example of this is the middle of an O. There are some fonts made for stencilling, most font libraries have a tag for these. An internet search for #stencil reveals countless templates for almost anything. Unfortunately, stencilpunks.org is no longer online. There were many band motifs and good instructions. But there are some other sites with stencil designs of all kinds:
If your own design has internal parts, there are several options. You can connect the island to the rest of the template with a bridge. If the motif doesn't fit, you can draw the spot later by hand or with a second small stencil. With freezer paper, you also have the option of carefully cutting away the bridge with a knife after ironing it on. If you don't have a bridge, you can position the inner parts by eye and iron them firmly. I prefer to cut away the bridges for complicated designs, but keep all the pieces for future projects.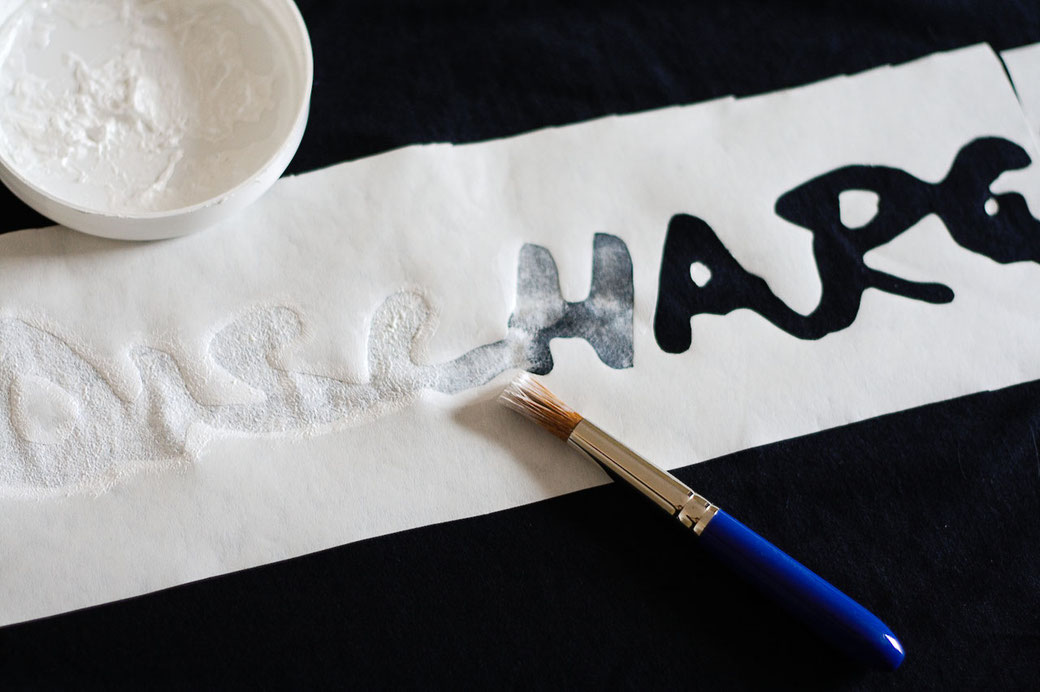 Ironing freezer paper stencils
A few words about ironing on your freezer paper stencil: you want to make sure that all edges of the design stick to the fabric so that the paint can go underneath. I like to press down the stencil with the whole iron first and then go around the motif with the tip. The iron should be set to medium heat. If it is too hot, the freezer paper's plastic layer comes off and stays on the fabric. If that has happened to you, you can try to scrape off the residues with a knife or a stiff brush.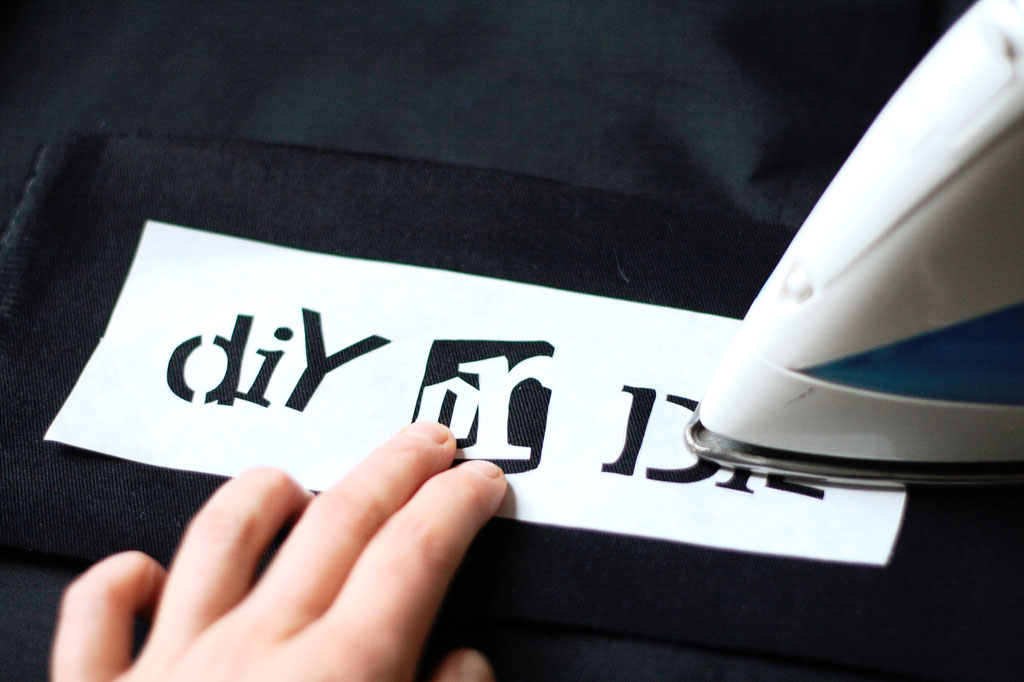 Fabric paints and application
Once you have the stencil on the fabric, all you need is the right fabric paint. It shouldn't be too runny. Otherwise, the material will soak it up, and it will run under the stencil despite the freezer paper. It is essential to use opaque paints for dark fabrics. There used to be varieties in quality, today it doesn't make much of a difference. Nevertheless, it usually takes 2-3 thin layers to get good coverage on black fabric. Screen printing ink works well, too, because it has the right consistency.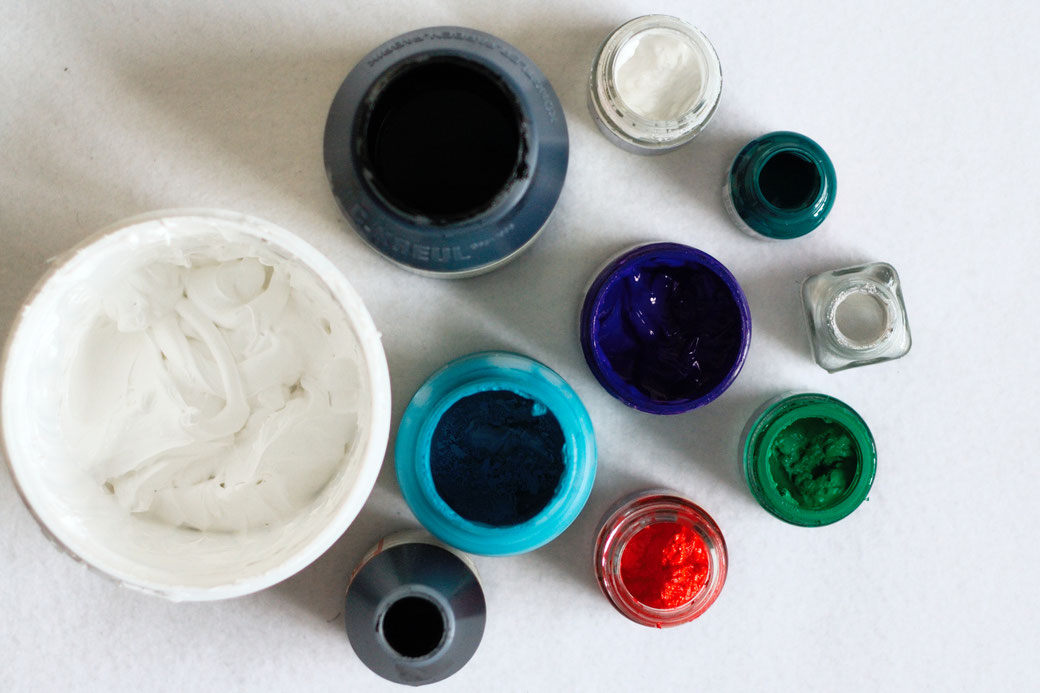 Depending on how big your motif is, you can use different tools for application. Small motifs work well with a regular brush, but the brushstroke can be seen with larger ones. You can get a nice surface with a sponge, but these "swallow" a lot of paint. With huge areas, you can use a paint roller like the one in the picture below. I mostly work with a medium-sized stencil brush that is also inexpensive. These are held relatively vertically and give a typical stencilled texture.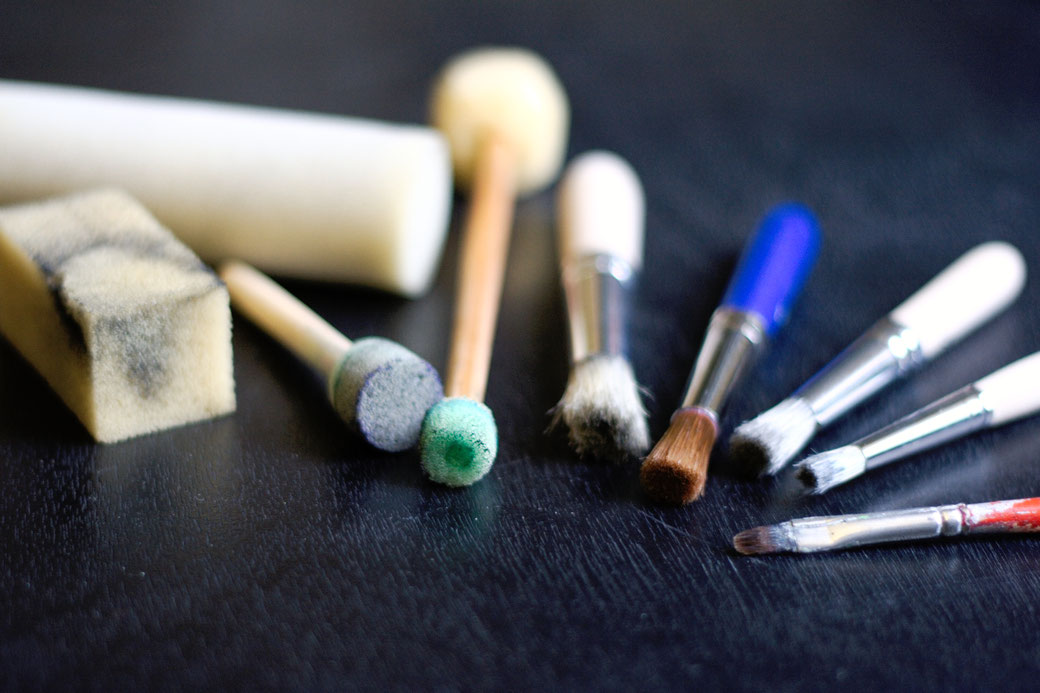 In any case, you shouldn't forget to put a piece of cardboard in the shirt or tote bag; otherwise, you will have stains on the back. I always peel off the freezer paper very carefully as soon as the paint is superficially but not completely dry. If the stencil doesn't break in the process, it can be ironed on again. I have used stencils up to 10 times before they didn't stick anymore. Finally, the ink is fixed by ironing, and it is best to follow the instructions on the packaging.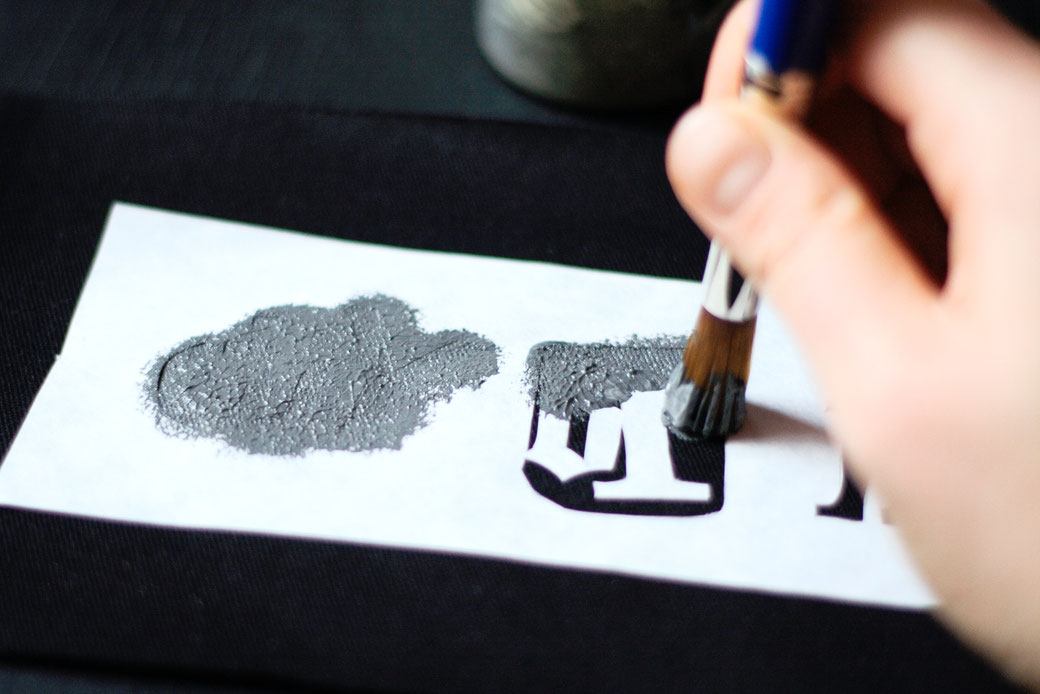 Top 5 stencilling tips
The motif must be suitable for stencils or be adapted.

It works best with freezer paper or spray adhesive.

Use a sharp knife and a mat to cut.

The paint should be suitable for fabric and not too thin.

Apply the paint in layers, let dry and heat-set. Enjoy stencilling!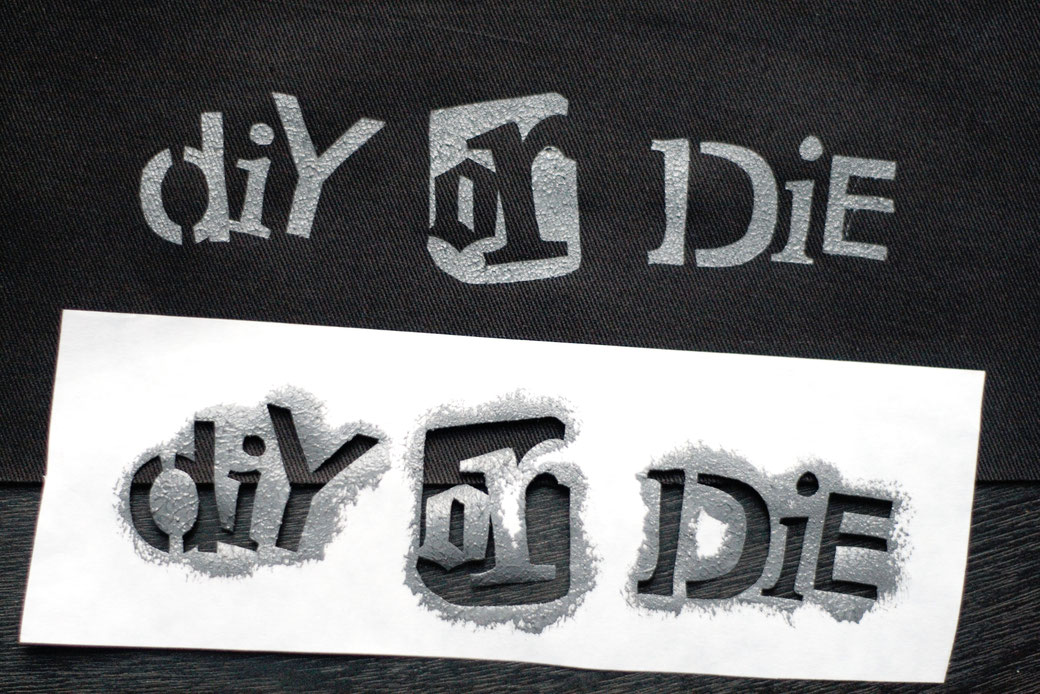 If you have any questions or are looking for a specific motif, just comment below or write me an email. Do you have any stencilling tips?
---
Zebraspider Updates
Don't miss any new one-of-a-kind design! Be the first to know about shop updates, events and the best blog posts by joining the email list!
You may also be interested in:
---